The Beer & Burger Bar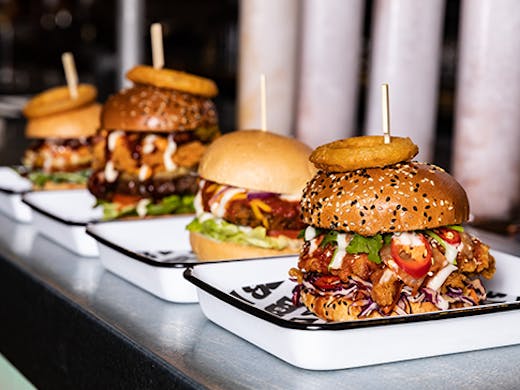 The Verdict
Swan Street native, Beer and Burger Bar, is back with a brand new fit-out and a burger challenge to end all burger challenges.
They've upped their menu game, adding a stack of new meat options that could tempt you away from the legendary beef burger. Grab the KPOP, a stack of crispy Korean fried chicken with coriander and kimchi, or try The Catch with southern fried barramundi and Asian slaw. Then chuck in some crumbed jalapenos, mac n cheese spring rolls and chilli fries for good measure.
For the plant-based among your crew, there are five new veggie and vegan burgers to try. Go for The Herbivore, a plant-based patty that's as juicy as the rest and topped with the lot. Get it with a side of vegan poutine and thank us later.
There's an indulgent new loaded milkshake range (we're talking slabs of chocolate cake and ganache), but if you're looking for something fizzier, they're still slinging all the best local beers from Burnley Brewing, Moondog and Stomping Ground.
If that all sounds small-time to you, B&BB has a challenge to bring you to your knees. The Don 2.0 offers competitors the chance to battle in a gigantic 3.5kg in weight burger eating competition complete with over 1400g of meat, sixteen slices of bacon, sixteen slices of cheese and all the regular fillings and trimmings. You might need to train for this one.
With their new pink and green interior dotted with neon lighting, BBB is seamlessly changing with the times. Luckily for us, they're still operating on the pure idea of a good feed for the hungry folk wandering the streets of Richmond.
Image credit: supplied
---