Builders Arms Hotel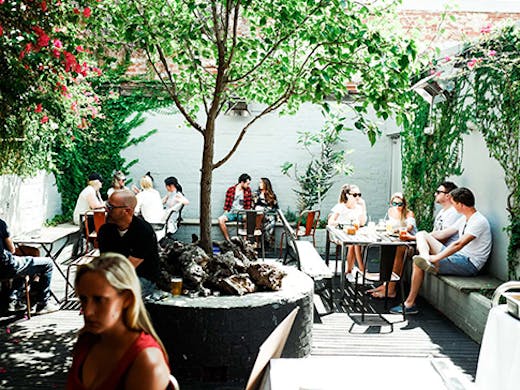 The Verdict
Smack bang on the corner of Gertrude and Gore St, we can guarantee you will have noticed the punters sitting outside the Builders Arms on a sunny afternoon. This place is a died-in-the-wool Melbourne staple.
Step inside and you'll find a fantastic bistro-style restaurant, fancy dining area, and cute hidden beer garden, all headed up by Andrew McConnell of Supernormal, Cumulus Inc. and Cutler & Co fame.
One of the more low-key venues under the superstar chef's name, Builders Arms is all about relaxed vibes and simple food. For a while there they were running a Chinese yum cha theme (Ricky & Pinky, RIP), but it's back to pub-y basics now.
If you're here for drool-worthy comfort food, the fish pie is guaranteed to hit the spot. Looking to share? The roast pork shoulder, loaded with applesauce, crisp cabbage salad, lemon dressing and shatter-crisp crackling is the ultimate winter warmer.
If you're not in the mood for a big feed (we can't relate), take a seat at the Public Bar, AKA the heart and soul of Builders Arms. They've been pulling pints here for over 160 years.
Stop by for a casual beer or pinot, or go all-out with a few cheeky cocktails. Their espresso martinis are the bomb. There's bar snacks to match, of course, including artichoke and zucchini fritters, hand-rolled agnolotti, veal chop parmas, onion rings and fries.
These guys have also just introduced a Steak Night every Monday. For just $19 bucks, you can get your hands (and your mouth) on a 250g Meatsmith porterhouse with a side of chips and salad, and a glass of wine to match.
Not a red meat fan? They've got you covered with Charcoal Chicken Tuesdays. Again, for $19 bucks, you can get yourself half a free-range bird, chargrilled on rôtisserie, served with polenta and chimi de rapa. Nice.
So, is it a pub? Is it a bar-restaurant-beer-garden-thing? Who cares. The only question you should be asking is, "Can I have another round of the whipped cod roe? And throw in an Elderflower Sour?"
Image credit: Kristoffer Paulsen
---