Don't Lose Your Temper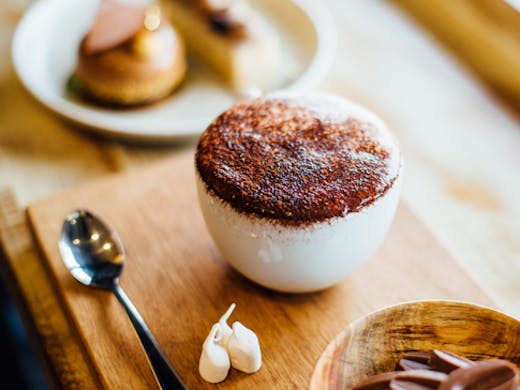 The Verdict
It's fair to say Anthony Hart knows his way around a pastry bag. This guy was the executive pastry chef for Shannon Bennet's Vue Group for four years, before rocking baked goods at The Press Club with George Calombaris. Now he's joined business partner Michael Furness to open a brand new dessert bar and patisserie cafe on Johnston St in Fitzroy.
The name? Don't Lose Your Temper.
This doesn't have anything to do with counting to 10 or deep breathing exercises. It's a little nod to the delicate art of chocolate tempering (although, let's face it, you'd be mighty pissed if you messed up with 3L of A-Grade couverture.
Don't Lose Your Temper is still doing wholesale sweets for cafes around town like AU79 and even Tipo 00. But more importantly, you can now get Hart and Furness' epic sweet treats direct. Just wander in, seat yourself up at the window, and tuck into sugar-dusted citrus tarts, mini banoffee pies, choux pastry stuffed with vanilla custard cream and berry jam, or button-cute carrot cakes, piped with teeny tiny carrots.
The pastry list will rotate pretty regularly, depending on what strikes the boys' interest, but if you'd rather grab a simple HCT sanger, you can do that too. Well, we say simple: the sandwiches at Don't Lose Your Temper are a step above your average lunchbox-stuffer. The Ham, Cheese & Tomato is made with seeded sourdough from Cobb Lane, then stuffed with Swiss Gruyere, free-range cold-smoked Berkshire ham and house-made tomato relish.
Oh yeah, one last thing. The hot chocolates. Hart and Furness may have perfected the humble hot choc. It's made from melted down A-Grade choc and full-cream milk (non-dairy options are available). The guys froth and fill the cups to bursting, before dusting with more choc and whacking on a few homemade marshmallows. The result? Involuntary groans of pleasure.
Welcome to the neighbourhood, guys. Where have you been all our lives?
Image credit: Annika Kafcaloudis
---