Hotel Esplanade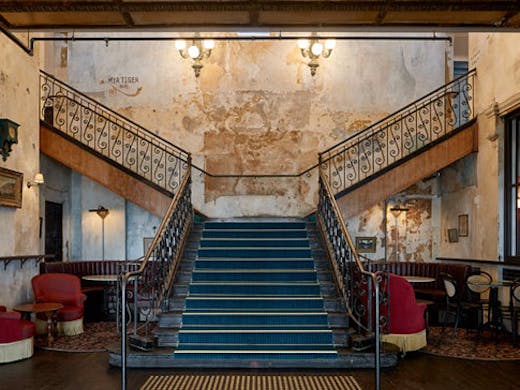 The Verdict
Simply put, there is no other pub like the Espy. St Kilda's Hotel Esplanade has been an iconic establishment of the area since its inception in 1878.
For years the hotel was left dormant, leaving St Kilda residents and Melburnians alike bewildered at the possibility of never being able to walk the wooden floors of this historic spot again. However, in 2018 we witnessed the long-awaited re-opening of the hotel, and since then, the Espy has not looked back. With even greater music, performances, cocktails, fun and laughter, it feels like the Espy never left us.
Sand Hill Road and design studio Technē Architecture & Interior Design originally had the gruelling task of bringing back the Espy to life - and these guys sure did deliver. The re-vamped Espy is familiar in its Victorian charm while exemplifying a modern elegance that feels distinct from other Melbourne pubs. Each space feels like it could stand on its own, yet the whole hotel is perfectly cohesive.
The beer Garden Terrace with a retractable roof is the perfect casual drinking spot, for sipping cocktails, people watching or overlooking the amazing St Kilda Pier. Inside, the historic 140-year-old staircase remains a centrepiece. The 70s inspired studio bar with fully equipped recording studio also creates a uniquely immersive space. Next to this, in the heart of the venue lies the Espy Kitchen, a casual dining spot that overlooks an open kitchen.
Upstairs lies Mya Tiger, a Cantonese restaurant inspired by cook-shops that popped up in St Kilda during the gold rush days. Also, you will also find The Ghost of Alfred Felton, a cocktail bar dedicated to Alfred Felton, a once resident of the Espy, who spent his last days in the hotel.
The Gershwin Room has been preserved, and it's better than ever. Other than an upgrade to the sound system and addition of air con, it's the same Gershwin Room that's been rocking punters since the 60s.
The Espy also boasts 12 bars over its five levels with an insane range of handpicked wines, signature cocktails, craft beers and spirits from their in-house barrel-ageing program (come on that's pretty spectacular). Food from the Espy also hits hard, with pub classics, like fish and chips, burgers and parma, and even luxurious offerings such as world-class Peking duck and the crispy Moreton Bay bug roll.
There's something truly enchanting about this place. All we can say is that it's good to have you back, Hotel Esplanade.
Image credit: Shannon McGrath
---