Ichi Ni Nana Izakaya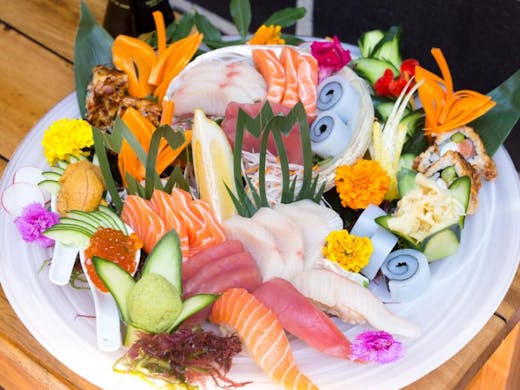 In need of a mouth-watering Japanese fix on the north side? Ichi Ni Nana is a stunning Izakaya-style restaurant set on the ground level of 127 Brunswick Street. Brought to you by the same team as south side favourites, Ichi Ni and Ichi Ichi Ku, this cozy and intimate Fitzroy hotspot is flawless, no matter what sort of a foodie date you're after. Opt for a handcrafted booth to get up-close and personal with your significant other, the huge courtyard for a boozy afternoon with the #squad (which doubles as a fantastic, daylight-filled function space), or the table inside a Nagano ski lift, just because!
The menu is extensive, every dish is delicious, beautifully presented and packed full of flavor—you can be forgiven for thinking you've just stepped into an art gallery rather than a trendy Japanese restaurant! If you're overwhelmed by the different kinds of dumplings, sushi and sake, the staff are always more than happy to explain what's on offer. We're currently making our way through the entire menu, but a few of our faves are the volcano roll sushi, pork gyoza and yuzu nashi tart. Better yet, the kitchen offers all-day dining, with lunchtime specials that include a tasty bento box and speciality ramen bowls—ideal for a quick Fitzroy lunch.
Every wasabi-loving hipster and his mum wants a piece of Ichi Ni Nana, so make sure you lock in a date at this beautiful venue, pronto.
Ichi Ni Nana is now offering home delivery, including alcohol. To check out what's on offer click here.
Image Credit: Brodie Chan for The Urban List
---