Little Mister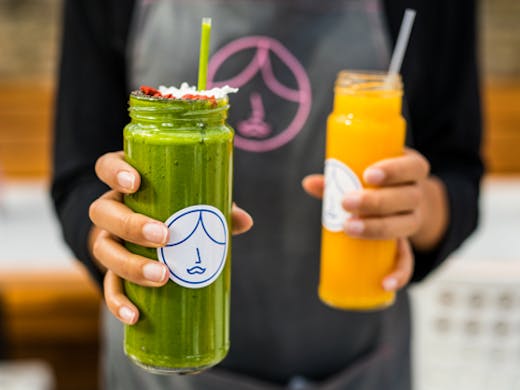 The Verdict
These guys sure know how to stick to a theme.
Cast your mind back through the mists of time. First we got Mr Mister, Windsor's cult brunch bar and 1980s pop-reference extraordinaire. Then came Mr Sister in 2017, a sibling cafe in Malvern East, dishing out epic brekky and some top-notch juices. Now there's a new member in the family—Little Mister. Hampton's latest coffee klatch, 50-metres from the beach on the aptly named Small st.
If you're already a fan of Mr Mister and Mr Sister, you know what you're in for here. The team have taken a bog-standard office block and transformed the ground floor into a banging Bayside cafe. Terrazzo floor, sea breezes, blonde timber bistro chairs and clean lines—exactly what you want on a breezy Saturday morning.
The menu has a few familiar faces too. You can still get the fresh-squeezed juices, along with a range of vegan, sugar-free smoothies (drink-in or takeaway, nice). The brunch menu will change with the seasons, but for now there's an excellent smashed pumpkin (a distant cousin of the smashed av') served with sweet potato, almond feta, pickled shitake mushrooms and pomegranate. Definite highlight.
The guys are also knocking up what could be one of the best chilli scrambles in the biz. Think golden folded eggs with a solid chilli kick, coriander, toasted charcoal bread, crispy shallots, sesame seeds and (this is the genius bit) two stalks of ginger soy broccolini. Absolute banger, this one.
You can also pick up a few treats for the road—think Butterbing cookies, homemade muffins and buttery croissants. The usual stuff you know you shouldn't (but totally will).
The Mr Mister crew have got cafe openings down to a fine art by now. If you enjoy Bayside smash-hits like Plain Sailing and A Girl Called Jayne, you're gonna love this one. Add it to the brunch list, pronto.
Image credit: Max Kruse
---