Magnum Pi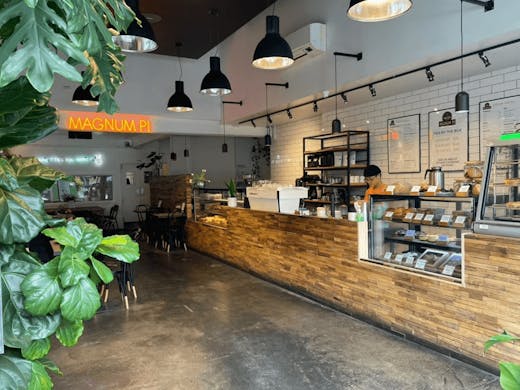 The Verdict
As you stroll down Brunswick Street keep your eyes peeled for Magnum Pi's shopfront. Despite being relative newcomers, The Magnum Pi team have already cemented their status in Melbourne, stocking pastry cases all around the city. Locals know their flaky, meaty parcels from Saturdays at The Fitzroy Mills Market but now they've taken their stall and set up shop in Fitzroy.
The genesis of Magnum Pi's famous recipe starts with owner Jason Kubaesek. Starting his business to fund his weekend adventures, Jason has honed his famous pie recipe for over 30 years. He led the charge as head chef at Pillar of Salt cafe in Richmond as well as High Society in Armadale and Mangum Pi is his latest venture.
The kitchen cranks out pulled beef pies, choose between peppercorn gravy, merlot reductions and caramelised onion combos. Should you be feeling more adventurous with your order, there's also a cheesy monkfish, salmon selection or a chicken-filled pastry creation with salsa verde and Grana Padano cheese.
Plant-lovers won't miss out on the pie party, with house-made roasted vegetable pasties and beluga lentils encased in flaky goodness. A pie should never be consumed without sauce so Magnum Pi top off the experience with their own tomato jam and spicy condiments.
Image credit: Magnum Pi (supplied)
---