Nico's Sandwich Deli
CONTACT
Corner Kerr and Brunswick Street
Fitzroy, 3065 VIC
Show on map
---
The Details
Cuisine
---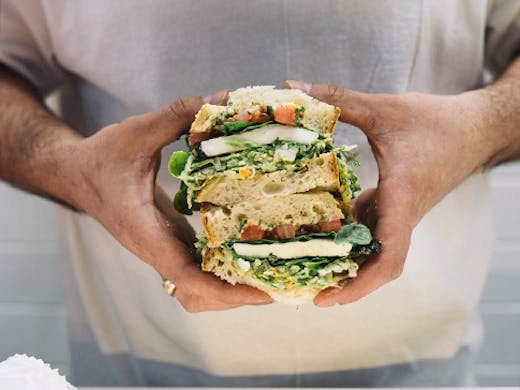 The Verdict
After several months of operating around the limitations of a global pandemic, Nico's Sandwich Deli is relocating from its city locale to a pop-up in Fitzroy, for a good time, and maybe a long time.
Nico's is takeaway only affair from Tom Peasnell and co. of Peaches, Dexter and Cheek, offering a considered handful of sangas on the menu that take loose cues from Japanese and Italian lunch fare.
Up top is the Nico's Original, where you'll find the likes of nori crisps and kombu berre blanc spread paired up with more traditional sandwich fillings like vine ripe tomatoes, buffalo Mozzarella and plenty of herbs between the two slices of country loaf.
There's a Deli Original, which is packing three different types of deli meats—mortadella, lonza and salami—which are all house-made in their kitchen over at Cheek. Further highlights include a sardine melt and a brisket and pork meatball sub.
The pedigree runs across every aspect of Nico's with one of the team members, Leo Thompson, coming from Seven Seeds' coffee house Brother Baba Budan. He's brought the beans along with him to ensure the brew matches the calibre of your sandwich.
In true northside style, you'll find Nico's behind a roller door on a Fitzroy side street. At this point, it's looking like they'll be opening this weekend—keep an eye on the Nico's Sandwiches Instagram for updates.
Image credit: supplied
---