Nico's Sandwich Deli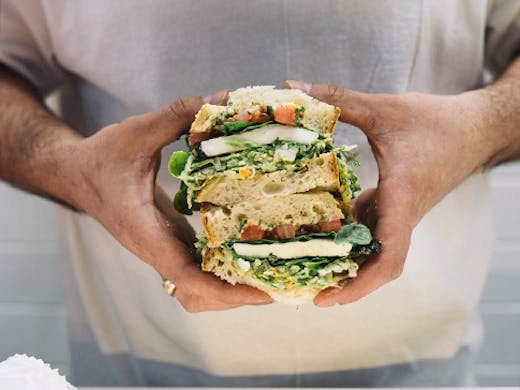 The Verdict
After several bleak months of darkness, we're beginning to feel the pulse of Melbourne's beloved hospitality scene return, which can be partly attributed to several new openings, a few soft launches and a handful of coming soon's. Next up is Nico's Sandwich Deli from Tom Peasnell (of Peaches, Dexter and Cheek), Marcus DiSantis and Leo Thompson.
Nico's is takeaway only, offering sandwiches and coffee from its CBD locale down Healeys Lane. There's a considered handful of sangas on the menu that take loose cues from Japanese and Italian lunch fare.
Up top is the Nico's Original, where you'll find the likes of nori crisps and kombu berre blanc spread paired up with more traditional sandwich fillings like vine ripe tomatoes, buffalo Mozzarella and plenty of herbs between the two slices of country loaf.
There's a Deli Original, which is packing three different types of deli meats— mortadella, lonza and salami—which are all house-made in their kitchen over at Cheek. Further highlights include a sardine melt and a brisket and pork meatball sub.
The pedigree runs across every aspect of Nico's, with Thompson coming from Seven Seeds' coffee house Brother Baba Budan. He's brought the beans along with him to ensure the brew matches the calibre of your sandwich.
Nico's plans to open on Wednesday 1 July. Find them at Shop K down Healeys Lane in the CBD.
Image credit: supplied
---
You May Also Like