Super Ling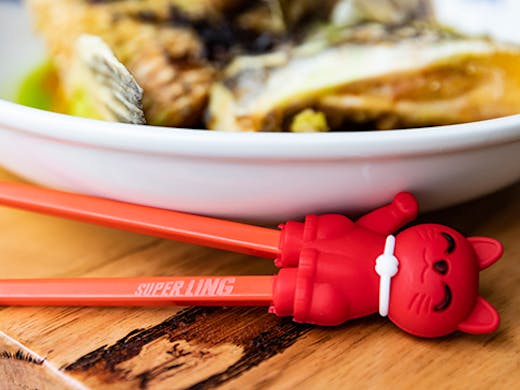 The Verdict
"We're Chinese-ish," says Super Ling manager, Mir. "That's the best way to describe it."
I dunno, Mir. 'Absolutely delicious' and 'best Chinese we've had in years' both sound pretty good too.
Melbourne, meet Super Ling, Carlton's new, very cosy, Chinese-ish diner.
You can thank two people for this place: Hotel Lincoln's Iain Ling and chef Michael 'Super Mike' Lee (ex Movida, Lee Ho Fook and Restaurant Shik). They've turned the old Queens Cafe into something really special. It used to be a bit of a dive on Queensberry St, but now you've got Bruce Lee posters, zig-zig terrazzo tables, hanging pendants and some truly kickass branding. We liked it immediately.
Super Mike lives up to his moniker, too. The food is flipping unreal. The guys started with a dinner service, but they've just introduced a lunch run as well. The menu's divided up into 'Smalls', 'Bigs', 'Sides' and 'Sweets'. We tried pretty much everything on there.
So what should you get? Do not miss a serve of the Mapo Tofu Jaffles—circular bread-discs, dusted with chilli powder and stuffed with a tongue-blasting mix of pork and tofu. The pepper beef tartare is also a masterpiece. Super Mike peps it up with blobs spring onion aioli, tonnes of pepper and chilli, crispy shallots and housemade prawn crackers.
For mains, we can recommend the crap out of the steamed barramundi with chilli oil, soy dressing, Chinese cabbage and peanuts. Easily one of the best spoonfuls of food we've eaten all year. Whack on a couple of sides—the broccoli with pickled stem and a month's worth of garlic is our pick—and go crazy.
At the moment, the drinks list is small but mighty. There's a sake on there, nine wines, good old Eurotrash lager and a spiced pear spritz that'll knock your socks off.
"Technically we can get whatever you want," says Mir, pulling out the wine list for The Lincoln, just down the road. "If people want a bottle from The Lincoln, we'll run and get it."
Get pumped guys. You're really gonna enjoy this one.
Image credit: Mel Desa
---