Toscano's | Kew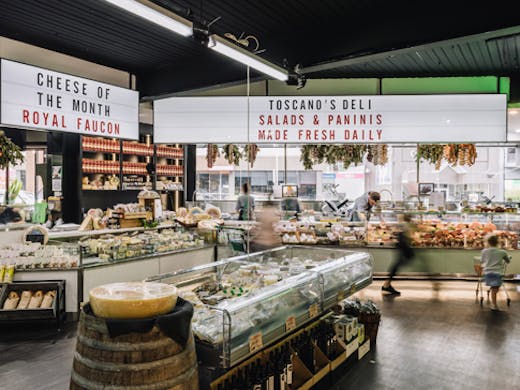 The Verdict
The Toscano's story starts way back in 1950, when the family opened its first Melbourne fruit and veggie shop. It's fair to say the food scene has changed over the last 70-odd years, and the old grocer has done a pretty good job of moving with the times. Now they've got three greengrocers across town (in Richmond, Kew and Hawksburn).
But it's the Kew store that's grabbed our interest—it's just undergone a massive renno, bulking out the produce and giving the aesthetic a face-lift. The store is now 6x bigger than that little fruit and veg shop back in 1950. Safe to say it's now one of the best-stocked grocers in Melbourne.
Don't believe us? Toscano's of Kew now has bread and baked treats from Baker d Chirico, Dench Bakers, Gontran Cherrier and Noisette. Not to mention its own range of grab-and-go Panini, stuffed with rare roast beef and housemade pickles. The sandwiches and salads are made fresh each morning by the friendly crew (and you'll be lucky to find any left come closing).
There's also a new in-house sushi bar, courtesy of the legends at Hawthorn's Ocha Japanese. A lot of supermarkets now offer made-to-order sushi, but this thing is the real deal—Ocha head chef Yasu Yoshida has been wowing diners high-end for over 16 years now, so you can bet they smash out a pretty amazing salmon handroll.
You want grass-fed Australian meat? Toscano's have fridges stocked with the latest cuts from Meatsmith, Peter Bouchier, Jonathan's, Rendina's and Donati's. The milk is the real stuff from St David's and Barambah Organics—the sort of milk that leaves a thick white moustache when you glug it from the carton.
And of course no visit to Toscano's would be complete without a little something something from the cheese counter, stocked head to toe with international cheesemakers, as well as local favourites like That's Amore. Our tip? Order a punnet of the gorgonzola, scooped by hand from a massive cheese wheel right in front of your eyes.
The real difference at Toscano's though are the staff. Ask any locals who shop here. Smiles come standard, and it's not unusual to see a staff member helping someone with their shopping or recommending their personal favourite Gruyère.
New school food, old-school service. Winning combo.
Image credit: Griffin Simm
---