Yagiz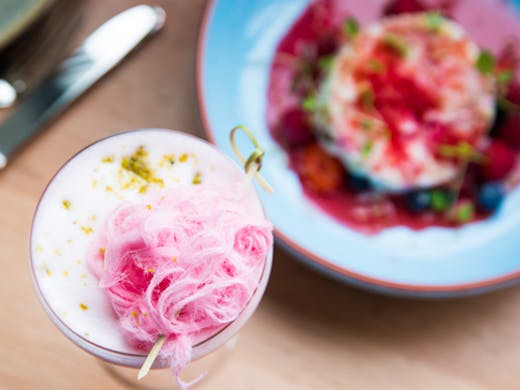 The Verdict
Want to save money off your final bill at Yagiz? Feast your eyes on Urban Feast, the ultimate card for foodies. For just $100 you'll get $500 worth of value and will see you heading to some of the finest eating establishments in town. Find out more about Urban Feast here.
It's official, we're in the middle of a Middle Eastern dining boom. Dondurma ice-cream sandwiches are a thing in Northcote (see Cuppa Turca immediately), Miznon is stuffing the CBD full of falafel, pita wraps and roasted cauliflower, and now we've got Yagiz popping upon Toorak Rd.
It's the new venture from chef Murat Ovaz (formerly of Balaclava's Tulum), but Ovaz has deliberately toned down Tulum's fine dining style. Yagiz has got a more casual feel: chunky cinder block walls, jars of pickled onions dotted around, colourful cushions and kitschy big murals on the walls.
The select menu's broken down into snacks (think smoked sardine kofta or fresh-shucked oysters, sprinkled with cucumber granita), mezze-style entrée plates (go the fried eggplant with tahini kefir dressing and chilli oil—officially nuts) and big-hearted mains, built to share. It's best to work your way up from small to large (and Ovaz does offer a chef's tasting menu for $75 a head).
When it comes time for the big dishes, order up the smoked poussin (baby chicken), spiked with fenugreek, sitting on burnt yogurt purée, and a plate of the Bultara lamb rack with broad beans, smoked eggplant and a sinfully rich jus. A side serve of Karnibahar (roast cauliflower, dates and salt bush) is usually a good call, too.
Drinks-wise, don't miss the pistachio smoothies, topped with lurid pink Persian fairy floss. They go pretty nicely with the Gulac dessert: a Turkish corn pastry, topped with gin-infused mixed berries. Boozy and fresh, all at the same time. Nom.
Ovaz is running a lunch service on Friday, Saturday and Sunday, or you can swing by mid-week for a cracking dinner date.
Image credit: Jenna Fahey-White
---