Our windy capital makes for the perfect weekend getaway. Whether you've never been before or you're desperate to return, next weekend's the time to do it thanks to Urban Wine Walk Wellington. We can't get enough of this epic wine crawl from Neighbourhood Events Co, which is why we've teamed up with them to bring you an all-inclusive, totally bookable 24-hour itinerary for November 28 to help you sample the very best of what our capital has to offer. The package includes a stay at the excellent QT Hotel and tickets to the legendary Urban Wine Walk Wellington—a legendary self-guided wine crawl where you'll get to sample the very best wines in town at some of the most pumping venues around, at your own pace. This deal is super limited with only a few tickets left so read on to find out how you can get involved.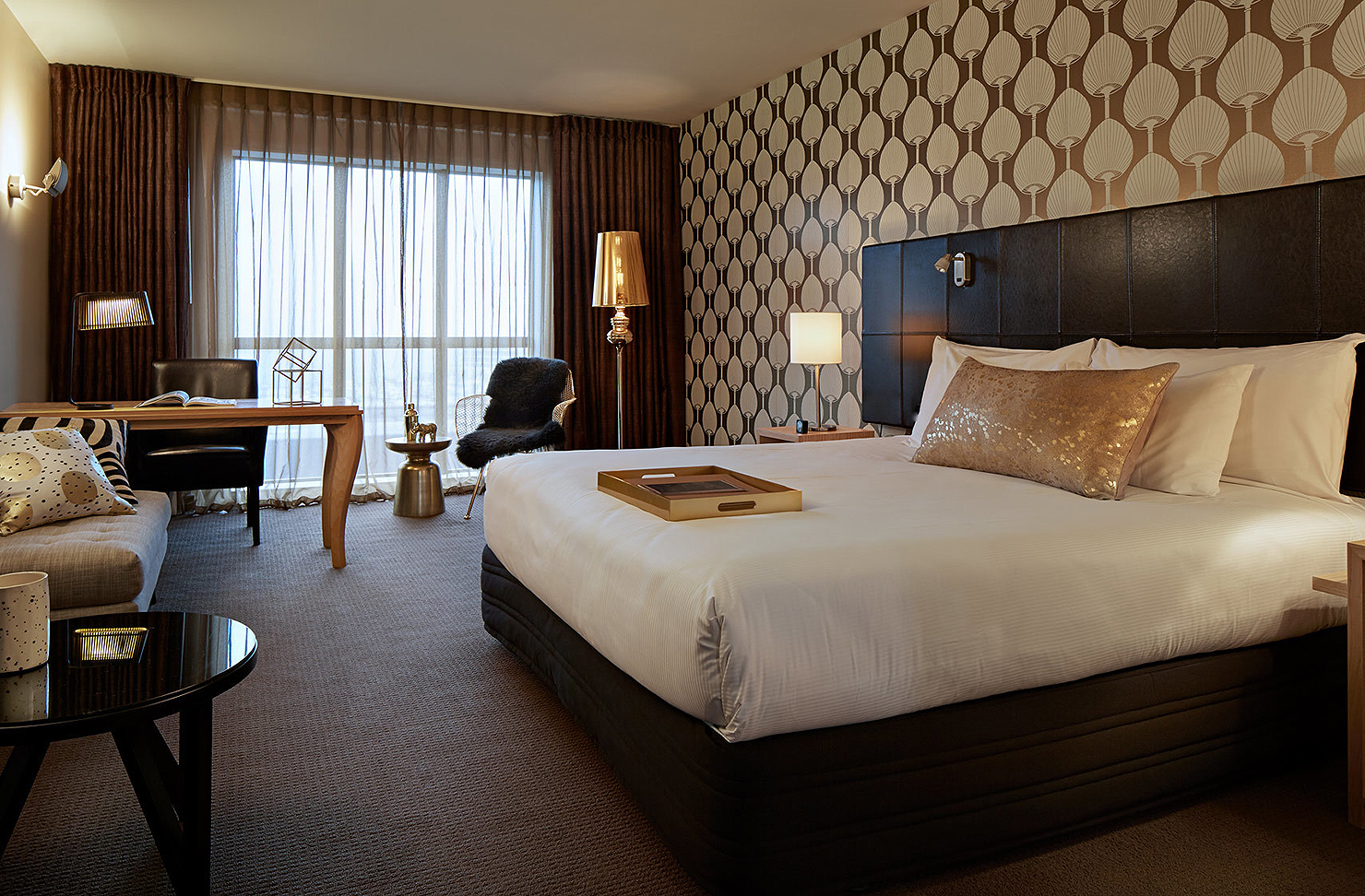 Where To Stay
QT Wellington
Think thick carpets, dark mood lighting, luxe furniture and foliage the plant lover in your life would envy. QT Wellington's beautifully designed hotel is the place to stay for an exclusive and grand getaway. Making your way through the intricately designed dark glass lobby—you would be forgiven for thinking you're in a museum—art is the heart, soul and identity of the hotel and it boasts a large and perfectly curated collection of intricate paintings, quirky life-sized sculptures as well as other incredible art pieces (including a sound-art installation made from bible pages and buzzing bee noises. Yep, it's cool.) With art being the main focus of the hotel, they've paired with local artists to design unique rooms, meaning each has its own feel, look and vibe. All the rooms include a king bed, a deep-dish bath, a rain shower and of course fluffy white robes in every room. QT also offers its guests a leisure centre complete with jacuzzi, sauna and a 70m lap pool. If this sounds like a bit of you, why not snap up this awesome deal for Saturday November 28 comprising a night's stay in an executive room at the QT, two Vino Lover tickets for the epic Urban Wine Walk Wellington and vouchers all for just $449 (valued at $629). Find all the details here.
Otherwise, we have a list of Wellington's best hotels right here​.
Where To Eat
First up, Let's Talk Coffee
Wellingtonian sure know their coffee. This sure fact hits you as the strong aroma of coffee seeps into your clothes as you explore. Home to dozens of roasteries, including Havana and Peoples Coffee Roastery, as well as a booming local coffee cafe scene, Wellington is a coffee lover's dream. Make sure to make a pitstop stop at a roastry to see how the coffee bean makes its way from its original humble state into your cup of joe. Also remember to pick up some beans before you leave to try out at home. Many of these roasteries are closed on Sunday, so pencil them in for your Saturday caffeine fix.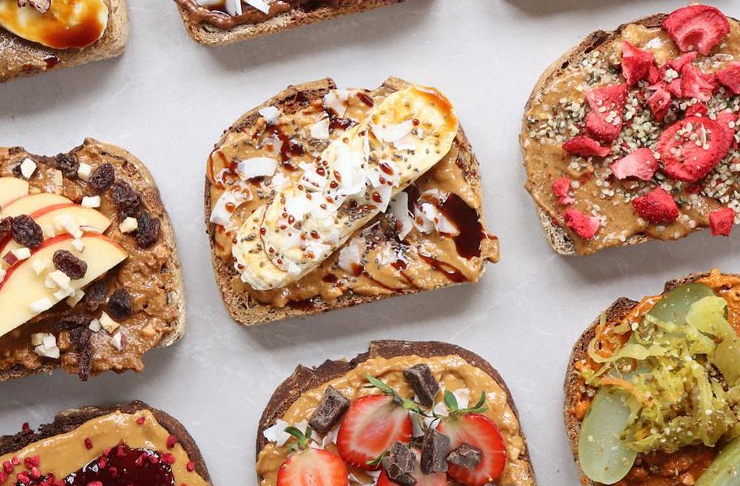 Peanut Butter Appreciation
Hidden down one of Wellington's laneways is a holy grail for peanut butter lovers—The Fix and Fogg Window. Fix and Fogg is a local peanut butter company known for peanut butters that will make you salivate. At their window, they sell their peanut butter in jars as well as pails (which all diehard peanut butter lovers will appreciate), and also serve seriously delicious toast and warming porridge. All come with out-of-this-world toppings. It is truly the Willy Wonka of the peanut butter world.
Delicious Eats
You'll need plenty of fuel for your adventures in Wellington, so make sure to stop at one of the many delicious Wellington eateries. Two cafes that are a definite must in our books are Cuba Street's Fidels and Midnight Espresso. Fidels is a living homage to 1950s-era Cuba. They are home to the best vegan scones this side of the hemisphere, their burgers are out of this world and you can't go past their delicious hot cajun spiced fries.
Midnight Espresso is somewhere you go if you are seeking hot coffee and hearty food in a warm and cosy environment. This place oozes character from the funky art lined walls, country tunes, and comfort-food heavy menu. While you enjoy your meal indulge in a game of Pacman or Space Invaders for that longed-for hit of nostalgia. Click here for more cafe inspiration and let's not forget about the glorious Press Hall.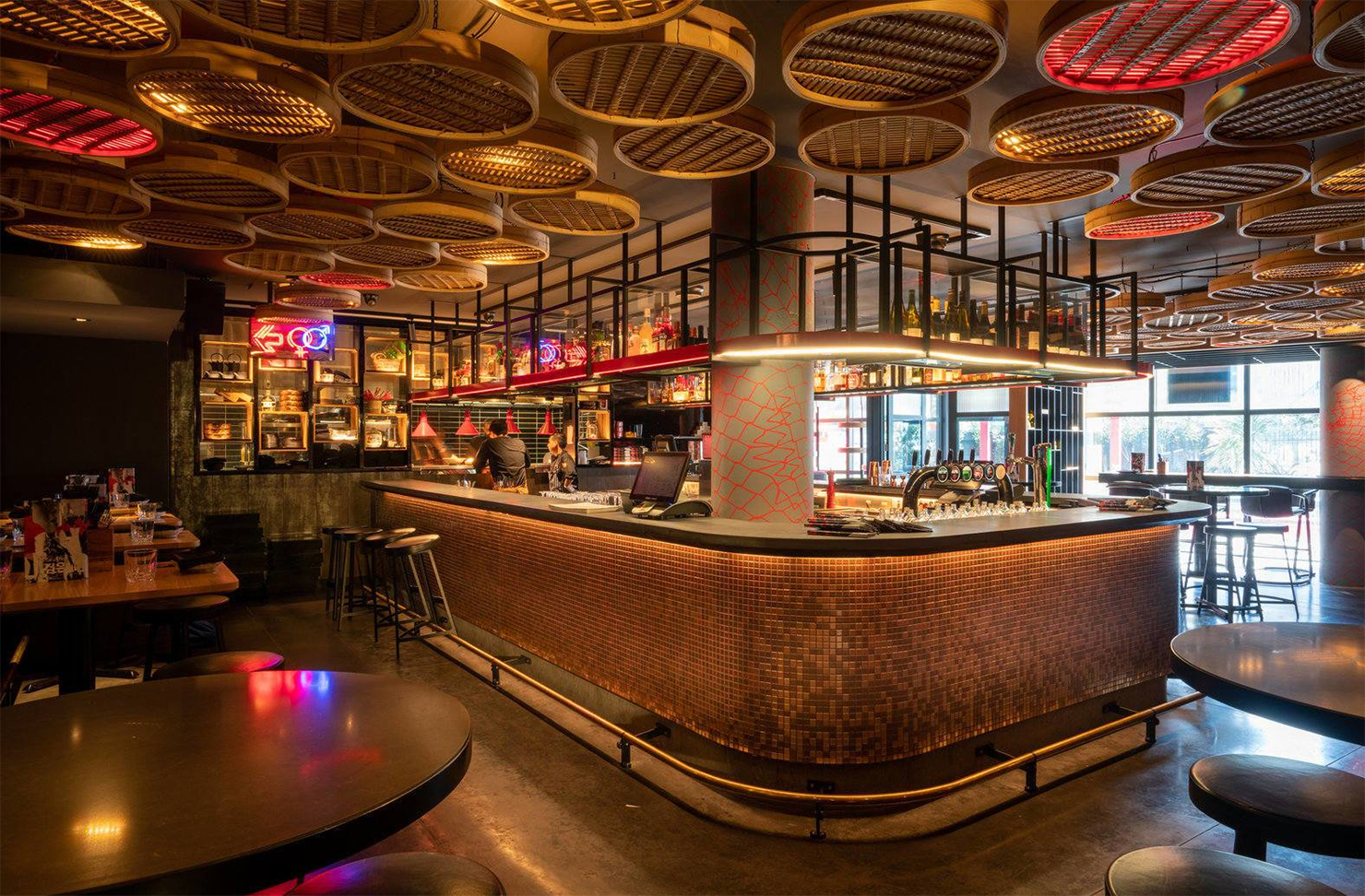 Where To Drink
When Welly has a good day, there's nothing better than making the most of it and having a drink in the sun. When Welly has a bad day? There's no better place to be than in a cosy bar with a drink in hand. Basically what we're saying is we bloody love a drink—and Wellington is the perfect spot for it, rain or shine. You can try to hit up every single bar, but if you prefer to take it at a slower pace, hit up QT's stunning bar Hot Sauce (pictured above) to start with and make the most of the $50 food voucher, then head to The Arborist Rooftop Bar, Puffin Wine Bar, Mockingbird and Fortune Favours, to name but a few! For other top bars check our list of Wellington's best here.
Things To Do
Urban Wine Walk Wellington
Urban Wine Walk Wellington is an epic, self-guided wine tasting experience, allowing participants to meander their way through Wellington's bustling bar and restaurant scene while sipping on a lip-smacking selection of NZ wines along the way. This is no ordinary wine tasting event—Urban Wine Walk collaborates with local venues and winemakers to create the ultimate pop-up cellar door tasting experience, giving you a chance to get out and explore some of Welly's most established restaurants and wineries.
From midday until 4pm on Saturday 28 November, you set your own pace as you work your way from one pop-up cellar door to the next. Each winemaker will have a few of their favourite wines available for tasting, so you can make it your goal to hit all 11 venues, or you can pick out a few that sound right up your alley and take a more relaxed pace.
Adventures in Zealandia
You would not be amiss for thinking you've stepped back 300 million years when you enter the world of Zealandia, a sanctuary in Wellington. Completely fenced off and predator free, this 225ha reserve is home to over forty different native bird species, including the nationally vulnerable takahē. It's also home to thousands of invertebrates, several reptiles, including our living fossil, the Tuatara and hundreds of native plants. Spend your day enjoying the noisy Kaka swooping overhead, meet a retired takahē pair who spend their days constantly eating, all while getting lost in a hue of green.
Zealandia also offers guided night tours where you can spend your evening with our national bird, the kiwi, as well as be dazzled by an illuminating glow worm show.
Get lost in Te Papa
For a history and culture fix, head over to Te Papa by the Waterfront. Free entry for all, you can get lost in the past all afternoon while exploring this amazing museum. The Gallipoli exhibition walks you through the eight month campaign at Gallipoli in WWI, where you will encounter battle artifacts as well as giant soldier models. These were created in partnership with Weta workshop and you will be blown away at their level of detail. These models are accompanied by audio commentary from diaries and letters of the soldiers and from people back home.
Hunt In The Op Shops
The vintage scene is off the hook in Wellington, with op stores around nearly every corner. Rifle through racks of flower power dresses, fifty power suits and flapper numbers and you'll be sure to find a unique number. For vintage street wear check out, Thrift, and for a good chance of finding genuine forties or fifties attire, hit up The Recycle Boutique. Otherwise there's a plethora of good options in our guide to Wellington's best vintage stores.
Walk Along the Waterfront
Wellington harbour is a great place for a sunrise stroll offering amazing views of the waterfront. Walk along, listening to the cries of the awakening seagulls and stop in and hello to the infamous Solace in the Wind statue that calls Wellington Harbour home. Make sure to wrap up warm, as it can get a little windy round these parts. After you've frozen your extremities off, you can warm up at one of the many cafes dotted along the waterfront.
So there you have it, now get out there and enjoy the delights of the windy city.
Doing Wellington on a shoestring? Here's the best free things to do in Wellington and Welly's best cheap eats.
Editor's note: Urban List editors independently select and write about stuff we love and think you'll like too. Urban List has affiliate partnerships, so we get revenue from your purchase.
Image credit: WellingtonNZ, QT Wellington, Hot Sauce, Fix and Fogg, Daniel Crichton-Rouse for Te Papa