It's no secret that we love Auckland. We've harped on about it here, here, here and here, and now we're going to do the same for Central Auckland. With tonnes of eateries, bars, museums, stores and outdoor pursuits, Central Auckland is the kinda place that has it all.
Whether it's on your lunch break or a weekend in the inner-city 'burbs, here are 30 down right awesome things to do in Central Auckland. See you there!
Cruise On The Waitemata Harbour
The best way to appreciate Auckland's stunning harbour is by boat. Gather your Auckland-lovin' crew, charter a yacht and sail into the sunset.
Jump Off The Sky Tower
Brave the SkyJump or take a leisurely stroll around the platform, 192 metres above the ground. Either way, you'll be feeling the adrenaline.
Appreciate All Things Art
At none other than Auckland Art Gallery. A visit to New Zealand's largest art institution is one of the best things to do in Auckland and with an ever-changing calendar of exhibitions, you can check it out on the reg!
Weekend Mornings = Market Mornings
Wake up bright and early on Saturday or Sunday and head to La Cigale Markets at Britomart. With a handful of favourite stalls from La Cigale's Parnell market, there's plenty of goodies including acai bowls, pastries and the freshest of fresh product.
Tag Along On A Free Walking Tour
Free walking tours are all the rage in cities across the globe and Auckland is no exception. Departing daily from Queens Wharf Village, Auckland Free Walking Tours ticks off some of the best places in Auckland Central, no matter what the weather. They work on a 'koha' or contribution system, so if you had a blast, flick them a couple of dollies.
Stroll Around The Domain Wintergardens
The Domain Wintergardens are all sorts of pretty. Dating back to the 1920s, these gorgeous glasshouses feature hundreds of colourful flowers which makes for the perfect Insta snap.
See A Show At The Civic
The Civic Theatre has occupied a corner on Queen Street and Wellesley Street since 1929, so it definitely gets a place in the Auckland must-do category. Check out the happenings here.
Create A Foodie Bucket List
There are dozens of epic restaurants, cafes and bars dotted across Central Auckland. If you're looking for a place to start, head to Ponsonby, K' Road or Auckland CBD—you'll be treated to some of the best eateries in Auckland.
Wander The Pink Cycleway
The pink cycleway, aka The Nelson Street Cycleway. This brightly-coloured path weaves from Upper Queen Street to Victoria Street West and will make you feel like Dorothy following the hot pink road.
Take Your Drinks Sky High
Auckland's waterfront is the perfect place to enjoy a few bevvies, especially in a rooftop bar. Here are some of the best rooftop bars in Auckland Central—you won't want to drink in a regular bar again!
Soak Up The Sunshine In The City
City centres are all about the hustle and the bustle and our city is no exception. Luckily, however, Auckland Central offers some stellar spots to enjoy the sunshine and take a break from the daily grind. Hit up Aotea Square or Takutai Square, two of the best places to relax in Auckland city.
Explore Two Of Central Auckland's Most-Popular 'Burbs
We're takin' Mt Eden and Kingsland. Home to Eden Park, funky bars and, well, Mt Eden itself, these inner-city suburbs have got it going on. Check out the best of Mt Eden here and the best bits of Kingsland here.
Brave The Harbour Bridge
You've got two options here, folks. You can either 1) bungy jump off the Auckland Harbour Bridge or 2) climb it. The choice is yours! One thing's for sure—it's one of the best things to do in Auckland City.
Give SUPing A Go
That's stand-up paddle boarding, BTW. Mission Bay is one of the best places to try it in Auckland.
Take A Trip To Giapo For Dessert At Any Time Of Day
Get your ice cream fix at Auckland's creme de la creme of ice cream parlours—Giapo. The ice cream here is next level and the cones are something else. A visit here isn't just a feast for the tum, it's a feast for the eyes (and your feed) too.
Have A LOL Or Two
Need some laughs in your life? The Classic will do just the trick! Watch as local and international comedians do their funny thing or give it a shot yourself with their open mic nights.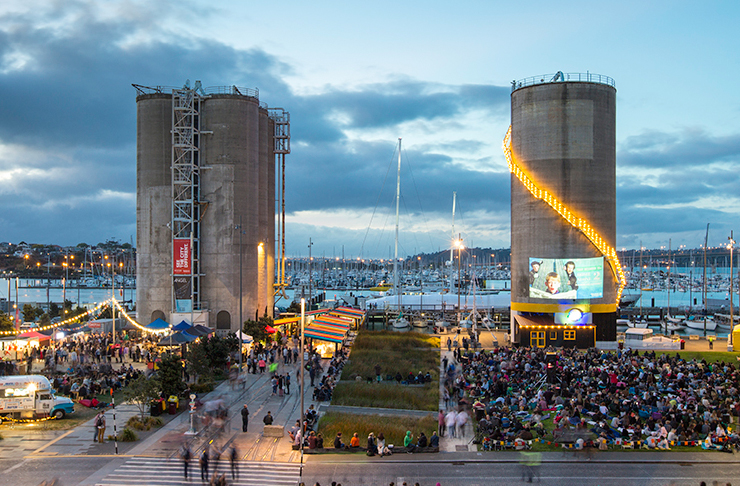 Catch A Flick At Silo Park
During the warmer months, Silo Park becomes the ultimate evening out with street food, music and an epic outdoor cinema projected on a silo. It's one of the best things to do in Auckland Central.
Enjoy A Cold One
If you love a brew, Auckland Central is the place for you. There's Brothers Beer in City Works Depot, 16 Tun, Vulture's Lane and The Brewers Co-operative—just a few of the best craft beer bars in Central Auckland.
Fresh Fish And Fine Views
Us kiwis loves fish 'n' chips and we love beaches. Put the two together, add an epic view into the mix and you've got one heck of of an evening. For a classic picnic feast, pick up some F 'n' Cs (or fish tacos) at FishSmith before wandering down to Sentinel Beach, a small nook with first-class views of the Auckland Harbour Bridge.
Run, Aucklander, Run!
Get fit, meet some like-minded peeps and explore Auckland Central with a running club. Nike+ Run Club and adidas Runners Auckland will both get you running like Forest in no time.
Stop And Smell The Roses
At none other than Parnell Rose Gardens, of course. It's a beautiful slice of the city and a visit there is one of the best things you can do in Central Auckland. Pro tip: head to Rosie for a scrumptious post-rose garden strolling feed.
Take A Dip
While you're in Parnell, pay a visit to the Parnell Baths, the iconic salt-water pools sure to cool you down on even the hottest of days. Pssst: they're only open during the warmer month.
Shop 'Til You Drop
Whether it's in Newmarket, High Street or along K' Road, Auckland Central is home to some seriously amazing clothing stores. Our pick? The vintage goodies, particularly Tatty's, Tango and magichollow.
Eat Your Way Down Wynyard Quarter
Starting at Auckland Viaduct, start ticking off some of Auckland Central's best restaurants. They all come with beautiful views!
Get Inked
Some of Auckland's best tattoo studios can be found in the central parts of the city! They're run by talented peeps who will make sure your skin is in safe hands. Tempted to get yourself a tat? Here are the best tattoo studios in Auckland Central.
And Get Dumped
A mere 5km from Auckland's CBD and you'll find yourself in Balmoral, a hotspot for dumplings, noodles and bubble tea in Auckland.
Make A Weekend Of It
What's not to love about a staycation? Book a night or two in an inner-city hotel, make swanky dinner reservations, indulge in a few cheeky cocktails....all with the sweet, sweet knowledge that the next morning involves fluffy bathrobes and room service. Winning!
Treat Your Sweet Tooth
Auckland CBD has got it goin' on when it comes to sweet treats. Experience the best ice cream of your life at Giapo, high-end desserts at Miann or late-night cheesecake at The Fed. Either one, you'll know you're getting one of the best desserts in Auckland Central.
Kayak To Rangitoto
This is one for the Auckland Central bucket list. Take a sunset tour to Rangitoto with Auckland Sea Kayaks and enjoy a prime view of the city twinkling between you and the sea.
Discover New Zealand's Ties To The Sea
On the subject on the sea...New Zealand Maritime Museum is the place to find out about New Zealand (and Auckland's) ties to the ocean and sailing. It also puts on some pretty rad exhibitions so keep an eye out for those.
Boogie To The Sweet Sound Of Live Music
Live music and Auckland Central go hand-in-hand. From basement bars and rowdy gigs to intimate concerts, you needn't look further than the inner-city suburbs when it comes to live music in Auckland. Here are the best of the best here.
Image Credit: La Cigale, SUP, Silo Park, Andrew Wilson, Jaiden Bhaga
Want More?