Hot on the heels of Te Marama Puoro O Aotearoa NZ Music Month we caught up with eight of Aotearoa's most exciting up-and-coming DJs to hear about life on the scene. From beginnings to current inspirations and what it feels like to be in their element, we're blown away by the immense talent and vision of these young artists.
Here are eight up-and-coming DJs you need to know about.
BBYFACEKILLA
BBYFACEKILLA is the alias of Tāmaki-based creative, Tina Kolose. Bringing joy and pleasure to the dance floor through heavy uptempo selection and nostalgic feels, they describe their sound as 'sonic seasoning', adding flavour with no restrictions or rules. Drawing inspiration from family, friends and their Samoan, Niuean and European roots—their ancestral roots go back to the villages of Fogapoa in Savai'i, and Faleasi'u and Solosolo in Upolu—BFK transcends the trappings of genre and format, blending all their favourite sounds to tell their story. Intertwining community, music and clothing, Tina is also co-founder of Hunting Ground Store, an online clothing store, radio show and platform.
"When I'm in my flow state and lose that sense of self consciousness, a rush of adrenaline kicks in and the feeling of joy starts taking over. It's pure pleasure… until someone asks for a song request."
Follow: @bbyfacekilla.mp3
EMWA
Taranaki-born Emma 'EMWA' Davies loves cats, dumplings and DJing. She'd always dreamed of being a DJ but hadn't considered it a viable option until she saw Dillon Francis and Flosstradamus live at Big Day Out 2014. Taught to DJ by Paige Julia, and inspired by trailblazer females in music Alison Wonderland and Whipped Cream, plus artists like QUIX, Montell2009, Lee Mvtthews and Sin, EMWA has been Djing for seven years now, and producing for almost two. She DJs trap and dubstep as well as rap, DNB and mid tempo and she finds a sense of peace in DJing which she notes is rare as a person with ADHD. EMWA features in the lineup for Deep Hard n Funky and will be playing alongside Dillon Francis at Shed 10 this July.
"DJing is so much more than meets the eye. You have the ability to transport people out of their crappy day and take them somewhere else. That's a really powerful thing and something I don't take for granted."
Follow: @iamemwa

ATARANGI
It was important to ATARANGI, which translates to 'morning sky' and 'new beginnings' that they choose a gender-neutral name for themself that aligns with their journey and culture. Inspired by the queer club scene, queer community and artists like Half Queen, Zeki and BBFACEKILLA the Takatāpui Māori interdisciplinary artist enjoys the constant evolution of being a DJ. Their style tends towards an open format of club edits mixed with drum-heavy tracks and bass but they aren't afraid to shake the room up with a bit of techno and more abrasive beats too. Earlier this year they played with Insession (Te Whanganui-a-Tara), storming the floor with their sisters from Wellington Ballroom. Alongside being a DJ ATARANGI is interning with the Te Ao Māori team at Radio New Zealand.
"There's not much representation for queer Māori in the music industry. I didn't see much of it growing up so to be one of many emerging queer, Māori artists is something that I will always be proud of."
Follow: @liiiambrown
CALSKE
Calum McCartie, who goes by the DJ name 'Calske', grew up behind a keyboard looking up to artists and watching music videos and DJ sets. Initially a videographer working at festivals, gigs and on music videos, he realised he wanted to do more than be behind the lens. When a friend taught him how to mix an old pair of CDJs, DJing quickly became a hobby leading Calum to launch platform-turned-music label and events company GLASS HALF FULL. The label has just booked their first international booking Germany DJ Ben Rau who'll play at Neck of the Woods in June. Calske brings an electronic sound to the decks, blending old school house, garage and breakbeat with modern hip hop influences.
"People say the internet and social media are toxic (which they are) but they have also been the most powerful tools in my creative outlets."
Follow: @cal.ske
CORTR
'PrettyBoy' is electronic music artist CORTR's third single for the year with more planned for the coming months. He learned to DJ back in 2013 on a cheap DDJ SB Pioneer DJ controller and has evolved his style into what he calls 'melodic trap' which is a lot of future bass influences mixed with really hard aggressive trap, both old school and new school. Some of CORTR's favourite collaborations to date include playing a sold out show at Powerstation supporting QUIX, headlining at Impala, supporting Ian Munro at his Liminal EP release party, supporting Hydraulix at Future Club and one of his first gigs at Basement in Wellington with the support of KATANA/Rui.
"I always get super nervous before playing but as soon as I have that first transition done it's the best feeling in the world. You get completely lost in it, especially when the crowd matches your energy and it's just a bunch of sweaty kids losing their minds."
Follow: @cortrmusic
SAMMIE
SAMMIE spent a lot of time as a kid writing songs and putting on concerts for anyone that had the patience for it. She started dance when she was seven and carried on to teach dance through high school. Always knowing she wanted to do something in the music realm, she began dabbling in DJing while bartending at a club in Wellington. Inspired by the 90s and 00s era of house music—particularly Ministry of Sound—and the hip hop and R&B music that was a staple in her dance classes, she's a house/techno/breakbeat DJ and producer. Over the last few years she's refined her sound as a DJ and producer which can be heard in her recent single releases 'Stolen' and 'Detached'.
"I get so excited when I find new interesting music and when I see a crowd reacting in the same way. It's a really euphoric feeling. I love seeing people let go and be free and being able to soundtrack those moments is so special."
Follow: @sammiie.nz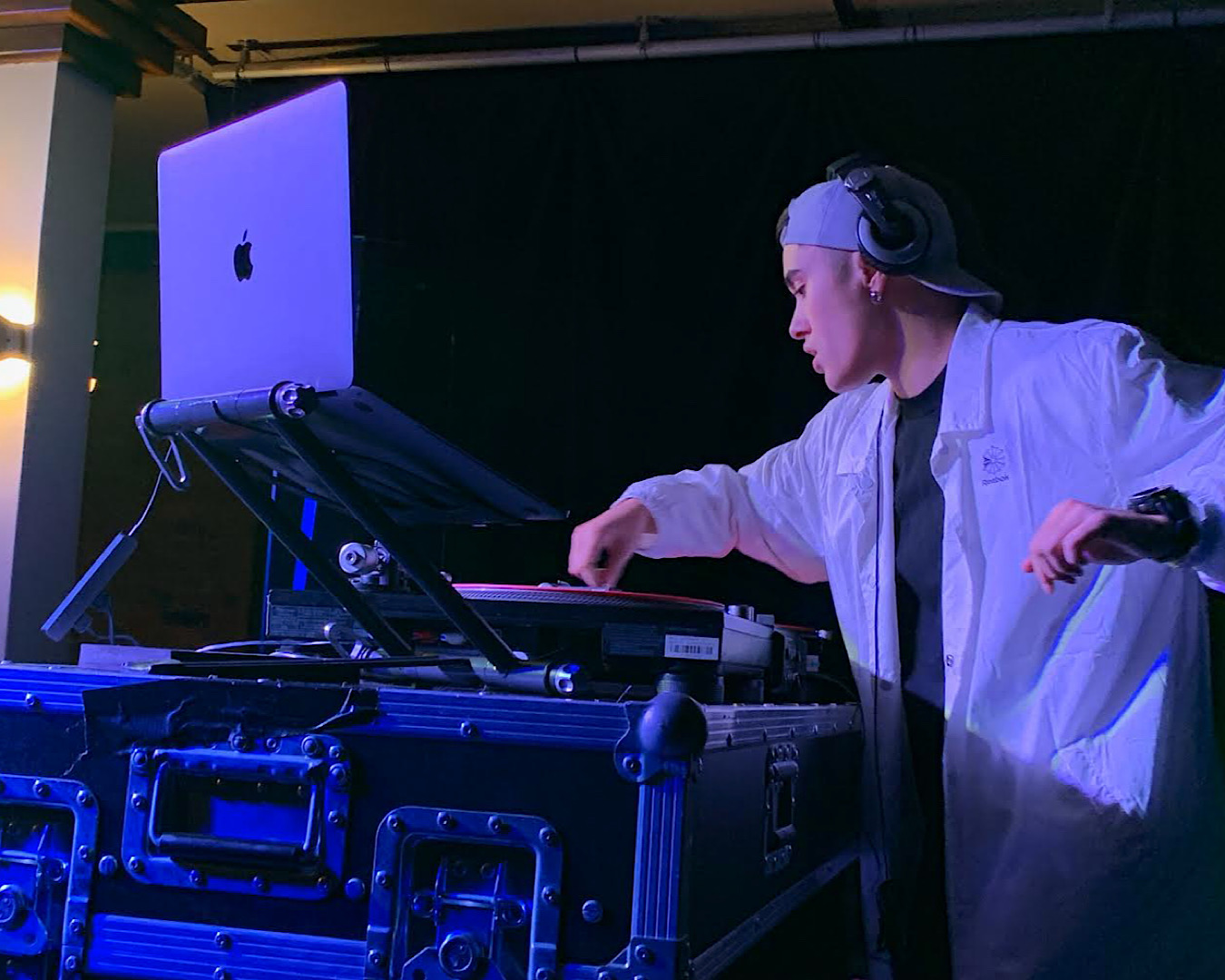 DJ MENZ
Growing up feeling like an outcast Meno Thomas Savelio 'DJ MENZ' reflects on how music has shaped him into the person he is today. Meno got his first taste of mixed music genres participating in a Les Mills group fitness class called BODYJAM which he began teaching when he was just 15. Now a Masterclass Filming Presenter and DJ, he has been mentored by DJ RAW, DJ Shan and DJ Alphabet and has opened for the likes of Lance Savali and Che Fu. Meno enjoys scratching through many genres—from hip hop and moombahton to bass house and EDM—staying true to the diverse ages and personalities in the crowd. This August he'll be heading to New Orleans to DJ one of Les Mills' biggest live events.
"Finding my identity, being transgender, was always confusing until I put my headphones on, turned on a track and left reality for three minutes. It was an outlet for me, and still is to this day."
Follow: @menothomas
HURRICANE EMILY
Emily Janus a.k.a. Hurricane Emily spins tracks that morph through clubby, diverse, percussive and quirky, with a liberal sprinkling of hot anthems. A long-time music and dancefloor enthusiast Emily signed up for a DJ course in 2019 run by DJ Scizzorhands through Burgerfuel and has since graced the stages of Rhythm and Alps and Dark Practice, opened for Rosa Terenzi and played at the re-opening of Club 121 following the Covid shutdown. She is currently working towards launching a free DJ course in Wellington to give everyone—with a special focus on gender minorities—the opportunity to learn the basics and get in on the scene.
"I've met some of my closest friends through DJing and I feel very blessed to be a part of it all. There's no better feeling than connecting over music; playing an absolute belter of a tune and experiencing that special euphoric dancefloor moment with everyone."
Follow: @hurricaneemiily
Ready to hit the dancefloor? Check out the best live music venues in Tāmaki Makaurau.
Image credit: Sander Sammy, Dalong Ye-Lee\DeepSleep, Atarangi, EMWA, Calske, CORTR, SAMMIE, Josh Wotton.