Drinks delivered to your doorstep. What a wonderful concept. If your bar cart is running dry New Zealand alcohol delivery services have plenty of options to top you up.
Make some space in that fridge and/or alcohol cabinet of yours, we've found the very best alcohol delivery services around the country.
Everyday Wine
Everyday Wine is the stuff of vino dreams, offering a huge selection of organic natural wines including those from France, Spain, Australia and of course New Zealand. From fresh whites to rich reds and everything in between, they have the perfect drop for you. We recommend switching things up and grabbing yourself one of their exciting 'orange' varieties (aka skin-fermented whites).
Delivery nationwide.
Society Liquor
Society Liquor is one classy operation, bringing some of the world's most extravagant spirits direct to your door. Whether it's a bottle of our very own Broken Shed Vodka or whisky straight from the isles of Scotland, there's no shortage of goodies here. In lieu of their Unicorn Tears gin liqueur (sold out, of course) you'll find us hitting up a bottle of Phoenix Tears rum.
Delivery nationwide.
Batched Premium Cocktails
We don't know 'bout you, but our happy place is anywhere there's a cocktail (okay, make that cocktails plural). And thanks to the geniuses at Batched Premium Cocktails, that could mean our very own deck, the lawn—hell, even our couch. These guys specialise in bar-quality, ready-to-drink cocktails (literally all you have to do is shake the bottle then pour over ice) in a range of lush flavours including Espresso Martini, Strawberry & Rhubarb Gin Sour, Salted Grapefruit Margarita and our personal fave, Whiskey Sour. Better yet, each bottle contains enough goodness for six cocktails.
Delivery nationwide.
WineFriend
WineFriend is exactly the kind of friend we need, especially because they believe that wine should be as much fun to buy as it is to drink. This clever company will actually 'test' your tastebuds (virtually, that is), then put together a box of wines matching your results and budget. When it's all said and drunk, let them know your thoughts and they'll curate your next box. Alternatively, you can hop online and buy some of their top picks by the bottle.
Delivery nationwide.
Invivo & Co
Wine time is on, thanks to the legends at Invivo & Co. These guys stand by the mantra "nothing should stand in the way of a good drink" and we couldn't agree more. One of New Zealand's leading wine producers, they have a slew of accolades to their name—including the title of world's best sauvignon blanc—and have collaborated on wines with superstars like Sarah Jessica Parker and Graham Norton (who, BTW, they've also created a gin with). To cut a long story short, these guys make a damn good drop. See for yourself and order some today.
Delivery nationwide.
COVE 27
New Zealand's newest premium online store; COVE 27 offers a selection of imported unique gins, rums and tequilas not found anywhere else in Aotearoa. Add to that a carefully curated list of local (often environmentally conscious), award-winning small-batch producers of next-level wine, beer and spirits and you've got stunning bottles and spectacular drinks delivered to your doorstep anywhere in NZ. Rest assured your bottle will be the talking point at (zoom) parties.
Delivery nationwide.
Wine Central
Choose from hundreds of great value wines when you visit the virtual mecca that is Wine Central. Not an expert? Don't worry, their website is designed to make finding your dream drop as easy as possible with categories like varietal, style, region, grape and even vegan. And the good news doesn't stop there—you'll also find beers, spirits and added extras like glassware to complete your order.
Delivery nationwide.
Beer Jerk
For craft beer lovers, services like Beer Jerk are a legit Godsend. Their website is a treasure trove of rare and interesting brews—many you're unlikely to find at your local bottle shop—including those from Urbanaut, Omnipollo, Garage Project, and Small Gods, with six-packs, mixed cases, and even a subscription up for grabs (yes, you read that correctly: a subscription service for CRAFT BEER). Should you opt for a sub, you'll be treated to a box of surprise brews which you can work your way through each Thursday, while talking about it with other like-minded drinkers via the online Beer Jerk club. That's enough beer—and beer banter—to keep any crafty lover's cup well and truly full.
Delivery nationwide.
By The Bottle
By The Bottle pride themselves on having one of the most thoughtfully-curated selections of booze around, and we couldn't agree more. With a focus on organic, natural, biodynamic and sustainably produced beverages, each item has been handpicked as much for its origins, as for what's inside the bottle. They have a solid selection of wines, beers, spirits and bubbles, along with a great assortment of gift packs (wine + puzzles = genius!).
Delivery nationwide.
Big Barrel
Your old faithful, Big Barrel is also online and slinging a stellar range of wines, beers, spirits and RTD's—sure to have you set for your next drinking sesh. Get more bang for your buck by checking out their rather large specials section.
Delivery nationwide.
Black Pineapple Co.
Forget piña coladas and getting caught in the rain, we want espresso martinis while stuck firmly to the couch—how 'bout you? Well thanks to Black Pineapple Co., you can now have just that. Drinks expert Frankie Walker (who has more than 25 years of experience in the industry) is the brains behind this one, which brings fresh cocktail boxes—as well as spirit and mixer boxes—right to your door. As such, you can expect tipples that deliver on taste, presentation—and plenty of good times. Unfortunately, not all of Black Pineapple's boxes are available nationwide, but guess what—their espresso martini one is!
Delivery within Auckland only, except for select products.
Cult Wine
Don't expect to find your average drop over at Cult Wine, who once organised their vinos into categories like Smashable ("these wines go down easy... too easy") and MindFuck Alert ("wines that challenge the very notion of what wine can and should be"). See what all the fuss is about and grab yourself one of their mixed packs or other offerings.
Delivery nationwide.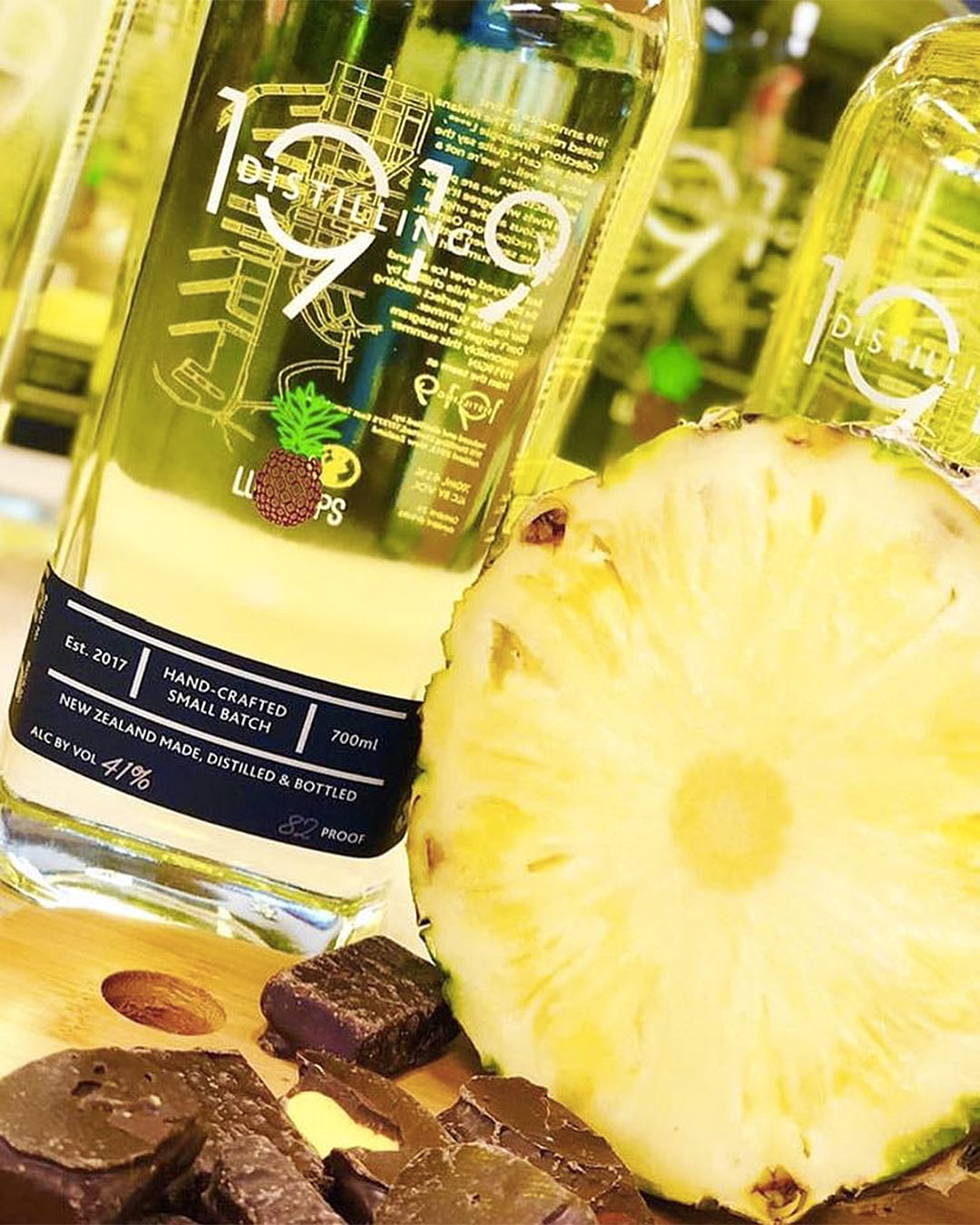 East Imperial
Discerning drinkers will be pleased to know that they can get their hands on East Imperial's premium tonic waters online, as well as some epic pairing bundles containing, yes, alcohol (look carefully and you may even find 1919's coveted Pineapple Lump-inspired gin).
Delivery nationwide.
The Beer Library
Don't be fooled by the name, The Beer Library is serving you not only a slew of excellent brews, but also wine, spirits, cider, and more (plum sake, anyone?). They offer a great selection of vintage and cellared beer for those in the know, as well as vegan-friendly brews and even a range exclusive to their shop.
Delivery nationwide.
Brewbound
Brewbound
is bringing the party right to your door, with a range of wine, beer and spirits from some of your fave boozy brands. We'll take a 12 pack of Gordon's Sicilian lemon gin & soda, some Squealing Pig pinot noir, and a bottle of Beefeater blood orange gin.
Delivery nationwide.
Winetopia
Fill your glass at Winetopia, an online arm of the hugely popular wine-tasting event of the same name. A true celebration of NZ vino, they're serving up top-notch drops from across the country and all at the best possible price (yay for quality wine under $20!). They even run a Winetopia Club, whereby you'll receive quarterly shipments of six wines and inclusive shipping on all additional wine orders, amongst other perks. Sign us up.
Delivery nationwide.
Cocktail Collective
Shake things up with a special delivery from Cocktail Collective. They offer carefully curated cocktail kits that contain "everything you need—in just the right quantities—and nothing you don't" including spirits, liqueurs, juices, syrups and garnishes, to create delicious, bar-style drinks at home. Personally, we'd love to get our hands on one of their lemon drop martini boxes.
Delivery nationwide.
The Good Wine Co
There's not a bad word to be said about The Good Wine Co, which offer a great selection of vino (minus the confusing jargon), and equally great prices. They've even put together some food-matching suggestions—now that's what we call service.
Delivery nationwide.
Craft Box Direct
Craft beer lovers, raise your can/bottle/flagon to the legends at Craft Box Direct. They're serving up some seriously solid local brews, available in mostly mixed boxes or via a monthly subscription service (this focuses on the country's newest craft breweries and features beers not yet available in-store). Expect super-fresh, brewery-direct beers, and nothing less.
Delivery nationwide.
Kings Liquor
Kings Liquor has been creating their own spirits, liqueurs and other products for more than 30 years—including the country's first commercially viable alternative to Baileys—and are continuing to bring you their tasty tipples on the daily. We particularly like the sound of their cranberry and raspberry gin; as well as their 'orangecello' (a tasty twist on limoncello).
Delivery nationwide.
Glengarry
Glengarry stock a huge range of drinks online that they'll deliver to your door. Whether you're after a rare craft beer, an award-winning vino or a punchy premix (Pals and Part Time Rangers, we're looking at you), rest assured there's a bevvy with your name on it. Plus, they even have a collection of cocktail recipes available, should you wish to brush up on your mixology skills.
Delivery nationwide.
Drinks Trolley
Let the good times roll with Drinks Trolley. This website has a bunch of well-known booze brands up for grabs, including Asahi, Peroni, Carlsberg, Fickle Mistress, Somersby and Long White to name a few. So pick your poison, and let drinks o'clock (their term, not ours) commence.
Delivery within Auckland only.
Support your favourite drops with this handy list of vineyards that will deliver to your doorstep, nationwide.
Image credit: Society Liquor, Batched, Cove27, By The Bottle, 1919 Distilling, Cocktail Collective.