New Zealand's cellar doors may be shut during lockdown, but that's not certainly stopping their bottles from making their way to ours.
Thankfully for us lovers of the drop, local production and distribution ticks the box as an essential service during Level 4. Rightly so, it's a long-term investment for this and future years' bottlings and New Zealand's ever-blossoming place on the international wine stage. Not to mention, it's a total win for our at-home happy hours.
So to help your lockdown cellar stoking, we've handpicked a bunch of New Zealand wineries delivering nationwide during Level 4 lockdown (some of which, even for free). Whether you buy by the bottle or by the case, rest assured that you're supporting locals and shopping sustainably while letting the good times flow.
Heron's Flight
For a taste of Italy that doesn't require leaving your house, hit up Matakana's Heron's Flight. Their silky reds and vibrant Rosato are just delissimo—after all, they're made from some of the only Dolcetto and Sangiovese vines in the country. Sweeten the deal by entering '25' at checkout for 25% off your order and free NZ-wide shipping.
The Hunting Lodge
Sometimes you need wine ASAP. We get that, and so do the folks at The Hunting Lodge, who are kindly offering contactless delivery within 48 hours of ordering for anyone within 25kms of their winery in Kumeu (and for free if you order over $70 worth of liquid goodies). Grab a mixed pack of six, or stick to a bottle of your favourite variety. There's even apple cider and Blush Crush (sparkling pink sauv) to splash into the mix.
Soljans Estate
Another Kumeu vineyard winning our hearts during lockdown is Soljans, who are treating us Kiwis to free delivery around the country. Whether you're team pinot or a #roseallday, your go-to vino is just a click away from your doorstep.
Kumeu River
When the chardonnay craving hits, Kumeu River will be your saving grace. As makers of some of the best Chardonnay in the land, this family-run team are sharing the joy of their liquid gold (and other divine drops) by delivering to the rest of the country. Oh Kumeu, we love you.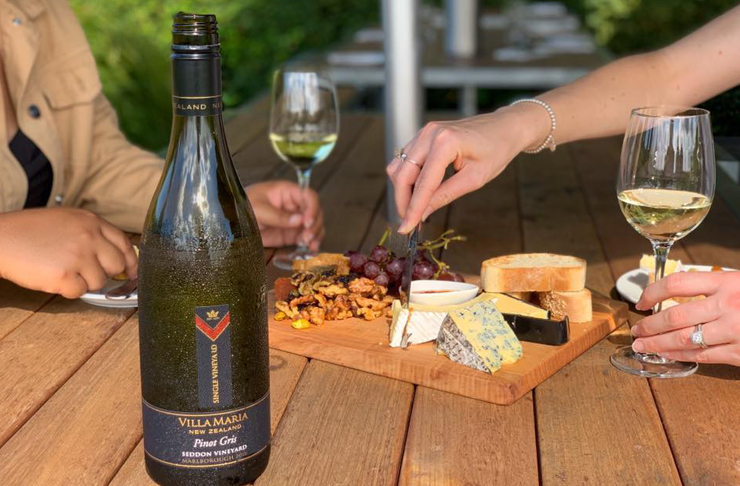 Villa Maria
The sweetheart of the NZ wine scene is at it again. And we love them for it. This time, Mangere's Villa Maria are saying toodles to any delivery fees, so we can say hello to a bottle or box full of wine at our doorstep.
Invivo & Co
The Te Kauwhata wineries' mantra "nothing should stand in the way of a good time" sure is fitting, with free contactless deliveries on all orders over $50 during Level 4. You might remember Invivo & Co as the legends as those who've collabed with Sarah Jessica Parker and Graham Norton to create the tastiest, and most fabulous sauvigons, rose, shiraz, prosecco and gins? If Carrie Brandshaw was in lockdown, we sure know these would be her bottles of choice.
Mudbrick
Relive the magic of wandering about Mudbrick's dreamy garden estate by popping open a bottle in your own. There's a delicious methode traditionelle for a little something sparkling, as well as every kind of red, white and pink variety your heart could desire. Lucky Waihekians and Aucklanders even qualify for free delivery.
Man 'O War
Take your quarantine cheeseboard up a notch by pairing it with a drop of Man 'O War. They've got a magnificent array of chardonnays and syrahs, as well as bordeaux blends and a 'pinque' rose. Rest assured that whichever bottle tickles your fancy, it can be delivered nationwide.
Tantalus Estate
Having launched for the occasion, it'd be rude not to have a glance at Tantalus Estate's sleek online wine boutique. By glance, we really mean be tempted by their lush lineup of wines to the point they end up in your cart and eventually in your house.
Alana Wines
We love good wine, we love a good sale and we love Martinborough. Thankfully for us, so does the team at Alana, who have kindly popped the top off their bottle prices. We're talking up to 50% off, so hop to it and grab a bunch of bottles of your favourite vino, or opt for a 12-bottle case for a DIY, at-home, cellar door tasting experience. There's free courier for city locations, otherwise it's a fiver for rural delivery.
Jackson Estate
These Malborough folks sure are generous during lockdown. They're offering 15% off with the code 'STAYHOME' as well as free shipping across NZ. For our #IsolationInspiration, their team are even sharing their most coveted recipes online for the full culinary sh'bang. Team Jackson Estate, we love you.
Yealands
Another vineyard that's delivering bottles to Kiwi doors by the half dozen (with complimentary delivery, let's not forget) is Yealands. Choose between cases of their single vineyard Pinot Noir, Sauvigon Blanc and Tempranillo or their reserve Chardonnay and let the good times flow.
Nautilus Estate
Treat your bubble to some fabulous—err bubbles—from Marlborough's Nautilus Estate. Their Vintage Rose 2016 Methode Traditionelle or Cuvee Brut NV are simply exquisite and are crafted to pair with all kinds of foods, as are their still counterparts. Oh, and did we mention Nautilus is offering free shipping across NZ and Aussie?
Tohu Wines
There's a lot to love about Tohu Wines. They're delivering wines nationwide during lockdown, and even have a special offer of 25% off cases of their Manaaki range. Simply pop 'takecare25' at check out for the deal.
Mt Rosa
For fans of any wine with 'pinot' in its name, allow us to introduce you to Mt Rosa. This boutique Central Otago winery is delivering some of the best and flavourful pinot noirs, gris and blancs to anywhere in the land for free during lockdown. Make sure to add their sangria and mulled wine syrup to your order. They're simply liquid magic, we're telling you.
Mt Difficulty
Contrary to the name, stocking up the cellar during Stage 4 is anything but a mission. Head to Mt Difficulty to order your favourite drops in cases of six or 12 (for free NZ shipping), or shake things up with a mixed case of six. Keep an eye out on their Instagram for live wine and chats with their head winemaker too.
Peregrine
Award-winning Pinot Noir and Riesling is a simple click away from your door. Head to Peregrine Wines, grab a six case of your favourite varietal and enjoy 10% off your order plus free shipping anywhere in the country. Let your Aussie pals know too, it also applies to Sydney, Melbourne and Brisbane.
Gibbston Valley
The originals of the Central Otago wine movement have answered our pinot prayers and are delivering their famed Pinot—along with their other wines—straight to our doors. Gibbston Valley offers red, white, late harvest, organic wines, magnums and double magnums; you name it, it can all be yours.
Chard Farm
Pinot noir lovers, this one's for you. Get free NZ-wide delivery on Chard Farm's entire range, including their six exquisite pinots (yes, that includes the magnum box sets). Can't decide? Their pinotphile cases will set you up with the ultimate pinot party.
Amisfield
Add a splash of sophistication to your home happy hour with a bottle or two from Amisfield. As makers of some of the smoothest Pinot Noir in the region—or the nation for that matter—the Amisfield team have our tastebuds' best interests at heart, and are delivering the good drops to our door.
Beer and spirits more your jam? Check out these companies that will deliver alcohol to your doorstep, nationwide.
Image credits: Gabrielle Stjernqvist, Villa Maria, Tantalus Estate, Tohu Wines, Gibbonston Valley