There's nothing more picturesque than a mid-morning coffee and pastry on a park bench. For the full whammy, add a dog-eared Penguin classic and a picnic rug. Yep, from quiet picnics to screaming kids, parks really do have it all. Although we may not have NYC's Central Park on our doorstep, or the Champs Élysées down the road, us Aucklanders need not fret. We've got a pretty impressive array of parks scattered around the city.
From West Auckland to the North Shore, here's a list of the 20 best parks Auckland has to offer. FYI: That holiday leave you have stashed up may come in handy after all—park tour anyone?
Rocket Park
Mt Albert
Kicking off the list with none other than Rocket Park, arguably the most iconic little rocket ship in Auckland. A kingdom for children, let the Mt Albert park take the wee ones off your hands for the afternoon while you lounge on ya picnic rug in the sunshine. Be warned, they may come back thinking they're the next Lance Armstrong.
Chelsea Heritage Park
Birkenhead
Needing a Kiwiana fix? The Chelsea Heritage Park is for you. From native trees like Manuka and Kauri to a range of exotic and native birds, including the New Zealand wood pigeon, this heritage park is a pretty special space. For you fitspo bunnies, the walking tracks offer a great alternative to the daily gym grind and, to make things better, the bordering Chelsea Sugar Factory means there's a smell of sweetness lingering around. Yum!
Totara Park
Manurewa
Offering a range of walks, from 25-minute strolls to miniature hikes, Totara Park is a favourite among Manurewa locals. With mountain bike trails on offer too, it's a great park for Sunday sport lovers. What's best is that it borders the Botanic gardens, meaning after your walk you can take a stroll through the luscious flower fields.
Cornwall Park
Epsom
Oh Cornwall Park, how we love you. This may just be Auckland's best park, filled with happy-go-lucky park-lovers on picnic rugs, either in exercise gear or just straight up chillers. You'll find a bit of everything here. With cafes and bistros set to impress the finest of diners, plus one seriously cute ice-cream shop, you could spend days here and not get bored. Pro tip: a walk up to the summit gives you a view over Auckland's entire landscape. Pretty frickin' cool, right?
Waikowhai Park
Hillsborough
The car park alone offers impressive views over Manukau Harbour, but make sure you venture out of the car too. Perfect for dog owners who have a pup that's keen to play, Waikowhai Park offers a large off-leash dog area. There's also a standout playground with a pretty epic flying fox, and the park itself is ideal for an afternoon picnic.
Long Bay Regional Park
Long Bay
Long Bay Regional Park is the ideal place to spend a full day out to stay busy and active. Located right next to the beach, it has a huge field made to be played on, walking tracks and open BBQ stands, it's impossible to find yourself bored at this park. Long Bay Regional Park is also a great destination to get some downtime. Find a quiet spot under a Pohutukawa tree and read a book for some me-time.
Myers Park
CBD
Running parallel to upper Queen Street, Myers Park is sometimes referred to as Auckland's oldest park. You'll find students lounging around, text books in hand, as well as businesspeople enjoying their lunch in the sunshine. With paths crossing the park connection to K Road and Aotea Square, it's very much an inner-city meeting point. We like to pack lunch and our favourite rug and chill for a few hours in the heart of the city.
Craigavon Park
Blockhouse Bay
Boasting a fab array of recreational activities, Craigavon Park is perf for walkers, dog owners, babies and everything in between. Take a stroll through the forest-like park—an off leash walk. And, your dog will love the obstacle course built especially for them! If fitness is your thing, Craigavon Park has exercise equipment so you can build those muscles. There's also a damn cute BBQ area, which will take your picnic up a few notches! The playground is fenced and fun for the little ones. P.S. Make sure you save a few pieces of steak for ya pooch or you'll have one sour dog in the backseat on the drive home.
Mission Bay Park
Mission Bay
There's something for everyone at Mission Bay Park. Located right next to Mission Bay Beach with an epic playground and spacious field, you won't struggle to find something to do here. Not to mention, the park is in such close proximity to the central part of Mission Bay, making it busy all year round and a heavy favourite amongst Aucklanders. Don't forget to have your Movenpick fix before you start your stroll, it is mandatory Mission Bay procedure!
Big King Reserve
Mt Albert
Another park that's perfect for dog owners, Big King Reserve seems to host everyone that's TC to walk up Mt Eden. With the bustling cafe Orvieto out front, it's likely your coffee will still have some heat by the time you make it to the top. That is if you're not walking at two km per hour…You'll find ya pooch might make it to the top before you do.
Wenderholm Park
Puhoi
Half park, half beach, this treasured spot in Puhoi is our fav way to spend a summer's day— preferably with an ice cream and some good convo. With a campground on site, why not spend a few days exploring the treasured forest? Known as a slice of paradise just out of the city, you don't have to drive far to escape the craziness. FYI: There's a killer ice cream store in Puhoi that has your name all over it.
Dove-Myer Robinson Park
Parnell
Promise we're not biased, but this may just be the prettiest walk in Auckland. Perfectly kept grass, vine-woven pathways and the smell of fresh flowers, Dove-Myer Robinson Park—better known as the Parnell Rose Gardens, really is a gem. There's not a heap of space, but it is a great location for those wanting some quiet to themselves. Afterwards, head to Parnell's favourite cafe, Rosie, for a delicious meal.
Point Erin Park
St Mary's Bay
Otherwise known as the Westhaven Loop Walk, this beautiful track takes you right down to the viaduct and through the heart of Auckland. Perfect in the summertime for an outing with your bestie, we're not sure if you can beat a catch up over good coffee and an even better walking track. The pedestrian bridge over the motorway also makes for a super cute photo-op.
Victoria Park
CBD
Home to some of the greatest markets around, we're not sure if you can call yourself an Aucklander without a visit to Victoria Park. Don't worry, we're not forcing you to hit the skate park close by, but if cricket or rugby is your jam, then you're bound to catch a good game at Vic Park. Whether it's kicking a ball around for the afternoon or settling in with a rug and basket, this is an idyllic spot to spend the day.
Lakeside Park
Western Springs
Known as a sanctuary for both people and wildlife, Western Springs Lakeside Park has a tranquil feel to it. With water lilies in the ponds and blossoming gardens surrounding the park, this is one the French would be proud of. The best bit? You're only a short walking distance from the Auckland Zoo, MOTAT and the renowned Western Springs Stadium. There's a playground for the kids an plenty of space to have a picnic. Just watch out for the geese—they love a good chase!
Albert Park
CBD
Probably the most visited park for Auckland students, it seemed like a crime to write about the best parks in Auckland and not mention Albert Park. During the spring season, Albert Park is an absolute floral wonderland with some of the most beautiful garden designs Auckland has to offer. Located in the centre point between AUT University and the University of Auckland, it catches all the rays of sunlight, making it a go-to destination for unwinding.
Little Rangitoto Reserve
Remuera
Located in the heart of Remuera, this popular park screams kid zone. With a circular swing, jungle gym, slides, flying fox and a skateboard bowl, your little ones are sure to be entertained for the day. That leaves you free to head to the Benson Road Deli to pick up the picnic supplies and find a spot on the grass. Little Rangitoto Reserve was once a volcano before it was quarried away, so if you're one for history you might get your thrills exploring this spot.
Tole Reserve
Ponsonby
This may be Ponsonby's cutest park. It's small in size but totally frickin' awesome. It has a little playground, skating ramp and ample area for your dogs to enjoy. Ponsonby locals just can't get enough. Morning walks around the park just got a whole lot easier. (Takeaway flat whites are of course, part of the ritual).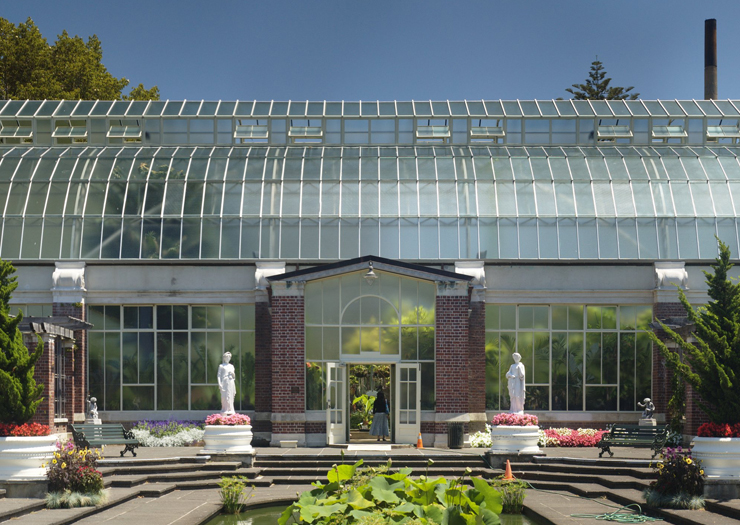 Auckland Domain
Grafton
The Auckland Domain is a landmark of Auckland as it's our oldest park and one of the biggest in the city! The park is the home to the Auckland Museum and is therefore the number one tourist destination. Make sure to visit the infamous winter gardens to see the prettiest floral fit out this city has to offer. During the spring season, you'll also find the most gorgeous grove of cherry blossoms which will for sure spice up your Instagram feed.
Silo Park
CBD
Parks aren't limited to greenery and wooden benches and Silo Park proves this oh-so well. With an urban fit out and killer views of Auckland's waterfront, Silo Park's modern park is one that is a must visit for anyone in Auckland. There's an epic playground, including some water features to keep the kids happy for hours. Some of the top eateries surround and award-winning gelato parlour surrounds the trendy park and there's also little walkways you can take to get the best possible view of Auckland City.
Want More?
Image credit: Silo Park, Antilived