With so many eateries opening up all over Christchurch, it's hard to know where to start but we're here to point you in the right direction. From cheap and cheerful to fine dining establishments, here is where to find the best restaurants in Christchurch, as well as a handful just outside the city as well.
Twenty Seven Steps
Central Christchurch
A mainstay on every best restaurant list, Twenty Seven Steps is situated upstairs on picturesque New Regent Street. The heritage space is popular—and for good reason. It serves hearty, flavoursome meals made from locally-sourced and seasonal ingredients. The menu is divided into three sections: beginning, middle and end. Starts with the likes of blue cheese with asparagus, poached pear, white radicchio with summer leaves and walnut oil or keep things simple with their delicious house bread. For the mains, there is aged Canterbury 200g beef fillet, celeriac, gruyere and kumara dauphinoise, spring vegetables, bone marrow and horseradish butter and jus or try the Tai Tapu venison tenderloin, parsnip rosti, white bean puree with vegetables and Madeira jus. Naturally, you'll want to save room for dessert. You can't go wrong with a dark chocolate tarte and vanilla cream terrine, currant coulis and raspberry ice cream or if you have a savoury tooth, the Canterbury cheesemongers cheeseboard, fennel jam, oat and poppy seed cakes. Keep an eye on their blackboard for current recommendations. Wash it all down with a wine which is mostly local and their cocktails are some of the best in the city. Open seven days from 5pm, it is also available for functions or group bookings.
Earl
Central Christchurch
New on the scene, Earl is making waves as a laidback all-day eatery in the central city. The casual but trendy Italian restaurant truly captures the essence of post-quake Christchurch hospitality. Inspired by coastal European culture, produce-driven dishes are geared towards great wine and conversation. Open for both lunch and dinner, there is a share menu, bistro classics and sweet desserts. The dinner share menu includes the likes of grilled green beans, classic meatballs with tomato sugo and zucchini ribbons with basil pesto. On the bistro classics menu, you'll find the butcher's steak with smoked potato, beef butter, charred onion and jus or ask the waiter for the market fish chef's creation. Finish your meal with chocolate cremeux with salted caramel, hazelnut and raspberry or pannacotta. The drinks menu is also seasonal—think fruity mixes in summer and darker, more robust cocktails in winter. The wine and beer list is well curated, and you can head along between 3pm and 6pm for their Apertivo hour for some delicious snacks and drink specials. Earl's is a place you'll return to again and again.
Indian Sumner
Sumner and Central Christchurch
Sumner isn't the most obvious choice for delicious and authentic Indian cuisine, but Indian Sumner delivers on all accounts. With a large selection of curries and mouth-watering naans, we've never been more ready for curry night. Try the flavourful lamb jalfrezi or palak paneer if you're after a yummy vegetarian option. Whether you're dining in (did we mention it's BYO?) or taking away, you won't be disappointed.
5th Street
Sydenham

Visit 5th Street in Sydenham for a small rotating menu made with local and seasonal produce. Whether you're wanting a few small plates to snack on with drinks or some larger plates to share, you can expect a range of quality dishes. Favourites include short plate barbacoa tacos with pickled onions and blackened salsa and feta ravioli with sweet corn puree, pine nuts, coriander and pecorino. On the drinks menu, you'll find local craft beers and ales, with Three Boys permanently on one of the two taps. The wines see a range from both local and international sources that will have you travelling the world one sip at a time. There is also a carefully curated cocktail menu. Open from 4.30pm to 11pm every day, it's a must visit as one of the best restaurants in Christchurch.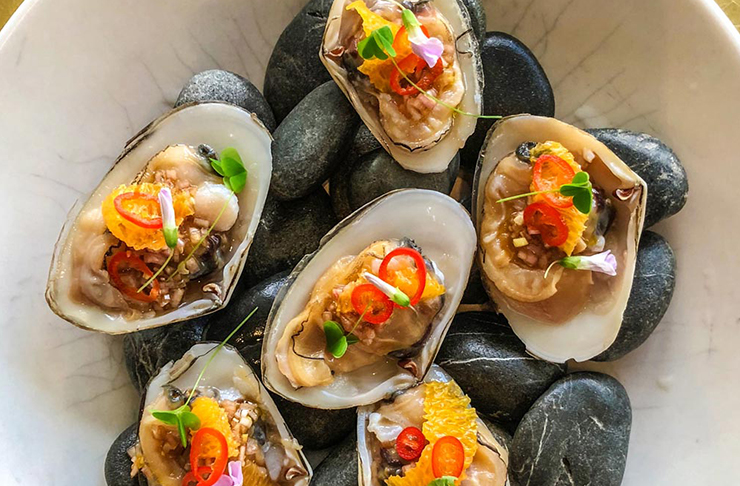 Inati
Central Christchurch
Get ready to be blown away by the contemporary fine dining experience that is Inati. A beautifully designed space on Hereford Street, Inati challenges the palate with some of the finest Canterbury and New Zealand produce around. Pull up a seat at the polished brass chef's table and watch as they expertly prepare your meal. All of the dishes are designed for sharing. Choose from the lunch option from 12pm - 2pm or the evening sessions which off the choice between six and eight plates. The menu is divided into Earth, Land, Sea, Large Plates and Nectar categories. While it changes often, think duck fat potatoes, broad beans and mint on the Earth section, duck trumpets and blackberry jam on the Land and charred octopus, chilli and lemon on the Sea menu. When they say Large Plates on the menu they mean just that—think pigs head or roast duck and scratching. Finish it all with the sweet stuff like toasted milk ice cream, candied walnuts and smoked bacon chips or whipped chocolate and Maestro preserved cherries. There is an extensive but carefully curated drinks menu. From champagne to sweet drinks to there personal wine collection, you're sure to find the perfect drop.
Tomi
Edgeware
Hidden amongst the Edgeware Village shops, you'll find some of the best Japanese food in Christchurch. Whether you're stopping in for lunch or dinner, Tomi is perfect for both large groups and intimate dates. Most famous for their sashimi, which is sourced from the local fish market, you'll also want to try their sake tasting menu. Other standouts include sushi, tender slow-cooked pork belly and homemade ice cream in classic Japanese flavours like black sesame and green tea to the more unusual cardamon, peanut butter and sea salt. Their dinner menu offers various set menus including teriyaki, chirashi, Toban teriyaki salmon, lamb and sukiyaki.
Gatherings
Merivale/Carlton Corner

With an innovative plant-based menu, Gatherings celebrates Canterbury food producers and encourages mindful eating. Open for lunch and dinner from Wednesday to Saturday, the menu changes almost daily depending on what their small-scale producers can supply. The cosy space is filled with recycled wooden furniture by a local carpenter and simple artwork and crockery from local artisans. With a wine list consisting of living wines from vineyards all over the country, guests are invited to grab a snack at the bar or linger over a five-course tasting menu. The latter has two options including a tasting menu or one that is dedicated to kai moana (seafood) and you have the option of adding a wine pairing.
Thai Box
Central Christchurch

For some of the city's best Thai food that won't break the bank, you can't go past Thai Box on St. Asaph Street. Located in the quirky boxed quarter, Thai Box is surrounded by studios, gallery spaces, cafes and other eateries. Open for both lunch and dinner, during the day it's buzzing with creatives and entrepreneurs, and in the evenings it attracts locals and visitors who are craving tasty versions of classics like Tom Yum soup, Massaman Curry and Pad Thai. They cater to all with gluten-free and vegan options.
Black Estate
Waipara, North Canterbury
A short drive to North Canterbury will lead you to Black Estate, one of the region's best wineries and restaurants. It's one of those places you'll want to visit again and again. With an ever-changing seasonally-focused menu, it's easy to find yourself spending an entire afternoon sipping wine. Sitting outside on the terrace overlooking the vines, it isn't hard to understand why it is one of New Zealand's best-kept secrets. Open from 10am to 5pm seven days of the week, don't miss the chance to try their lunch menu. Kick things off with local activated walnuts and hazelnuts or house marinated Athena olives before moving to the entree menu. Here, you'll find the likes of Poaka cured meats and glazed eggplant with miso caramel, celery and puffed grains. The mains are equally delicious, with pork rack, carrots, mushrooms and mustard or BBQ lamb with garlic, salsa verde and preserved lemon. For dessert, select from the cheese menu or opt for the bitter chocolate, fennel pollen and honeycomb or roasted stone fruit, verbena, peach leaf and almond. Drool.
Bicycle Thief
Tai Tapu
Surrounded by rolling hills and lush greenery in Tai Tapu, Bicycle Thief is one of the best restaurants in Christchurch. Situated in a gorgeous 1870's heritage building, with a roaring fire at the entrance and a garden terrace, it's not a bad place to spend an afternoon rain or shine. Open 11.30am to close Wednesday to Friday and open from 9.30am until close Saturday and Sunday, there are a breakfast, lunch and dinner menu. Start your day right with the boss eggs—truffled scrambled eggs and goats curd, marinated cherry tomatoes, toasted focaccia, rocket and parmesan cheese. The lunch and dinner menu includes choices to start, mains, for the table, pizza, dessert and a daily cheese course to finish. The crispy polenta fries dipped in aioli are an absolute must. On the mains menu, you'll find pan roast market fish, seasonal risotto and roast cauliflower, eggplant, white balsamic mushroom, macadamia and vincotto. The Bicycle Thief also has ten pizzas to choose from and they're all hand stretched, stone baked and served with Fior De Latte mozzarella. Bite into the Salmone—smoke salmon, prawns, zucchini, ricotta, capers and fennel tips or the Carne, pulled 12-hour pork shoulder, thyme, provolone, rocket and apple. Naturally, you'll want to leave room for dessert. On the menu, you'll find the likes of tiramisu, but you can't go wrong with handing it over to the chefs to provide a selection of their top picks. They also have dedicated gluten-free, dairy-free and vegan menus.
Roots
Lyttelton
How could we leave Roots off this list of the best restaurants in Christchurch? People come from all over the world for this boundary-pushing experience. While you could call it fine dining, it's really much more imaginative and intimate than that. Book ahead, they can be booked up for months in advance, and you'll be asked if you have any food allergies. The menu follows the path of Mother Nature, using the seasons to showcase ingredients. There are four different menus to choose from—a five-course lunch (Thursday, Friday and Saturday), five-course dinner (Tuesday to Thursday), eight-course dinner (Tuesday to Saturday) and, for those who want to eat it all, a 12-course menu (Wednesday to Saturday with 24-hour booking notice). You can also opt for matching wines for every course. If you want to take the experience to the next level then book in for the chef's table experience. Catering for up to six people this is sold as a ticketed event and you'll have the chance to watch chef Giulio Sturla and the team cooking right before your very eyes.
Looking for more Christchurch food? Here's where to find the best cafes in Christchurch.
Image Credit: The Bicycle Thief, Inati, Roots,Black Estate