You don't want to miss out on Dunedin's culinary scene. From where to find the best burgers in town to which restaurant has the most innovative cocktails, there's a huge variety of international options right here in Dunners. We've done the legwork and know our way around all the best establishments in our fine city.
Here are the best restaurants in Dunedin.
Moiety
Queens Gardens
Moiety is a casual, 26-seat restaurant that showcases the best in the area. Located in the city's historic Warehouse Precinct, the intimate restaurant features brick walls, warm ambient lighting and an open kitchen. The five-course menu is constantly evolving and inspired by local produce. Broken up into snacks and mains, the goats' cheese, beetroot, lavosh and duck pate, cherry, mandarin, sourdough are both top picks. The pumpkin with miso, radish and nasturtium and the lamb with eggplant, endive, soft herbs and granola are both interesting, flavourful options. The drinks menu is carefully considered with a handful of beers, wines and ciders available. Book yourself a spot at the kitchen counter and prepare to be delighted by the awesome food paired with incredible service at Moiety.
Bacchus
The Octagon
Upstairs in the Octagon, you'll find one of Dunedin's oldest and most stunning buildings. Built in 1888, Bacchus is an elegant fine dining establishment with wines from all over the South Island. If you're after something a bit stronger, they're also known for their extensive offering of scotch and single malt whisky. The menu is small and delicious. Try to decide between pork belly slow cooked in star anise, garlic and hoisin on sticky rice and bok choy with tart apple dressing and oven baked chicken wrapped in bacon and served on a craisin and summer vegetable Israeli couscous. The vegetarian options are equally enticing, especially the eggplant, spinach, capsicum and feta tart. The recipient of the New Zealand Beef and Lamb Hallmark of Excellence for the last 15 years, the team is passionate about sharing their expertise with every guest. It's the perfect place for a romantic date, special anniversary or an intimate dinner with friends.
Good Good
Vogel Street
A simple concept done exceptionally well, Good Good is home to the best burgers in Dunedin. Step inside and you'll find painted brick walls, bright neon lights and a retro vibe.
There are three burgers served on a lightly toasted milk bun. The beef is served with American cheddar, iceberg lettuce, tomato, onion and pickles all taken next level by their signature Good Good sauce, ketchup and mustard. There is also a chicken and vegetarian burger—think barbeque pulled jackfruit with melted American cheddar, lettuce pickles, onion and dripping in creamy maple dressing. Take your burger up a notch by adding an extra pattie, jalapenos or maple bacon, amongst others. The sides are as delicious as the burgers—if you have room. On the Good Stuff menu, you'll find shoestring fries with dipping sauce available on request, buttermilk bites and hot buffalo chicken. Wash it all down with a selection of beers and wines or, why not keep it old school and have a milkshake?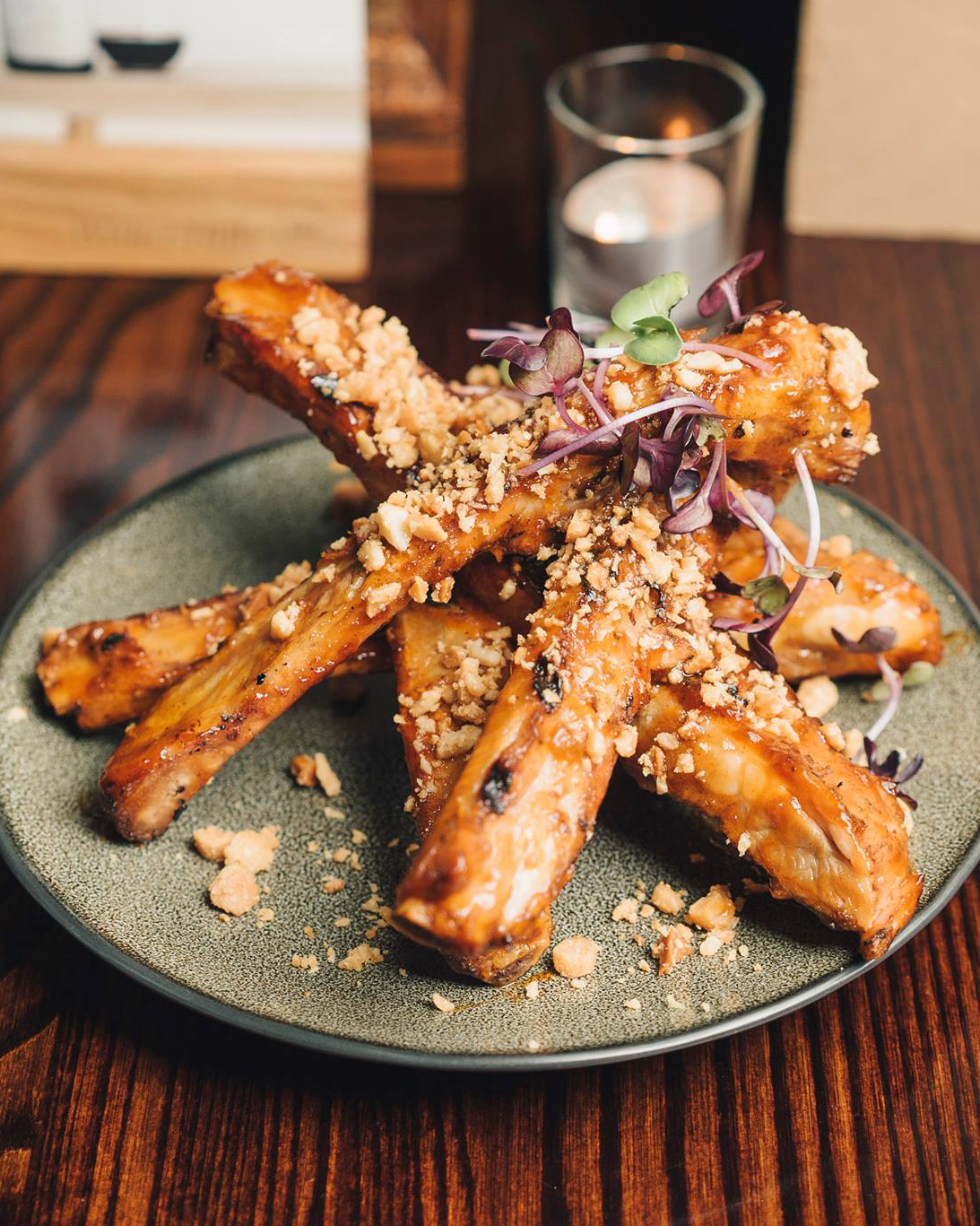 Prohibition Smoke House
The Octagon
Step inside the sleek and modern Prohibition Smoke House for American style pit food using top quality New Zealand meats. Known for slow cooking and wood smoking, the menu features both small plates, not so meaty mains and main plates from the grill. You can't miss the beef brisket with roasted shallot pickle and watercress truffle mayo. The crispy pork belly is another favourite, served with red onion jam, citrus slaw and whisky jus. The team know how essential it is to pair fine food with quality drops, so you can find everything from your favourite wine to interesting cocktails on offer. The function room at Prohibition has plenty of space for larger gatherings (up to 150 people). There's also a gorgeous outdoor seating area with a fire pit and heated gas lamps, ideal for festivities of all kinds.
Best Cafe
Stuart Street
We have nothing against a casual BYO and Best Café delivers the goods. A Dunedin institution since 1932, the charming fish and chip shop is straight out of the 1970s. Look out for the neon sign on Stuart Street, and you've found the spot. It has stood the test of time and continues to do simple food exceptionally well. Try the whitebait fritters or treat yourself to an ice cream sundae with pink wafer cookies and chocolate fish. Bringing your own drinks is the way to go with $5 corkage for wine and $1 per bottle of beer. They prefer bookings and can cater for large groups and private functions, so why not have your next birthday do at Best?
Plato
Birch Street
If you're looking for a relaxed eatery on the waterfront, Plato's just the spot. By foot, the restaurant can be a tad tricky to find, but those who make the trek aren't disappointed. Located on Dunedin's harbourfront, Plato was formerly a hostel for seafarers from around the world. The unconventional mid-century decor is kitsch and eccentric, but the menu is simple. Focusing on fresh fish, local meat and organic herbs, you should definitely try the pan-fried gurnard coated in kelp, the fresh warehou with paprika butter and the miso and avocado salad. Dessert is another highlight here, housemade scoops of mango sorbet, cherry ice cream, and passion fruit ice cream on a bed of homemade cookie crumb topping—delish. For uncomplicated food paired with personable service in eclectic surrounds, head to Plato.
No.7 Balmac
Maori Hill
No.7 Balmac is one of Dunedin's best casual bistro-style dining establishments and it's been on the scene since 2009. Locals were heartbroken when it was gutted by a fire, but the team soon opened a short pop-up with renovations swiftly underway. From May this year, the space will be open for private functions in the gorgeous downstairs dining room. The space comfortably fits 32 people seated or up to 45 standing for canapes, ideal for larger groups, graduation and birthday celebrations. The menu is divided up into smaller plates, kitchen platters and mains, many with a wood-fired focus. Highlights include the chickpea farinata with foraged vegetables, olives, sunflower and green garlic tapenade and the confit duck, smoky eggplant puree, roasted cauliflower, spring onion with pomegranate. The drinks menu is unbeatable with a large selection of beers, wine and innovative cocktails like the limoncello spritz and lavandula (gin, aperol, lavender and lemon). The downstairs dining space opens out onto a sheltered courtyard with an outdoor fireplace. We can't think of a better place for a celebration.
Jizo
Princes Street
Dunedin's original Japanese restaurant, Jizo is a casual establishment in the heart of the city. The space is simple and unadorned, but well loved by locals and visitors alike. Using the freshest ingredients imaginable, it's home to one of the most extensive sushi menus we've ever seen. From temaki to uramaki and everything in between, making a decision is the hardest part. There's plenty of udon dishes for the noodle lovers and curries to keep you warm. Try the karaage chicken curry or teriyaki tofu curry and thank us later. Jizo caters to large groups and there's also a function space available, making it an excellent option for your next celebration. It's one of the best restaurants in Dunedin.
Mamma Mia
Roslyn
Serving up authentic Italian pizza from a wood-fired oven, Mamma Mia is one of Roslyn's best-kept secrets—and one of Dunedin's best restaurants. Upon entering the cosy (and tiny) takeaway joint, you'll be greeted with warm smiles and the comforting smell of traditional Italian pizza. The small, but top quality menu covers traditional flavours like Margherita with crushed tomato, mozzarella and basil or Puttanesca with anchovies, capers, olives, olive oil and crushed tomato. Pear and blue cheese is another unexpectedly delicious combination. Everything is made fresh right before your eyes. Order your pizza to go and find a nearby spot overlooking the city below. Luckily for you, Roslyn has some of the best views in the city.
The Esplanade Restaurant
St. Clair Beach
One of the best restaurants in Dunedin, The Esplanade is a taste of Italy along St. Clair Beach. The beautiful beachfront restaurant is open from early until late, serving wood-fired pizza (both red and white) and exceptional homemade pasta. Grab a seat outside and dig into the quattro formaggi or the riviera, which consists of bufala mozzarella, white anchovies, pesto and shaved almonds. The salsiccia is another favourite with havoc pork, fennel sausage, mushroom, truffle oil and mozzarella. They've got plenty of tap beer, wine and cocktails on offer, but you'll regret not having the Negroni or Aperol Spritz.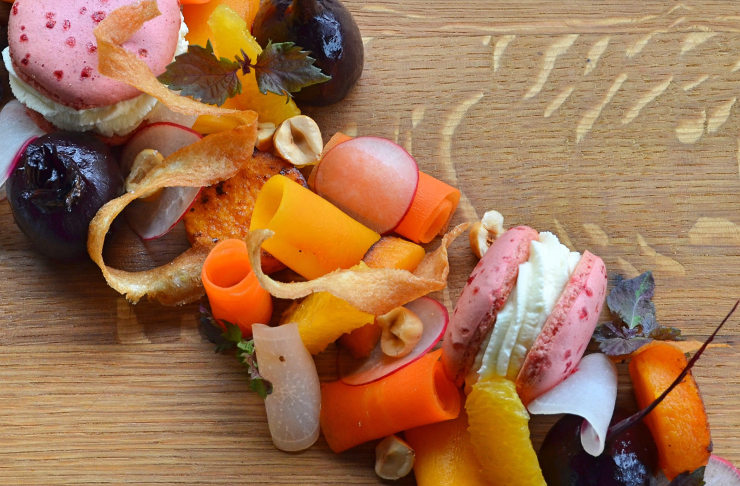 Glenfalloch
Macandrew Bay
Top of many discerning's visitors to Dunedin's dining wish list sits the divine Glenfalloch Restaurant. Just up from Macandrew Bay on Otago Peninsula sits the homely and inviting Glenfalloch. Behind the picture postcard exterior and historic gardens awaits a killer gastronomic feast. Come for lunch and pull up a pew on the deck or head inside for something a little cosier. Dishes here are a feast for the eyes and the tum. The Cardrona merino lamb with beetroot, kumara and tahini is to die for and don't forget to try the knock-out gnocchi with goat's cheese. If you're down for dinner, it's time to throw all caution to the wind and 'trust the chef' where renowned chef Hannes Bareiter showcases the best of Otago food during a degustation surprise dinner menu. Your taste buds will be singing all the way home.
Once you've eaten your way around the city, check out our round up of the best things to do in Dunedin.
Image credit: Good Goo, No. 7 Balmac, Prohibition Smoke House, Moiety