Today we're talking caves. These mysterious underground caverns are home to many fun things: glow-worms, stalagmites and stalactites, bats, Sméagol and a whole lot of other creepy crawlies that we'd prefer not to think about. You never know what/who you'll stumble upon in these natural wonders—and that's just part of the fun!
Lucky for us, Auckland (and beyond) has a fair few caves for all you cavemen/cavewomen to explore. If you're keen for a spot of adventure, here are six caves in and around Auckland you will want to visit.
Whatipu Caves
Located at the southern end of the Waitakere Ranges you'll find a remote beach called Whatipu. We're warning you now that this spot is somewhat off the beaten track and the road is unsealed. From the carpark, follow a 1.5km track to the Whatipu Caves. These sea caves have a fascinating history with the caves once used by travellers as shelter. If you're really down for an adventure, pack your tent as Auckland Council have a campground there.
Rangitoto Lava Caves
Pack your torch and jump on a ferry to Rangitoto Island to check out some good ol' lava caves. Formed by lava flows, there are several caves on 'Toto with the longest cave being about 50m long. Things get pretty tight in some of these caves so you might wanna sit this one out if you're prone to claustrophobia.
Bethells Beach Cave
A day spent at Bethells Beach is a day well spent. Laze on the beach, brave the surf or explore the stunning sea cave. From the darkness of the cave you have a pretty sweet view of the beach and its rugged coastline—pack your camera. Remember, safety comes first so be sure to plan your visit to the cave around the low tide.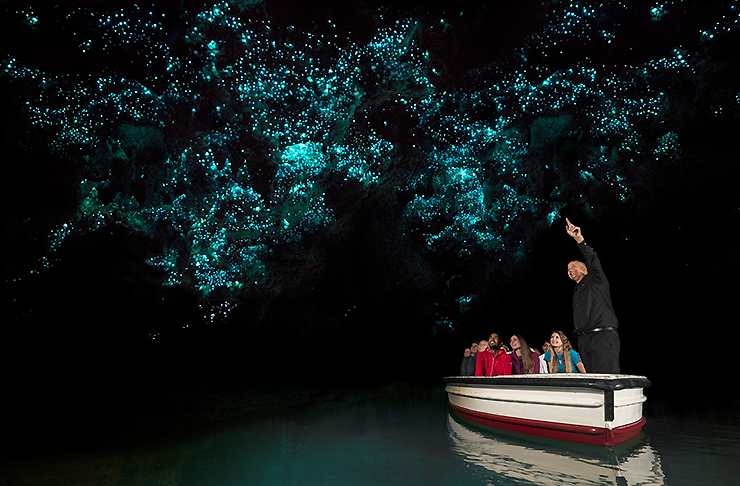 Waitomo Caves
We love a good excuse to visit the mighty Waikato and the Waitomo Caves are that perfect excuse. When it comes to caves, these are the best in the biz. Expect to see hundreds and thousands of glow-worms as well as stalactites (they're the ones that hold 'tite' onto the ceiling) and stalagmites (they 'mite' join them one day). Get amongst a glow-worm cave tour and enjoy a boat ride under the starry wonderland that is the Glow-worm Grotto—it's seriously magical. If you're a bit of a thrill-seeker, brave a caving and black water rafting tour.
Nikau Cave
Also located in the mighty Waikato is Tuakau's Nikau Caves. Gather up the troops and drive 90 minutes southwest of Auckland to witness these beautiful glow-worm caves. The friendly folk here operate a one-and-a-half-hour tour that showcases the cave's stunning rock formations and a whole lot of glow-worms. A stream runs through this cave, so you can expect to get your feet wet. And, while most of the cave is open and spacious, there is a 12-metre length that must be crawled through. Warm up with a hot cuppa from the café afterwards.
Tanuki's Cave
So Tanuki's Cave isn't entirely a natural phenomenon but it's still *technically* a cave. Literally located under Queen Street, the Japanese yakitori and kushiage bar dishes up some of the best skewers in town. Head down the stairwell (warning: these steps are hella steep) and into a dark cave of Japanese goodness. Here you'll find edamame beans, tofu, all sorts of weird and wonderful cuts of meat and—our favourite—deep-fried mashed kumara balls coated in almond chips.
Prefer waterfalls over caves? Check out New Zealand's most beautiful waterfalls.
Image credit: Supplied, Corin Walker Bain for Waitomo Caves