Ever wanted to visit China to sink your teeth into their culinary delights? As COVID is putting a hold on that, we've found the next best thing—a new Chinese subterranean restaurant, Ghost Street, has landed in Britomart, bringing more than a little spice to the city.
The team behind much-loved Asian-inspired eateries Cafe Hanoi, Saan and XuXu Dumpling bar have done it again but this time they're taking us on a trip to China to visit the western cities of Chengdu and Xi'an. Prepare your taste buds because they're in for one hell of a ride.
Hidden under the newly located Cafe Hanoi and what was once 1885, Ghost Street offers an underground dining experience like no other. The space, (which is 130-years-old) is equally as intrinsic as the food, with its moody lighting, exposed brick, black cement tiles, and recycled timber tables, oh and don't forget to check out the Chinese ghost stories painted on the walls.
The menu has been carefully crafted by Executive Chef Nathan Houpapa and Head Chef Khai Yee Khor following a research trip throughout China. Inspired by the hole-in-the-wall eateries that run along Beijing's famous 'Ghost Street', which is known for its delicious street food and hot pot.
Not only easy on the eyes but easy on the lips too, the menu is jam-packed with authentic Chinese flavours and made with fresh produce—dig into juicy seafood, melt-in-your-mouth braised brisket, crispy dumplings, succulent noodles, fresh greens—oh heck, let's just delve right into it, shall we?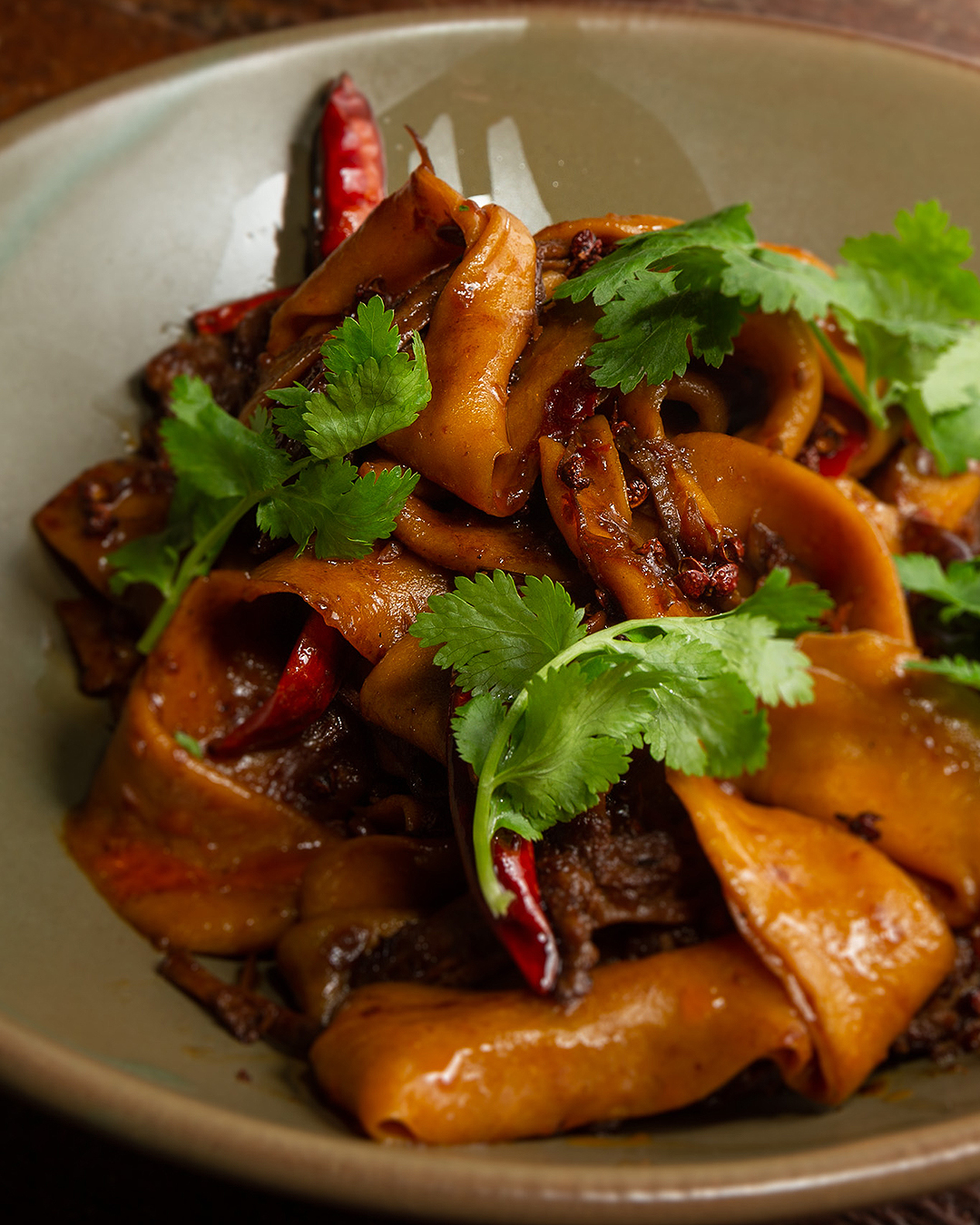 But before we do, let us explain how it works—simply check off what dishes you'd like on your menu, then clip your menu to the string hanging above your table to show that you're ready to order. Voila!
We suggest starting off with some light snacks like Chinese pickles, wonton skins and chilli salt—they're not only delicious, but they're the perfect wee palate cleanser for when you tackle those spicier dishes later on.
Don't shy away from the scallop wontons, Sichuan oil, ginger and red vinegar broth— trust us after one bite you'll be pining for more. The other little tasty morsels that will certainly entice are the shiitake, spinach and water chestnut dumplings—don't let the size of these bad boys fool you as they're loaded with goodness and topped with a vibrant spicy red sauce, which is to die for.
Now, if you're after something that will truly blow you away may we suggest the red braised brisket served on a bed of thick yellow noodles, bean paste, dried chillies and Sichuan pepper. The moreish bites of beef are so tender that they just fall apart in your mouth, while the noodles add that much-loved slurp factor.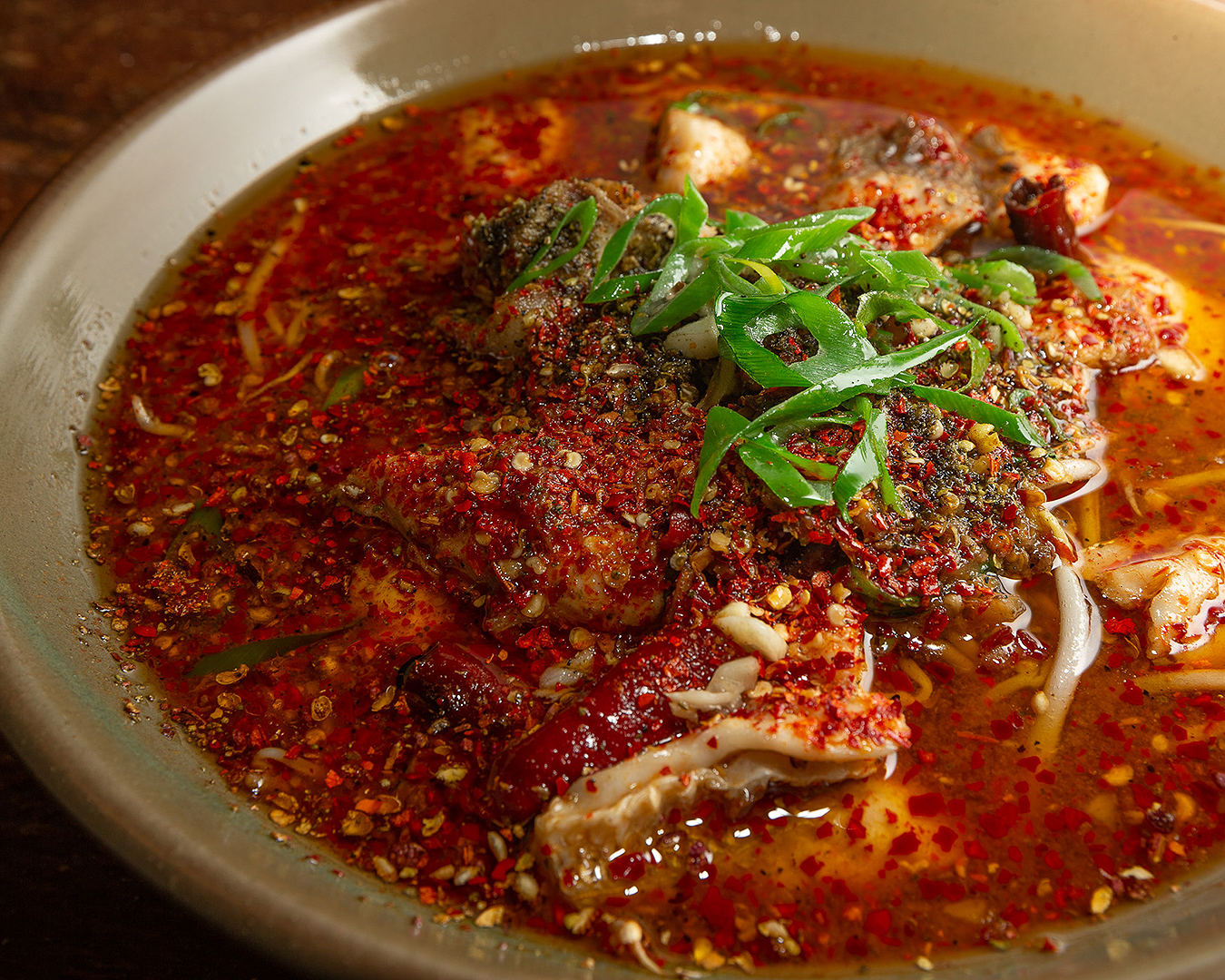 If you want to turn up the heat, then we dare you to try the snapper fillets poached in a sea of fire—and like the name suggests this dish is hot, hot, hot! It's totally worth the sacrifice to taste that tender snapper, but be sure to watch out for those dried chillies, they'll certainly bite.
Take the edge off with some steamed wong bok rolls served in soy sauce and fresh chilli if you're feeling daring.
If that hasn't moistened your chops, then the desserts certainly will. Choose from warm coconut buns, Hong Kong-style egg tart and milk tea gelato with a shot of coffee—or simply just order up all three because why the hell not.
To wash down all that goodness, we think a tipple or two is in order. If wine is your drink of choice, then you've got heaps of different options to choose from, but it's their cocktails that caught our attention. Inspired by the herbs and spices famous in Chinese medicine including Sichuan Pepper Negroni, Lychee Martini and Gui Jie Iced Tea—they're practically good for you—and your wallet compared to other cocktails in the area, so drink up as there is no guilt involved.
No detail is spared at Ghost Street—they've even got bottomless complimentary Jasmine green tea from the get-go.
So, if you're after a feed that is guaranteed to satisfy then head to Ghost Street and let the slurping, crunching and inhaling commence! Oh, and don't forget to collect your fortune cookie on the way out.
For more images and information, including opening hours, click here.
Image credit: Wono Kim