Loaded hot dogs will always have a place in our hearts. So naturally, when we heard Good Dog Bad Dog has opened up a new space beyond the city centre, our hearts simply sang.
That's right, Aucklanders, purveyors of comfort-food-lashed street-style dogs, Good Dog Bad Dog, have set up shop at Ormiston Town Centre. Here, you'll find the carby creations you know and love from their original Commercial Bay store—all dished up from a fun, mustard and tomato-toned restaurant of their own.
To find this spot, you'll want to bee-line through Ormiston Town Centre's sun-filled food court area, and head outside from there. Once outside, take a right turn and you'll find Good Dog Bad Dog's joint in all its glory. Otherwise, park up in the outdoor car park and it'll be smack-bang in front of you.
This space is a total feast for all your senses: it's blasting old-school hip hop, it's decked out with bright red walls, a bunch of festoon lights overhead, checkered floors, and styled just like the kitschy-cool fast food joints of the 50's—all made modern with a minimalistic touch as can be expected by the masterminds at Millé and, of course, self-checkout screens to order from at the counter. Not to miss is their punny, bad dog poster wall art, all designed by Good Dog Bad Dog's part-owner, chef, and illustrator extraordinaire Kevin Cho who together with Ollie Simon, David Lee and Jaeho Cho complete the dream team.
Let's get into the good stuff: the dogs. For those traditional hotdog devotees, their Classic Dog is the way to go. Their lightly buttered, toasted fluffy buns —a staple for all their hotdogs, we might add—is filled with a frank and onions, and drizzled with a punchy mustard and tomato sauce.
For high-octane comfort eating, their Mac 'n' Cheese Dog along with their Chili Cheese Dog will hit the spot. Both come with lashings of cheese sauce covered over creamy macaroni, or a mince and cheesy topping. Pro tip: let these sauces sink right into the hotdog bun for an extra hit of gooey comfort goodness. Or, for those wanting an extra hit of texture: order their chilli tater tots and upgrade it with a layer of chilli cheese.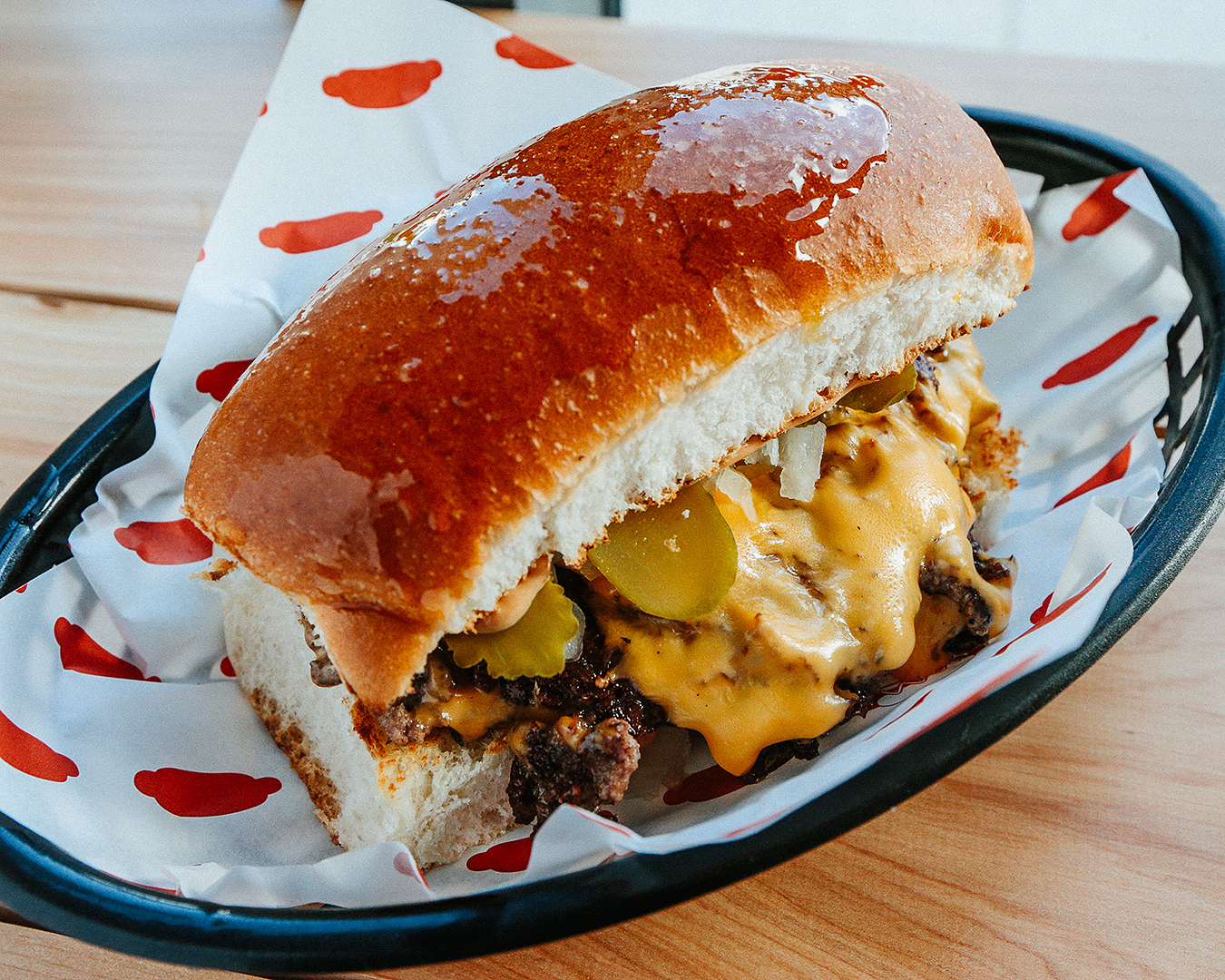 While hotdogs are Good Dog Bad Dog's bread and butter, their hamburger creations are their jam. The Cheeseburger Hoagie is an absolute must-try. Just like their dogs, it comes out in a long, hot-dog-style bun—much better for food handling and sauce catching, if you ask us—and has got all the trimmings of your much-loved burger, plus some. You'll find a patty that's both succulent and perfectly crisp on the edges (texture, you know), covered in melted cheese and balanced out with crunchy pickles.
Speaking of hoagies, let's talk about The Fried Chicken Hoagie. We don't know just how the Good Dog Bad Dog chefs are able to stack so much filling into this hoagie without it toppling over (seriously, it's sky-high and sculptural). But what we do know is that it's delicious. There's crispy fried chicken. There's slaw galore. There's that iconic burger-style cheese. There's a hefty hit of spice. There's everything you could ask for in one bun here.
Of course, if you want your chicken sans bun, the team has you covered with generously sized fried chicken pieces and wings, complete with a punchy seasoning.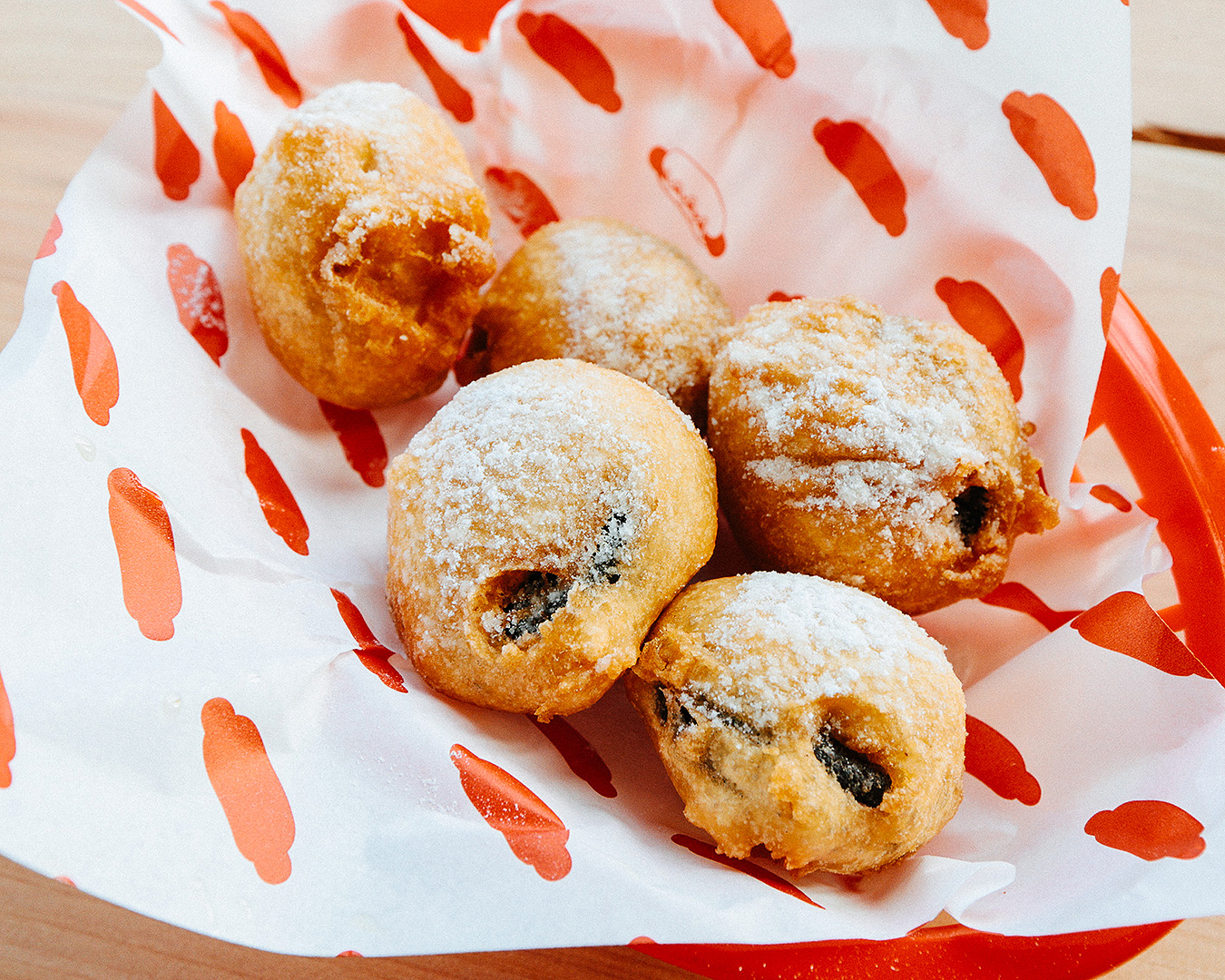 As for dessert? Deep-fried Oreos are all yours to finish your deep-fried degustation with. Think soft, silky Oreos, covered in a pillow of dough and dusted with icing sugar.
While we simply can't pinpoint one hot dog you need to try, we'll leave you with this piece of advice: come with a big appetite and your stretchiest eating pants. You're welcome in advance.
For more images and information, including opening hours, click here.
Image credit: Wono Kim