The year's creepiest holiday is almost upon us and throughout the city, strange things are afoot. So grab your ghouls (and boys!) and check out our picks for the hottest ways to spend Halloween 2019.
31 October
Seven Deadly Sins—A Halloween Theme Night
For the ultimate Halloween experience, you can't go past Spookers—the place where ordinary folk like you and I go to be scared senseless by actors dressed as chainsaw-weilding zombies and other terrifying characters. On October 31 the fright factor reaches an all-time high, and this year is no exception. With a 'seven deadly sins' theme, guests will experience the wrath of the park's most horrifying residents as they make their way around a haunted house and other creepy attractions, dotted throughout the grounds of what was once a real-life psychiatric hospital. If you're a glutton for punishment, this one's for you. From 8pm.
Halloween at Eight Restaurant
If being chased with a chainsaw isn't quite your thing, then consider booking a table at Eight's stylish Halloween-themed dinner. Yes, those with a taste for the finer things in life are sure to appreciate the evening's events, which will include a devilish yet decadent menu of 'bloody' penne, 'ghost' meringue tarts and other curiosities; set amongst spooky décor inside the plush Cordis Hotel. Diners are encouraged to dress up for the occasion in their scariest outfit, with a complimentary glass of 'magic potion' for those who do.
Fright Night at the Dome
You don't need a broomstick to take to the sky this Halloween—simply grab yourself a ticket to Fright Night at the Dome. Hosted by Stardome Observatory and Planetarium, this chilling event treats guests to an evening of drinks and stargazing with a dramatic mix of sights and sounds that is sure to have heads spinning. With a glass of your favourite tipple in hand, enjoy 360-degree views of the night skies whilst discovering some of their darkest myths and legends. Full moon subject to availability... From 6:45pm.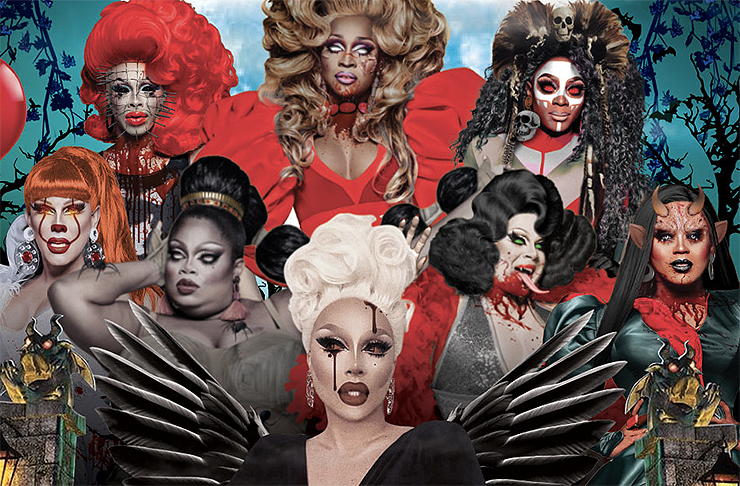 Sickening Ball 2019
For arguably the most fabulous way to celebrate Halloween this year, join some of reality television's favourite stars for a once-in-a-lifetime horror event. With the Aotea Centre as their stage, participants from the most recent series of cult TV show Rupaul's Drag Race will be putting on a Halloween-themed song and dance extravaganza with unrivalled hair, makeup and costumes—we can hear the squeals of horror, erm, excitement already. From 8pm.
Epic Halloween
Heavy metal and Halloween are synonymous, or so say the crew at Epic Beer who are putting together a night of head-banging tunes, frightfully good food and of course killer beer this October. Indeed, is there a more appropriate way to spend All Hallow's Eve than dressed in your grungiest threads, listening to the devil's music (including a Metallica tribute set by Just One Fix) and sipping on a bottle Hop Zombie? Die-hard fans of the brew (or perhaps just those with FOMO) can remember the evening by purchasing a Hop Zombie t-shirt. From 6pm.
1 November
O.M.G it's Halloween
Join two of Ponsonby's hottest bars as they come together for a night of boos, booze and killer beats. DJs Melicious and Paul T Gheist will be on the decks at Win-Win with a mix of Halloween-themed tracks and favourite rock songs; while live music over at The Whiskey is guaranteed to get bones rattling. Those in the mood for some good old-fashioned blood-and-gore will have the chance to practice their zombie-killing skills, with a Halloween-themed VR game also on offer later in the evening. From 8pm.

2 November
We're All Mad Here—A Tim Burton Halloween Show
Alternatively, jump down the rabbithole for a night of frightful fun at Cassette Nine. The club—which has become a firm favourite amongst Aucklanders for its quirky, one-of-a-kind vibe—is bringing characters from some of director Tim Burton's creepiest films (think Alice in Wonderland, The Nightmare Before Christmas and Beetlejuice) to life with a colourful stage show featuring burlesque, drag, magic and circus acts. In true Casette (and Mad Hatter) style, Halloween-themed cocktails will be served from shareable teapots; while costumes are also encouraged, with prizes on offer for best-dressed. From 8pm.
Mexico Day of the Dead
If you're looking for a Halloween event that's more fun than it is freaky, more colourful than it is creepy, come along to one of Mexico's Auckland locations as they commemorate Dia de Muertos. More commonly known as Day of the Dead, this Halloween-of-sorts is an important event on the Mexican calendar where those that have passed away are remembered with a celebration of food and other festivities. Mexico have partnered with at El Jimador to create an amazing Margarita perfect for the beginning of summer. The pineapple, passion and cherry slushy margarita will be only $8 all day. Add to this a delicious fried chicken burger made with fried chicken, jalapeño mayo, red slaw, coriander and smoky chipotle mayo, in a charcoal brioche bun for $16. Plus their fried chicken is half price all day at $8 per bowl. Get in.
Image credit: Mexico, The Sickening Ball, NeONBRAND