We're back at it again. You couldn't get enough of our last finger-lickin' flip on fried chicken, so we're bringing you more hacks to take your KFC feed to the next level.
This time, the goods are coming in hot from Auckland culinary legend—Jason Kim of Gochu. Hailing from South Korea, Jason knows a thing (or ten) about crafting dishes with a strong flavour punch. His food philosophy comes to life on Gochu's modern menu, elevating classic Korean bites peppered with Kiwi influences.

Whether it's fusing Te Matuku oysters with kimchi juice or turning a typical cordon bleu on its head, Jason has a knack for dishing up fusion that delivers on taste. It's really no surprise, given local dining institutions Clooney, Sidart and Cassia make up his resume. And now, Jason is unleashing his skills and passion for KFC, to show us how to upgrade our next feed.
Skip the supermarket or butcher; KFC's chicken is about as real as it gets. Take a walk on the tasty side with this drool-worthy new collab.
KFC Popcorn Chicken And Spring Onion Pancake
Makes two pancakes.
Ingredients
1 pack KFC Popcorn Chicken
100g standard flour
2 tbs cornstarch
½ tsp salt
1 egg lightly beaten
180ml ice water
5 spring onions (washed and finely sliced)
6 tbs canola oil
2 tbs garlic aioli
100g grated mozzarella cheese
Method
Preheat your oven to 180°C.
Grab yourself a big old bowl. Mix together the flour, cornstarch and salt. Add your liquids—a lightly beaten egg and ice water.
Hot tip: if the batter seems thick, gradually add a little more water—1 teaspoon at a time will do. You want it not too thick, but not too runny, just right.
Take your handful of finely sliced spring onions and mix this into the batter.
Time to get cookin'. Heat 3 tablespoons of oil in a non-stick pan over medium heat. Pour half of the batter into the pan, swirling it into a thin pancake.
Cook until both sides are golden brown—about 3 to 4 minutes. You want that baby nice and crispy, so add a little more oil if needed.
Place your precious pancake on an oven-proof plate and deck it out with all the trimmings; 1 pack of KFC Mini Popcorn Chicken and sprinkle with grated mozzarella cheese.
Place in the oven until the cheese is all kinds of bubbly golden and finish with a generous drizzle of garlic aioli.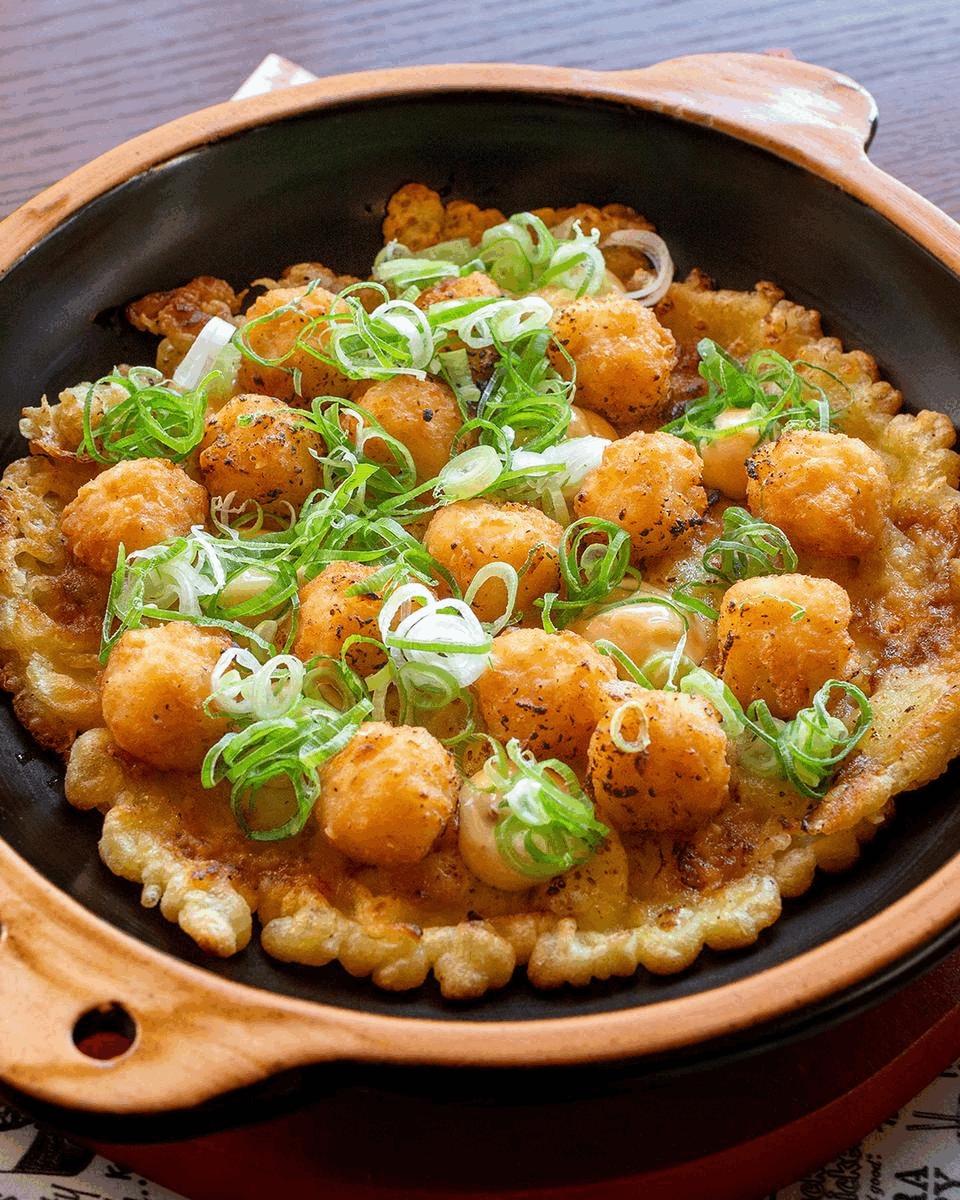 Chilli And Garlic KFC Wicked Wings
Makes 10 Wicked Wings
Ingredients
KFC Wicked Wings
10 KFC Wicked Wings
2 dried red chillies
30g finely sliced leek
50g diced red bell pepper
50g diced green bell pepper
80g diced brown onion
4 tbs canola oil
Garlic Sauce
2 tbs apple cider or rice vinegar
2 tbs soy sauce
2 tbs oyster sauce
2 tbs honey
2 tbs rice wine
1 tbs minced garlic
1 tbs minced ginger
1 tsp sesame oil
1 tsp lemon juice
Method
First up, add all the garlic sauce ingredients to a bowl and mix it real good.
Heat a skillet over medium heat and stir fry the leek and dried chillies in oil until fragrant. Remove the leek and dried chillies and set them aside.
Add the bell peppers and onion to the skillet, stir in the garlic sauce and simmer until it thickens slightly.
Finally, add your 10 KFC Wicked Wings to the skillet and stir gently until they're evenly coated in the good stuff.
Serve on a plate and garnish with the cooked leek and chillies from before.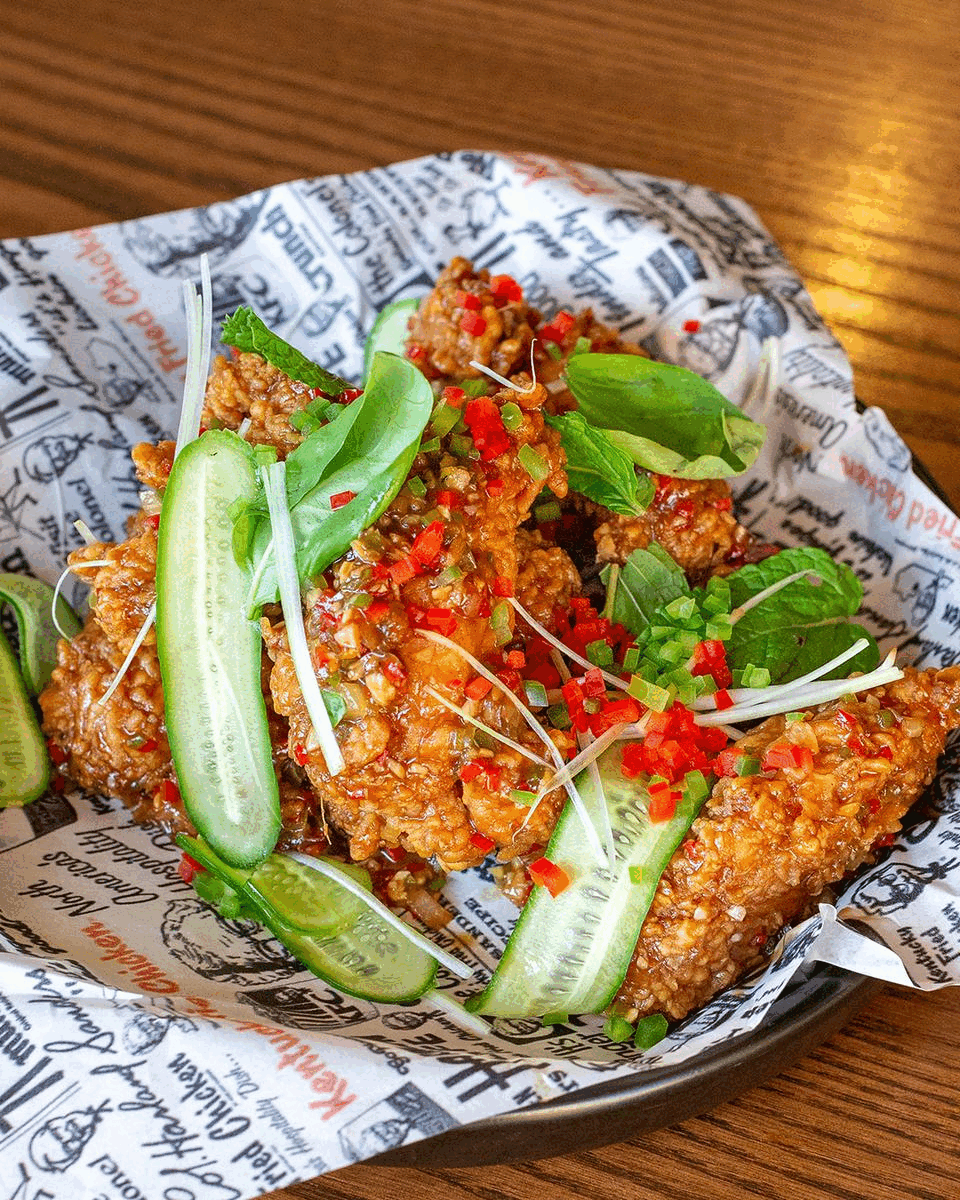 Jason absolutely nailed it with these elevated takes on our go-to KFC orders. For fried chicken, the way it's meant to be (hand-breaded, prepared fresh on the daily), make tracks to your local KFC and try these hacks out for yourself.
Editor's note: This article is sponsored by KFC and proudly endorsed by Urban List. To find out more about who we work with and why read our editorial policy here.
Image credit: Wono Kim