While you might still be mourning those travel plans that never were, all hopes of a relaxing vacation are not lost. Far from it... our very own backyard is chock-full of stunning scenery, culinary delights, and fabulous hotels, and there's never been a better time to get amongst it.
In case you're feeling in need of a staycation, we've got the buzz on the best luxury hotels in New Zealand—so you can be drinking champagne in a spa pool as soon as physically possible. Start packing those bags!
The Best Luxury Hotels In Auckland
Delamore Lodge
Waiheke Island
Boasting sublime panoramic views of the Hauraki Gulf is the elegant Delamore Lodge on Auckland's Waiheke Island. Mediterranean-inspired with unique New Zealand flair, this luxury lodge (pictured above) melts into the hillside, with innovative design emulating the shape of a matau, the traditional Māori fish hook. The gorgeous rooms are filled with local artwork, framed by floor-to-ceiling windows and a private patio to enjoy the sunshine. There's even a glorious infinity pool with—wait for it—a waterfall. Follow it all up with an exclusive, individually tailored five-course dinner accompanied by a range of local, award-winning wines. Yes, please!
Park Hyatt Auckland
AUCKLAND
Relax in the heart of the city at Park Hyatt Auckland, a taste of luxury perfectly positioned on Auckland's waterfront. It's a feast for the senses from the moment you walk into the impressively designed lobby. With a sumptuous spa, hydrotherapy, and a detoxifying Himalayan salt sauna on-site, you'll walk out feeling like a new person. Plus, the spacious marble bathrooms feature rain showers and separate tubs, with floor to ceiling windows for a stunning view out across the Waitmematā. The flagship eatery Onemata offers beautiful local cuisine, and the Captain's Bar, with its extensive menu of fortified spirits including over 60 varieties of rum, is the perfect place for a nightcap.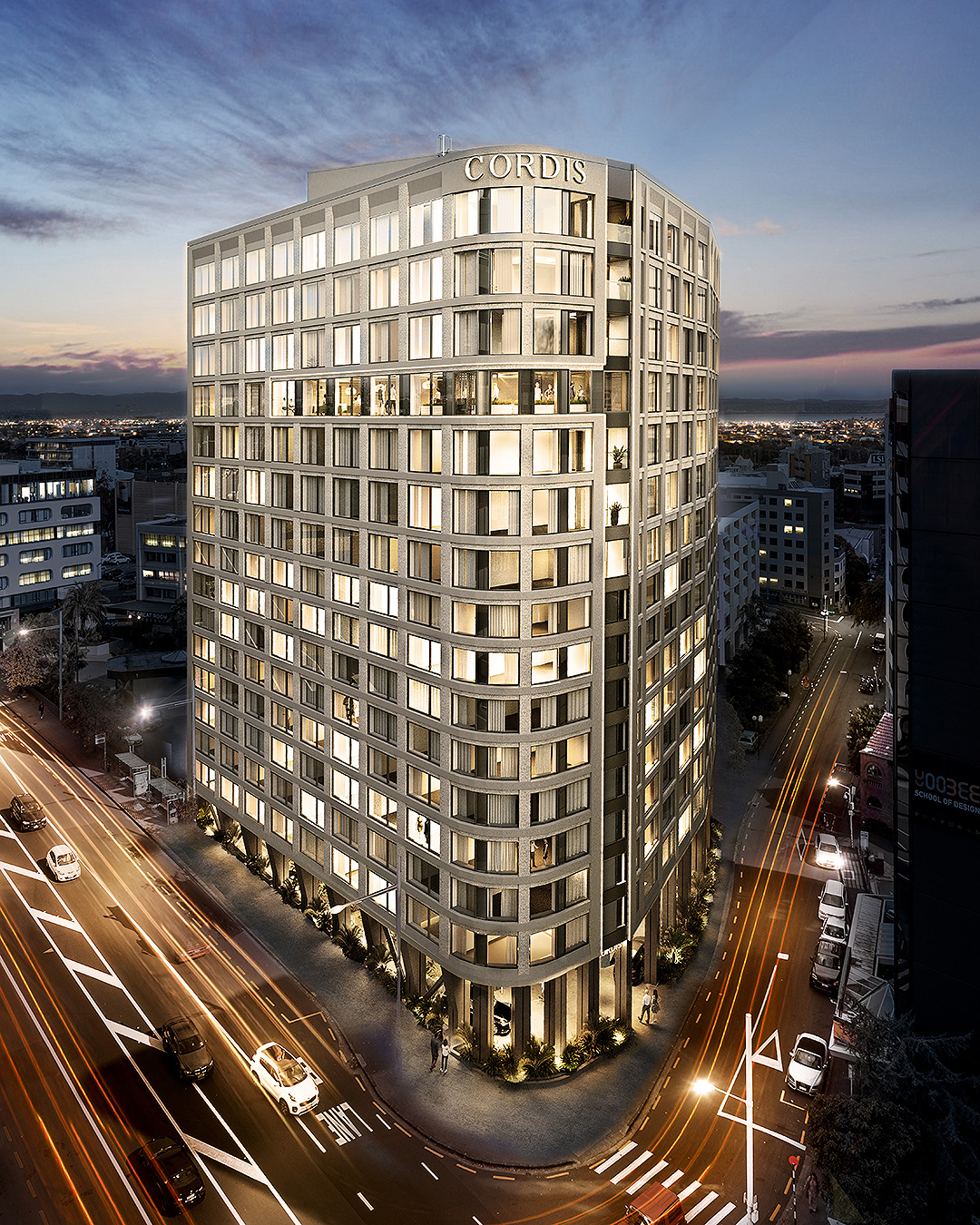 Cordis Auckland
AUCKLAND
Taking the crown for New Zealand's largest hotel, Auckland's Cordis Hotel with its newly opened Pinnacle Tower proves that bigger really is better. The Pinnacle Tower opened in October 2021, and it takes your luxury staycation to new heights (quite literally—it's seventeen stories!). The spacious rooms are designed with natural light and contemporary elegance in mind, providing comfort so exceptional you'll forget how close to home you are. For dinner, Eight Restaurant is made up of eight different international kitchens manned by expert chefs, giving your palate a delicious tour around the world. End the day by kicking back with cocktails and canapés at Our Land Is Alive or at the Club Lounge bar where you'll gaze upon the most breathtaking views you'll find in the city. No wonder this makes our list of one of the best luxury hotels in New Zealand.
Woodhouse Mountain Lodge
Warkworth
Described by guests as 'a little bubble of serenity', the Woodhouse Mountain Lodge on the Kourawhero Estate offers a slice of paradise in Warkworth. Just an hour's drive from Auckland, the lodge's private villas are nestled amidst the luscious gardens with stunning views from the mountaintop vista extending as far as the Hauraki Gulf. With not one, but three sophisticated dining areas, a lounge bar, and a cosy library, you'll be set for a weekend of relaxation. There are large open fires and wide verandas which offer the perfect place to bliss out after a pampering spa treatment. Watching the sunset from the spa bath in your room is highly recommended!
The Best Luxury Hotel In Wellington

The InterContinental
Wellington
If you're looking for the height of luxury in our capital city, the five-star InterContinental is definitely one of Wellington's finest luxury hotels. The rooms are elegantly styled and spacious, featuring large bathrooms with only the finest modern amenities. Guests have access to the fitness centre with indoor heated pool, spa, sauna and massage treatments. With three delicious eateries on-site, you're spoiled with a range of delights, from high tea in the Lobby Lounge to a classy brunch at Two Grey. Or, enjoy the fine cuisine from the comfort of your bed if room service is what you're craving.
The Best Luxury Hotel In Hawke's Bay
Mangapapa Hotel
HAWKE'S BAY
Set amongst acres of beautiful orchards and gardens, the Mangapapa Hotel in Hawke's Bay is the idyllic escape you've been looking for. The twelve guest rooms are all individually styled, providing a cosy, homestyle approach to a luxury stay. The gorgeous property is split between the lovely historic homestead, dating back to 1885, and two adorable cottage suites with private balconies. Better yet, it's a prime location for visiting a number of the region's popular wineries such as Craggy Range and Elephant Hill. And don't forget to dine at the hotel's restaurant, which offers a five-course menu featuring the beautiful produce grown on-site.
The Best Luxury Hotel In Malborough
The Marlborough Lodge
BLENHEIM
Right beside a working vineyard in the heart of New Zealand's most famous wine region, the stunning Marlborough Lodge is a vino lover's dream. The characterful boutique hotel is made to get you relaxing, featuring a spa where stained glass windows cast a colourful glow over the treatment room—an historic feature of the chapel it used to be. Guests can enjoy dips in the pool, sets of tennis, and private wine tastings within the grounds, so it's ideal for wine connoisseurs and outdoorsy types alike. If you want to venture a little further afield, you're in the perfect spot for hiking through the region's dramatic landscape or sea kayaking through the Marlborough Sounds.
The Best Luxury Hotels In Canterbury

The George
CHRISTCHURCH
Taking centre stage in the garden city of
Christchurch
, you'll find everything you want in a boutique hotel stay at
The George
. The award winner boasts elegant and comfy guest rooms, each with contemporary furnishings and modern conveniences, offering the ultimate quaint-yet-luxurious stay. Enjoy impeccable service and a beautiful setting as you dine at its restaurant 50 Bistro, which serves contemporary cuisine and al fresco dining on the terrace. Overlooking Hagley Park and the Avon River, The George is just a few steps away from a morning stroll along the river or a wander through the artsy delights of Christchurch's CBD.
The Lindis
AHURIRI VALLEY
Tucked into the rugged mountain ranges near Omarama, in the heart of the South Island, is the perfectly secluded boutique hotel The Lindis. Take your pick from the plentiful walking trails that criss-cross the surrounding Ben Avon station, or borrow one of the horses stabled on site for an easy ride to the lagoon or a trek through the beech forest. Spend your evenings star-gazing and your days doing everything from target-shooting and fly-fishing to indulging in stress-melting spa treatments and private cookery lessons. Decadent breakfasts and multi-course dinners are included with each stay, so you'll be deliciously fueled for experiencing the sights.
The Best Luxury Hotels In Otago
Fable
DUNEDIN
Nothing short of absolutely gorgeous, Fable is located in the very heart of Dunedin. Housed in an elegantly renovated Victorian-era building, the five-star boutique hotel has everything you could possibly need for a dreamy night's sleep and in-room relaxation. The rooms are beautifully styled, modern and minimalistic with hints of tartan in ode to the Scottish settlers. Head to dinner in the hotel's café-style restaurant, The Press Club, which pays homage to Dunedin's original haunt for editors and publishers in the 1870s. Sharing plates using locally sourced, organic produce is created by the hotel's award-winning chef. Plus, there's an extensive whisky menu, perfect for a pre-dinner cocktail or to finish off the evening in style.
QT Hotel
QUEENSTOWN
If a day on the slopes is your jam but you don't want to compromise on extravagance, you'll find the peak of alpine luxury in Queenstown at the fabulous QT Hotel. Wake up to majestic mountain views from this impeccably styled lakeside haven, best enjoyed from your Juliet balcony. Rooms are designer sleek with cosy touches and the signature quirk the boutique hotel chain is known for and includes a package of free entertainment. After an action-packed day on the snow, head to Reds Bar, where locals and guests alike order up a cocktail or a boutique brew. Foodies with adventurous tastes will be enticed by the bustle and aromas of the interactive Bazaar Marketplace, where chefs create dishes before your eyes.
Blanket Bay
Glenorchy
Surrounded by breathtaking mountains, Blanket Bay's lovely lakeside location in Glenorchy is perfect for a romantic getaway without straying too far from home. The luxury lodge's rooms are the epitome of cosy charm, with warm wooden furnishings, private balconies, and welcoming fireplaces to keep you nice and toasty. With all the finest spa facilities, you can indulge in some pampering before heading to your very own table in the gorgeous, high-ceilinged dining room, an intimate evening of seasonal cocktails and a degustation menu ahead of you.
Feeling blown away by the beauty of our home? Check out these stunning places you had no idea were in NZ.
Image credit: Main and top image - Delamore Lodge, Park Hyatt Auckland, Cordis Auckland, Woodhouse Mountain Lodge, The InterContinental, Mangapapa Hotel, The Marlborough Lodge, The George, The Lindis, Fable Dunedin, QT Queenstown, Blanket Bay.
Editor's note: Urban List editors independently select and write about stuff we love and think you'll like too. Urban List has affiliate partnerships, so we get revenue from your purchase.