Although we may have reluctantly come to terms with the fact that we don't possess the golfing prowess of Lydia Ko or Rory McIlroy, it doesn't mean that we can't enjoy an 18-hole game from time to time. Oh, you thought we were talking about a civilised, wear-your-best-attire game of weekend golf? Don't be daft. No, we're talking game-face-on mini-golf, in all its coloured ball glory. Mini golf is a great activity for all ages (move over kids) and brings out the competitive side in all—yeah, even Aunt Gladys will bring her A-game!
With a great selection of locations to enjoy this fine sport, we have rounded up the 10 spots to perfect that swing and sink those holes in ones—we present, the best places to play mini-golf in Auckland.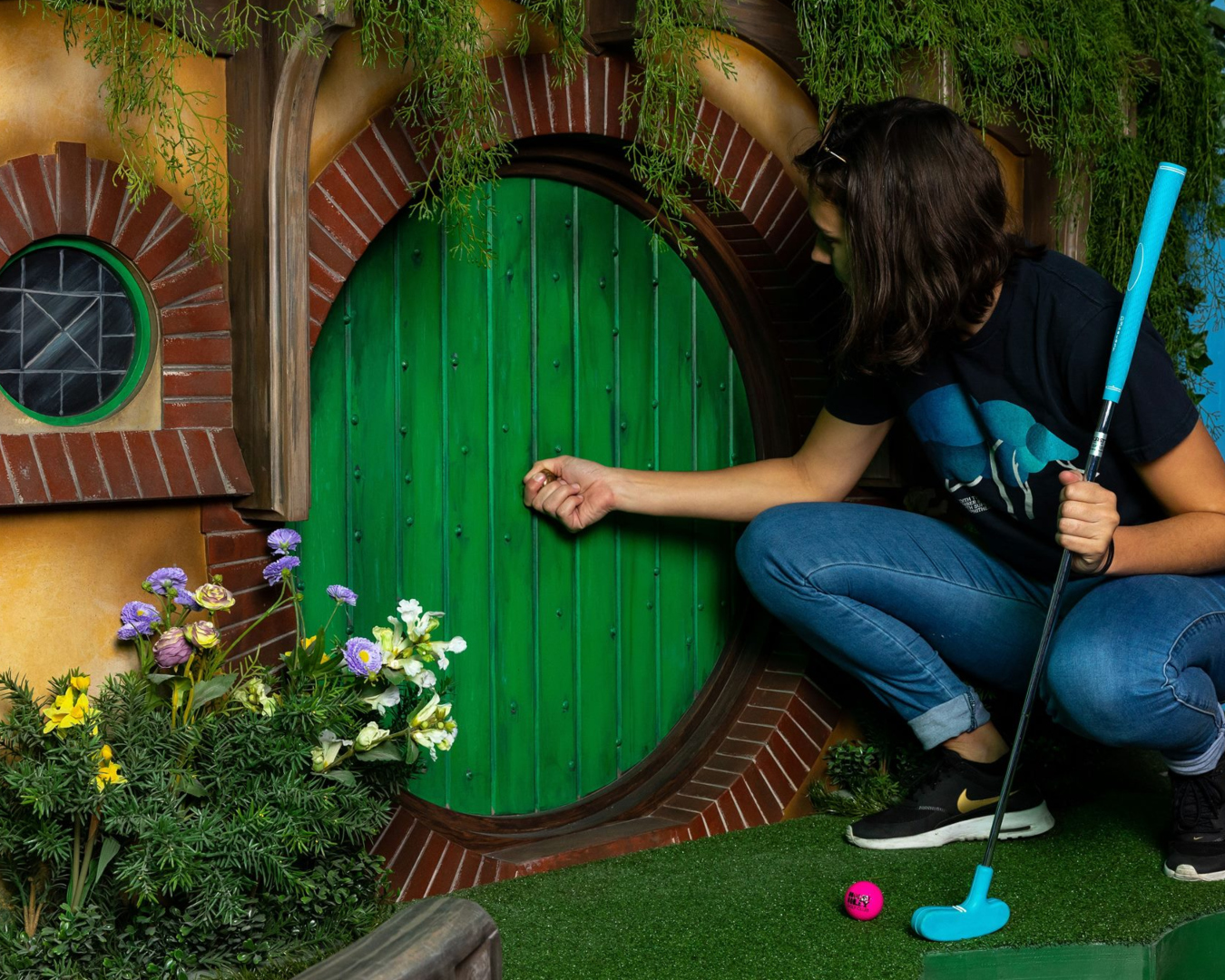 Holey Moley
Viaduct
Holey Moley is a multi-sensory mini-golf labyrinth come playground where you can putt to your heart's delight, serenade your fellow putters with karaoke and sip on Smirnoff Sugar Caddies. That's right, this mini-golf course triples as a karaoke haunt and a bar. The Caddyshack is packed with wines, beers, mocktails and cocktails plus the all-important snacks to keep your swing snazzy. You can even get a combo box where your feed arrives in a mini cardboard effigy of a golf cart—cute.
Enchanted Forest Mini Golf
Onehunga
With hole names such as '3-eyed monster', 'piranha path' and 'chain of fools' making up this 18-hole course, Enchanted Forest Mini Golf has certainly got our attention. Located inside a park, this outdoor mini-golf course is nothing short of spectacular. Built by golfers, for golfers (yep, we are now calling ourselves golfers) players can expect a fun yet challenging game. Take part in a friendly game full of great sportsmanship or sportswomanship and then reward yourself with a tasty feast on the surrounding BBQs. Now if that doesn't sound like an easy, fun day out for all, we don't know what does.
Jurassic Park Mini Putt Golf
Albany
Putt among prehistoric beasts at Game Over's Jurassic Park. The Albany mini-putt golf course is entirely indoor meaning there's no risk of accidental wet t-shirt competitions if Auckland's weather lives up to its reputation of hosting four seasons in one day (it will). Strut your stuff around the 12 holes then continue the fun with a lap (or three) of kart racing followed by a laser tag mission. Did someone say best day ever?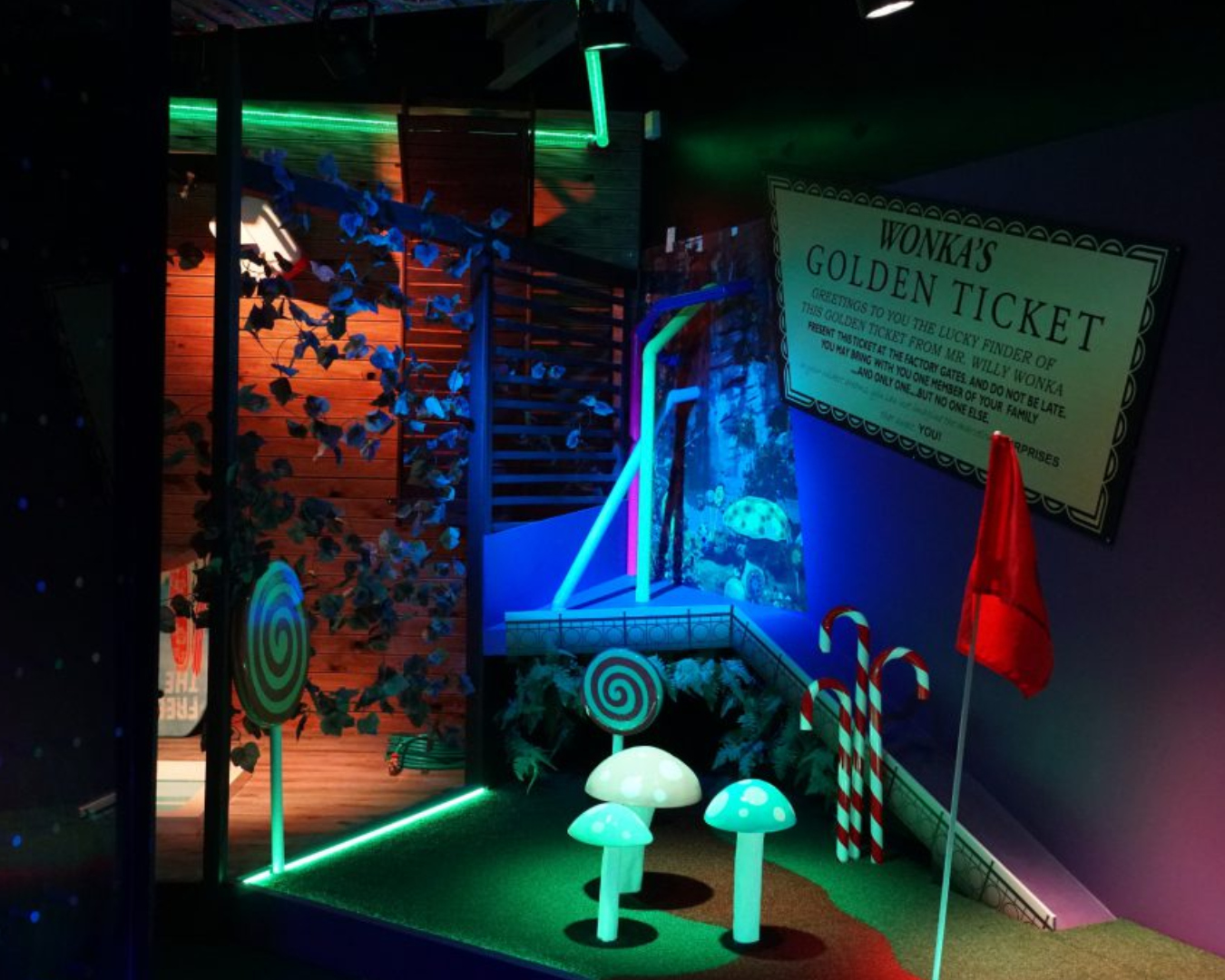 Putters Paradice Mini Golf
Botany
Thought Paradice was only for skating? Think again. Putters Paradice has popped up in Botany and the 13-hole course is sure to please. Bundle your game with a solid serving of laser tag and ice skating and you're set. Will you ace space and become the ultimate Golfer of the Galaxy or will you finally nab that Golden Ticket to Willy Wonka's chocolate factory? Step right up and try your hand (or, rather, your swing) and prove to the world that you're basically a pro.
Gloputt Mini Golf
Takapuna
Daylight mini-golf is sooo last year. Now it's all about glow-in-the-dark golf, duh. Gloputt Mini Golf is the first and only Auckland establishment to create this light-up, glow-in-the-dark experience. Grab your weapon of choice (a.k.a club) and get ready to immerse yourself in an incredible and illuminated game of mini-golf. Take to the 16-hole course, keep your eye on the prize and get ready to feel like you've stepped into an underground rave. With glow-in-the-dark pathways, buildings and obstacles, this course will challenge even the best players and have you searching for your A-game amongst the darkness.
Lilliputt | Dragon Quest
New Lynn
With Game Of Thrones still looming large in the collective psyche, make like Daenerys Targaryen and get ready to show those enchanted beasts just what you're made of as you take part in the Dragon Quest mini-golf course in New Lynn. You must take to the course and deliver the eggs back to the angry and awoken dragon before she ruins the realm. Journey into these mystical lands and get ready to take on one heck of an adventure.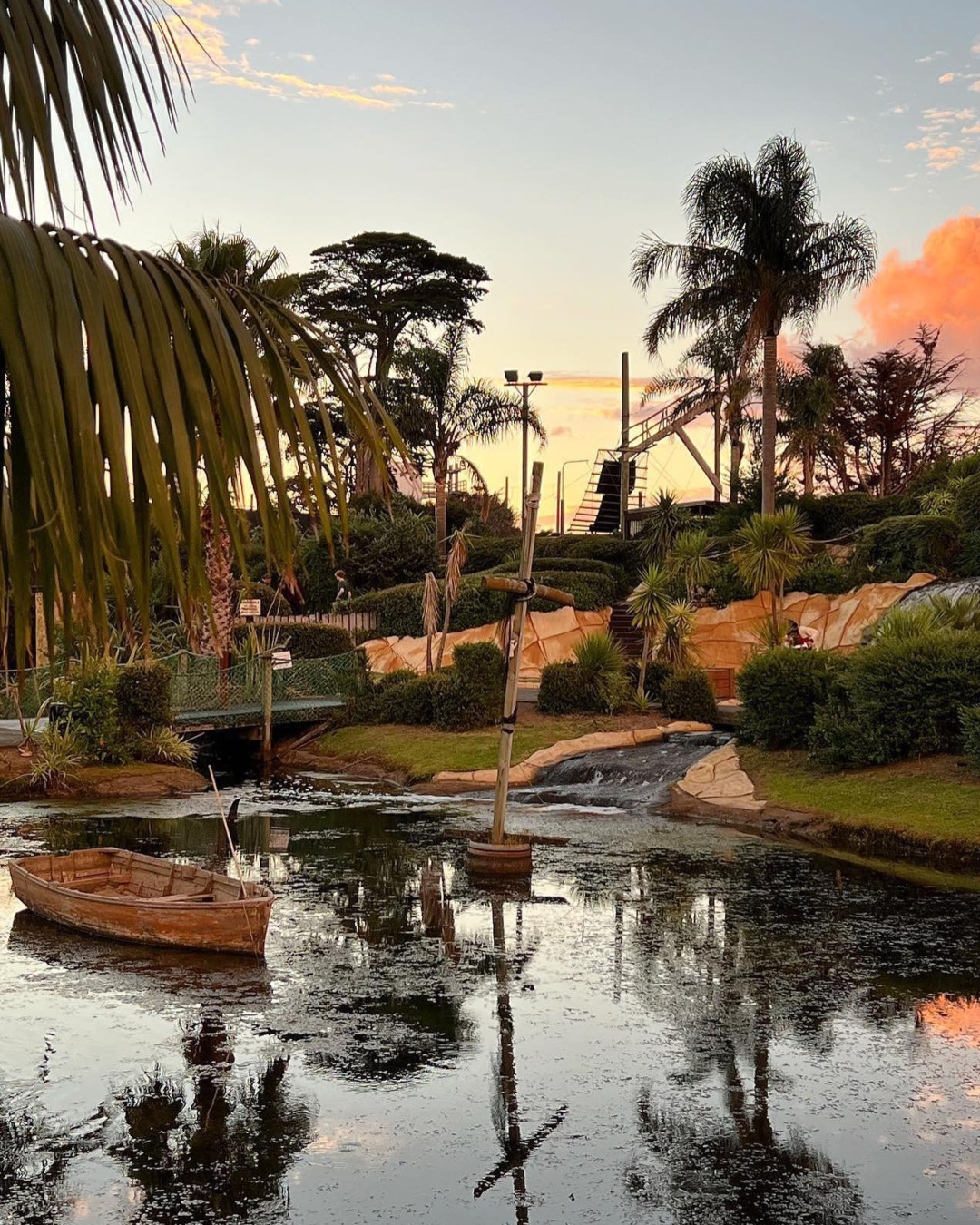 Treasure Island Adventure Golf
Auckland Airport
Arrr-guably one of Auckland's best mini-golf courses, Treasure Island Adventure Golf has stolen hearts and treasure a-plenty. Work your way around either one of their two 18-hole courses (or both, if you're feeling extra cocky!) and keep an eye out for pesky pirates. Putt your way around shark-infested waters and listen out for the ever off-putting cannon blasts. A fantastic day out for the entire family or a great way to challenge your date (loser pays for dinner), Treasure Island is the ruler of the mini-golf scene, or should we say seas, too?
Lilliputt | Around The World
Mount Wellington
Who says you need a plane ticket and a month off work to travel around the globe? Not us, that's for sure. Forget expensive plane tickets and months of organisation, as the only thing you're gonna need is a sense of adventure and some adequate mini-golf skills. Around The World will take you to the Leaning Tower of Pisa, whisk you around the Arc De Triomphe and send you into the jaws of the hungry beasts of Africa. Fun for all the family, this is a rainy day activity to keep the kids (and you) extremely happy.
Lost in Time
Auckland CBD
Seems putt-ing and prehistoric beasts are a winning combo, because next on our list of Auckland's best mini golf spots is the T-Rex friendly Lost in Time. However, dinos aren't the only thing you'll encounter as you make your way around this epic 18-hole course (the first animatronic golf course to be built in Australasia), located in the lower basement of the Metro Centre. Journey through our country's rich history, beginning with those pesky dinos and lush, pre-colonised forests, right on through to the goldmines of the Coromandel and the battlefields of World War One. Mini golf with a side of history? We like it.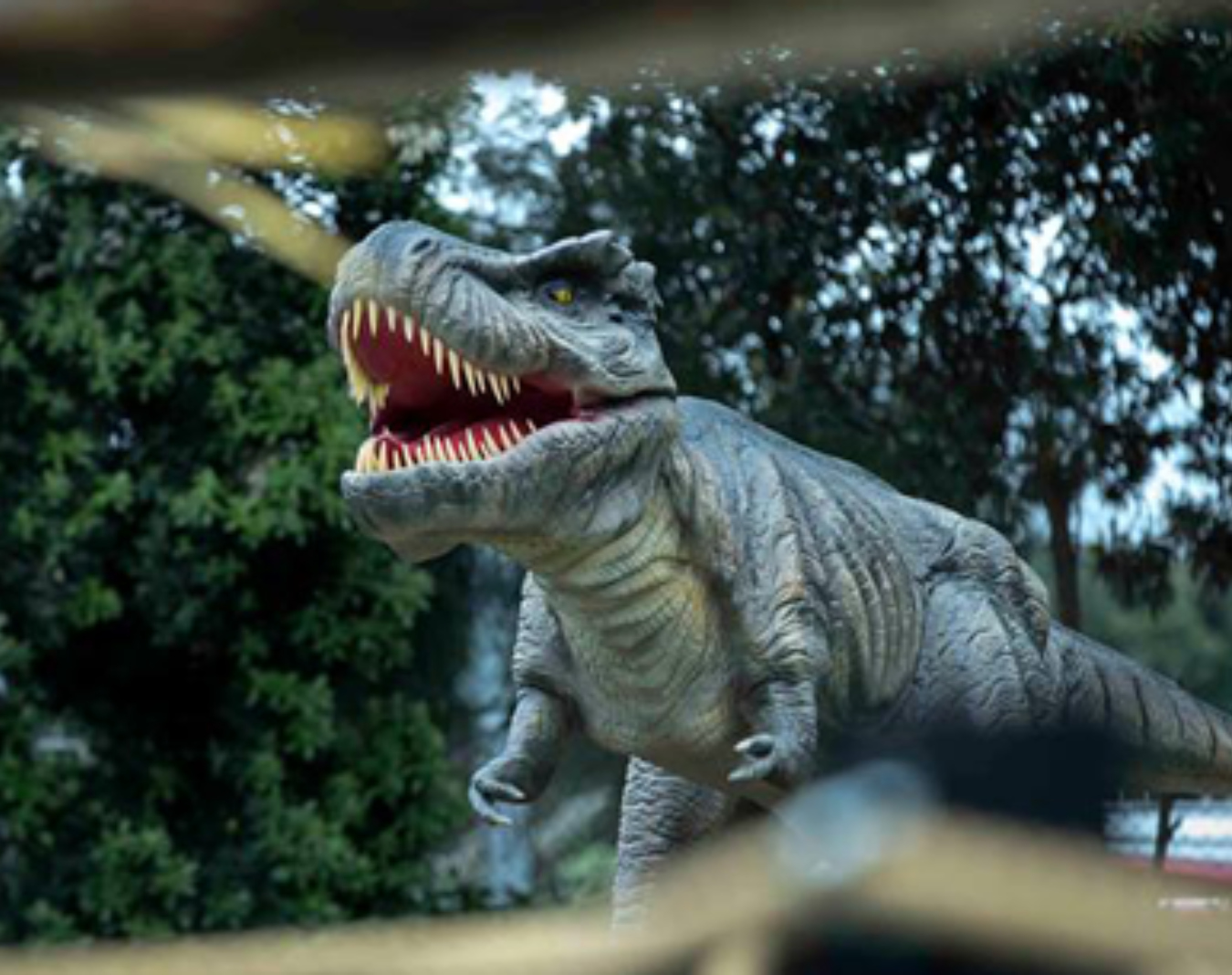 Lilliputt | Safari & T. Rex Alley
Parnell
No one likes to brag (well, maybe a little) but when you're home to Auckland's very first 18-hole mini-golf course you've got every right to. Not only do Safari & T. Rex Alley in Parnell hold this prestigious title, but their courses boast the best views EVER. Overlooking Waitematā Harbour, players can not only take part in an exciting game of the good stuff, but they can also snap a few piccies while doing so coz, c'mon, why wouldn't you? There are two different courses to choose from, so even though you're surrounded by spectacular views, keep an eye out for wild beasts, ginormous dinos and other scary critters that linger along the way.
Want to exercise more than your swinging arm? Find your way out of Auckland's best escape rooms.
Image credit: main article image and top image Holey Moley, Putters Paradice Mini Golf, Treasure Island Adventure Golf by itsshriyah via Facebook, Lilliputt.