We're still weeks away from the sweltering, thong-melting heat that us Aussies know as summer, but WA's beaches are already filling up with bikini-clad babes and surfers eager to make the most of the warmer weather. And after a quick scroll on Insta, it's easy to see why—we're talking strips of golden sand, a shimmering blue ocean and all the hot chips you can ask for.
We can all agree that beaches make for a top-notch day trip destination, but let's be real—nothing compares to a beachside vacay. Picture you and your mates downing a few drinks in the comfort of a boho beach house, just steps away from the surf. Sounds like paradise, right? Book yourself the ultimate coastal vacay with a little help from these deluxe holiday homes, and don't forget to pack the snacks (or the sunblock).
Aqua Vista
DUNSBOROUGH | SLEEPS 5
Located directly across the road from the stunning shores of Geographe Bay in Old Dunsborough, you really can't get more coastal than Aqua Vista. The three bedroom, two storey home has been beautifully styled with light timber furnishings and beachy decor throughout. And while those interiors are every bit as nice, it's the picture-perfect outdoor alfresco area looking out to the bay that does it for us.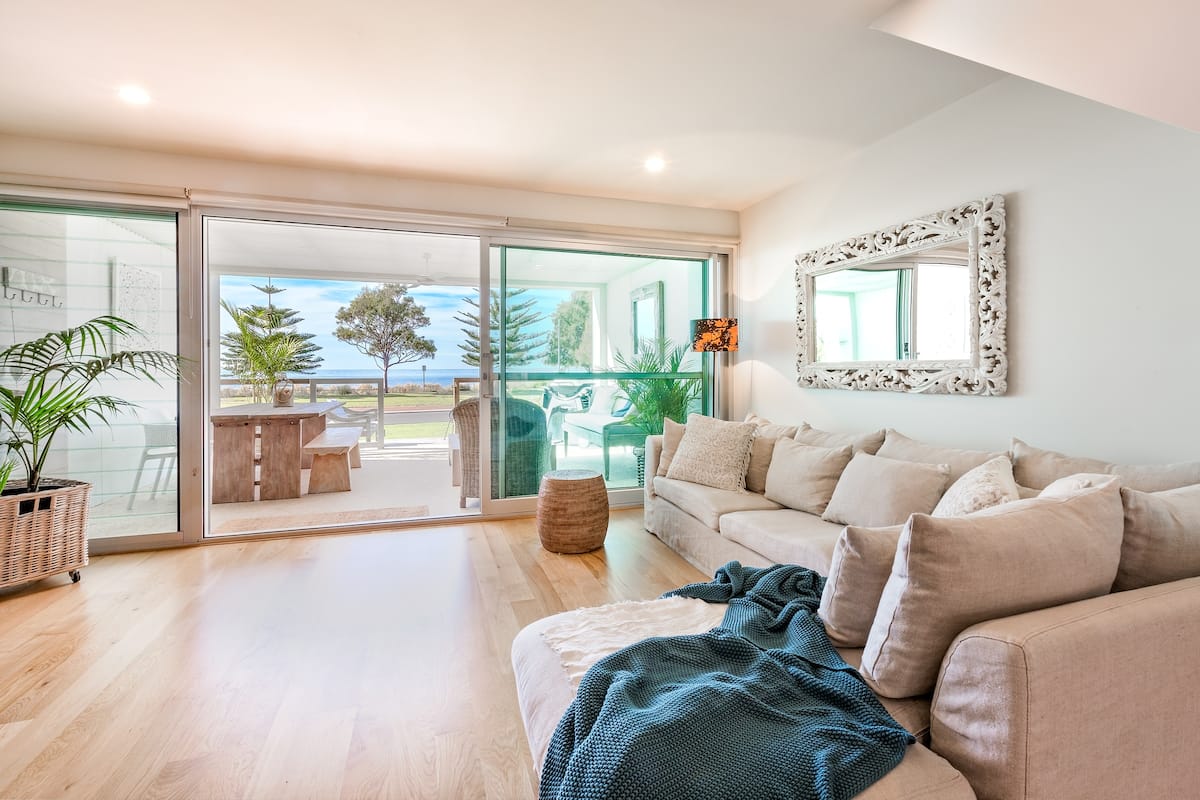 Siesta Beach House
MARGARET RIVER REGION | SLEEPS 10
There's plenty of space to sprawl out at this two storey beachfront residence located in Marybrook, Margaret River. Sleeping up to ten people, this sweet slice of paradise is made for big groups and families with its large open plan living area downstairs and epic upstairs activity space complete with pool table and spacious outdoor deck. Outside you've also got a massive lawn area leading towards the beach and a shady vine-covered patio perfect for knocking back a few beers after a day in the water.
Turquoise Waters Retreat
Scarborough | Sleeps 7
Who says you need to leave Perth for a good coastal escape? You can book a weekend with your crew right here in Scarbs at the stunning Turquoise Waters Retreat. Located walking distance from Scarborough beach you can nip down for a quick dip in the morning before smashing a margarita or two at El Grotto over lunch. Head back and spend your evening lounging around in the resort-worthy outdoor area and pool before tucking yourself into one of the many comfy beds inside.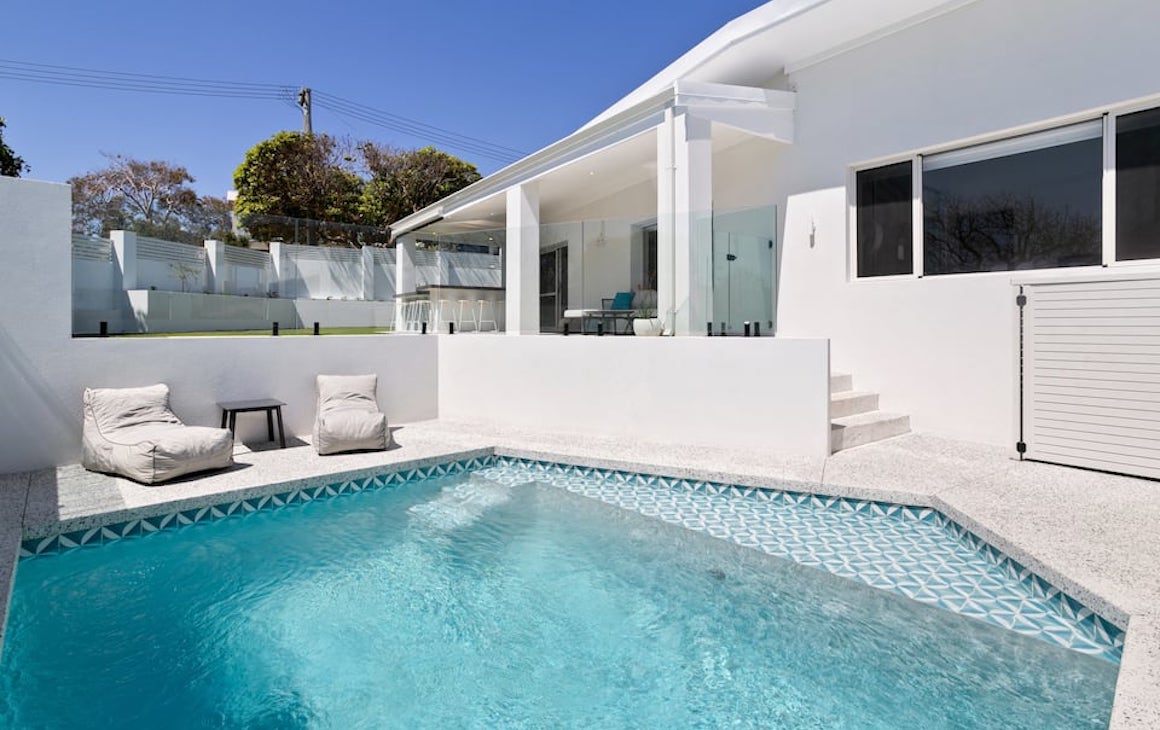 Coley's Beach House
Yallingup | Sleeps 8
A stone's throw from the famous Rabbits surf beach and just a short stroll to the local coffee hub, there's no better place to soak up all of Yallingup's action than Coley's Beach House. This unique older style brick and timber beach shack sleeps eight, so it's a great option for bigger groups—whether you prefer to wander down to the lagoon for some swimming and snorkelling or choose to tackle the bigger breaks beyond the reef, rest assured everyone is well catered for at this lowkey coastal getaway.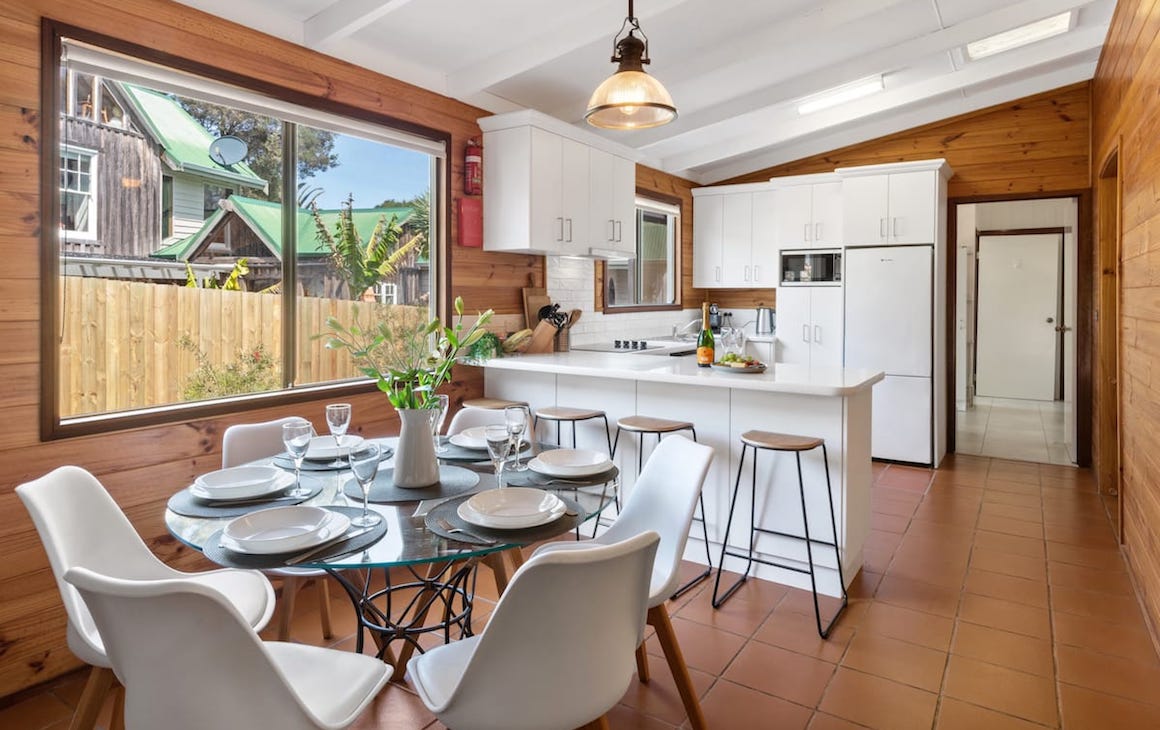 Doris Betty Beach House
Denmark | Sleeps 5
Nestled between karri trees and the ocean, it's pretty hard not to relax at Doris Betty Beach House. The cute-as-a-button 1960's cottage has been thoughtfully restored and we've fallen head over heels for the luxe coastal-style decor. Outside you'll also have a picture-perfect deck with views to Ocean Beach that's basically begging you to fire up the barbie and crack a bottle of wine.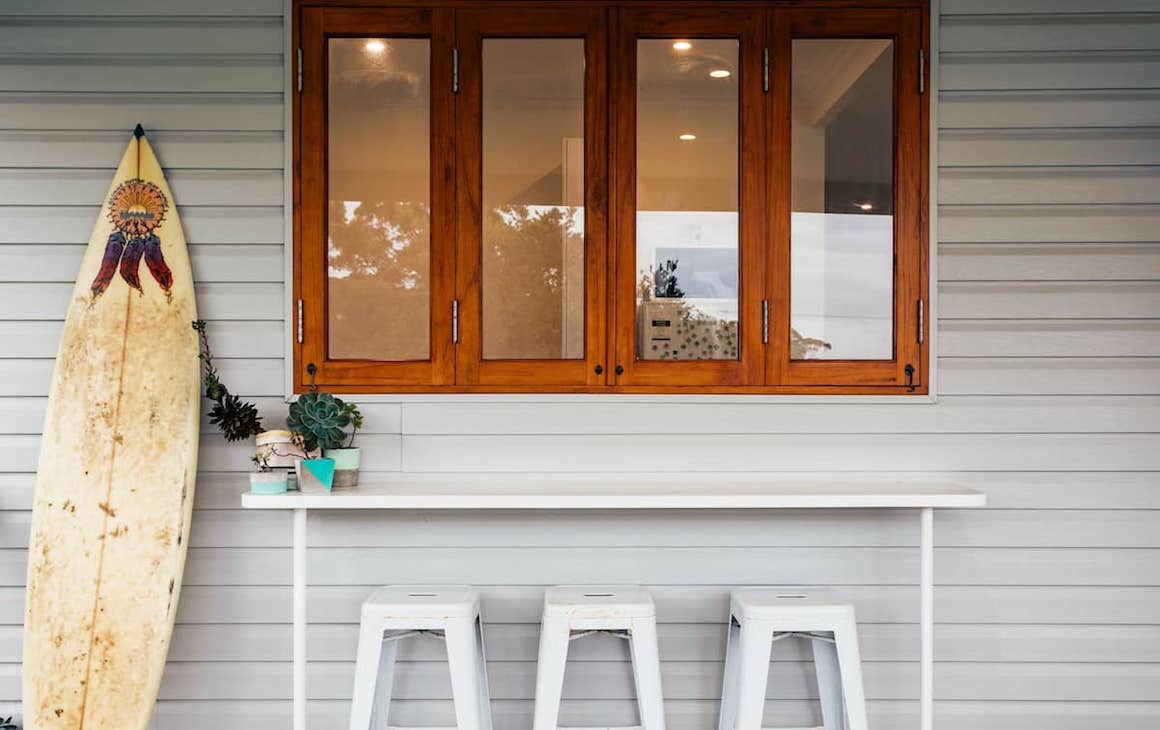 Blu Peter Penthouse
NORTH COOGEE | SLEEPS 2
If you're looking for more of a staycation, look no further than Blu Peter Penthouse in North Coogee. Reminiscent of a beach club, the outdoor patio is equipped with a spa, plush sun lounges, wicker chairs and a macrame hammock. Better yet, the panoramic ocean views are equal to those of the Mediterranean. Admire the turquoise waters of Coogee as you pump the spa jets and soak up the views. If you haven't snorkelled at Coogee's Omeo Shipwreck yet (you know that photogenic beach where the stairs descend straight into the ocean?), this is your chance!
The Studio
Prevelly | Sleeps 2
A little slice of the Mediterranean right here in WA, this comfortable terracotta-hued studio is supremely located right on the ocean and just a block from local shops and cafes. You can wake up with a coffee in the oceanfront courtyard before a day at the beach then slink back for sunset vinos. What more could you ask for?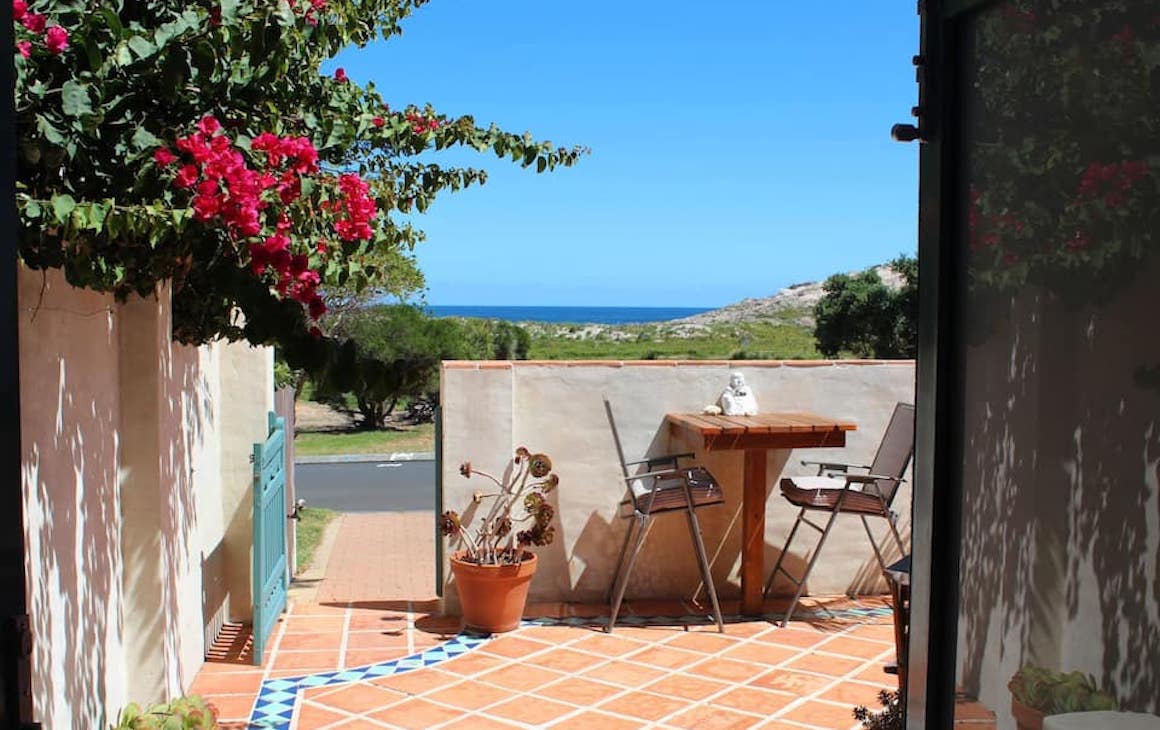 Lefties @ The Bay
Gracetown | Sleeps 12
Lefties @ The Bay is a two storey architectural masterpiece that sits pretty on the hill overlooking Cowaramup Bay (which is just a short 400m stroll away), and we're actually lost for words at just how gorgeous it is. This modern five-bedroom home away from home is filled with natural light and plenty of amenities including two indoor fireplaces, a large balcony and a big bathtub. We also can't help but notice that the beautiful rattan furniture and light fixtures throughout the house are reminiscent of those at Meelup Farmhouse, which is just a 35 minute drive away… brunch, anyone?
The Lookout
YALLINGUP | SLEEPS 8
As we know, WA has some of the most beautiful beaches in the whole world. Yallingup is no exception—the pristine waters and shallow reef accompanied by sugary white sand is one of the many reasons why we love this beachy 'burb. The Lookout holiday home makes the most of this natural wonder with a stunning BBQ balcony. Spend your evenings gazing at 180 degree views of the beach all the way to Canal Rocks.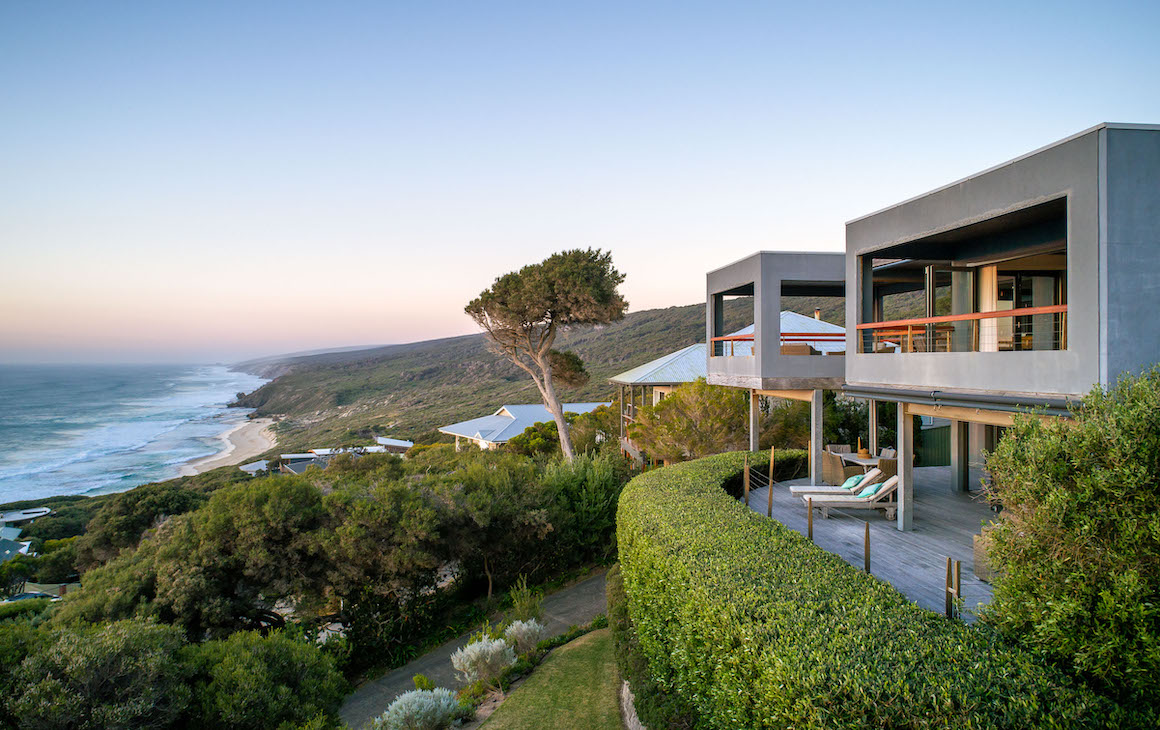 Incognito
GRACETOWN | Sleeps 8
With four bedrooms, this luxurious Gracetown property sleeps up to eight people, so you'll want to grab a few mates to really make the most of it. From the moment you arrive, you'll be blown away by the home's floor to ceiling windows overlooking the ocean, plus a central fireplace for those cooler nights. There are also plenty of outdoor nooks and deckchairs so you can settle in for an evening of stargazing after a day at the beach. And wowee, we haven't even talked about the jacuzzi room yet. This separate room has bi-fold doors that open directly to 180-degree ocean views, and the roomy spa comfortably seats six people.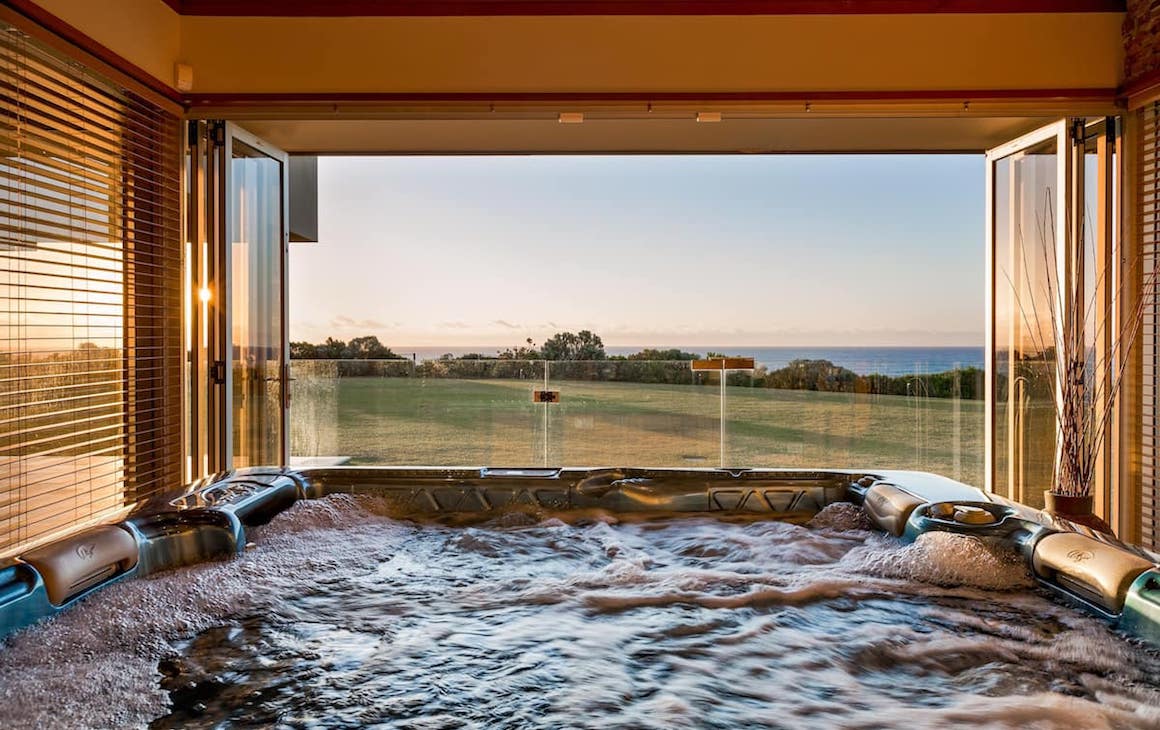 Serene Shores
EAGLE BAY | Sleeps 8
Missing being able to travel to those beautiful exotic islands in Greece? Not a problem—Serene Shores is the next best thing. Think Mediterrenean hillside glamour perched atop Eagle Bay, with sweeping views of the crystal waters to Point Picquet. Easily housing eight people, this beautiful place boasts four gorgeous bedrooms, a fireplace, and a pool overlooking the ocean. Perfect for a big group of friends or a couple of families wanting a cosy and classy getaway.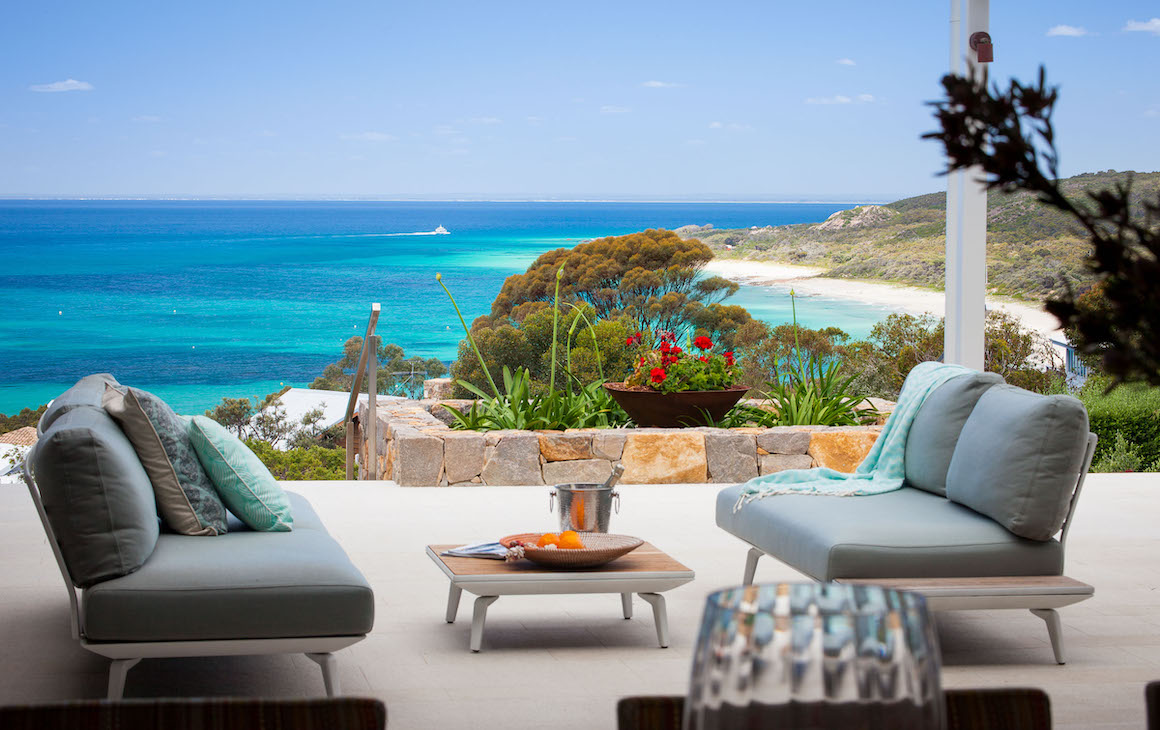 Getaway On The Beach
BUSSELTON | SLEEPS 10
If your crew likes the sun, sand n' surf, this Getaway on the Beach is the spot for you. Housing up to ten people, this spacious two storey beauty is the perfect spot to fire up the bbq, sit on the balcony and watch the sunset over the ocean with a chilled vino in hand. And yes, you can even bring your furry friends along for the trip too.
Image credit: Aqua Vista, Turquoise Waters Retreat, Coley's Beach House, Doris Betty Beach House, The Studio, The Lookout, Serene Shores