It's part of the vocabulary in Perth; "we live in the most isolated city in the world." But we all know that isolated doesn't mean Yawnsville, there's plenty to see and do around town. As happening as Perth might be these days, sometimes we just want to get out of the city and do some exploring.
So next time you're stuck for something to do on the weekend, why not pack yourself a picnic, download a banging playlist and take a little day trip?
Here are the best of the best day trips from Perth, and they're all within 1.5 hours of the city. Too easy.
Penguin Island
Catching a ferry to a picturesque island complete with cute wildlife? We're talking Rotto, right? Wrong. Penguin Island is just 45 minutes south of Perth, at the heart of the spectacular Shoalwater Islands Marine Park. The ten-minute ferry ride lets you catch a glimpse of wild dolphins and Australian sea lions before you get up close and personal with the world's smallest penguins. There are feedings at 10.30am, 12.30pm and 2.30pm daily, so get your timing right, and don't forget to leave time for a swim or snorkel in the crystal clear bay. The ferry and a visit to the Discovery Centre will set you back $27 per adult, with ferries departing Shoalwater hourly from 9am to 3pm.
Serpentine Falls
If you're looking to beat the beach crowds, Serpentine Falls is a great alternative and it's just one hour drive from the CBD—perfect if you're looking for an easy day trip from Perth. The park reaches up the steep Serpentine River valley, past a sheer granite wall polished smooth by the rushing water. Pack a picnic and join the grey kangaroos for lunch on the lawn, or bring your active-wear and enjoy one of the many bushwalks before taking a swim. Tackle the Falls Walk Trail or Kitty's Gorge Walk Track, with return walking times between 15 minutes and five hours. Gates open at 8.30am and close at 5pm, and you'll want to get there well before 11am in peak season or you'll be turned away. We're not kidding, it's just that popular.
Rottnest Island
As if we could leave out Perth's favourite holiday island. New ferry providers have brought the price of tickets to Rottnest down, with fares starting from just $45 return per adult. Hire a bike to explore the island's 63 beaches and 20 bays, from snorkelling at The Basin to walking the white sand of Little Parakeet Bay. Of course, follow the footsteps of Margot Robbie or Roger Federer and take a happy snap with the world's most famous marsupial, because if you don't get a quokka selfie, did you even go? For all the thrill-seekers out there, get amazing views of the island by challenging yourself to WA's only island skydive. Top things off with a sunset drink at Hotel Rottnest for one of the most perfect day trips from Perth.
Lancelin
Borrow a mate's four-wheel-drive, point it north and in just 90 minutes you'll reach Australia's premier sandboarding destination. Lancelin is one of the state's best kept holiday secrets with crisp white dunes, clean beaches and a chilled out vibe. Entry to the dunes is free and you can rent a board for as little as $12, whether you go down on your backside or your feet is up to you. After getting sand everywhere, wash it down with unspoiled ocean views at the Endeavour Tavern featuring Australia's best beer garden. If you're looking for a laid back beachy day trip from Perth, this is it.
Swan Valley
Can't make it to Margs? Well, wine buffs and foodies rejoice. The state's oldest wine growing region lies less than an hour out of Perth's CBD. The Swan Valley's award-winning Food and Wine Trail is a 32km scenic loop taking in more than 150 attractions including wineries, restaurants, bustling cafes and for those who enjoy an alternate tipple, distilleries and breweries. The trail is well sign-posted, just grab a map from the Swan Valley Visitor Centre in Guildford and you're off. Just be sure to pick a skipper before the vino starts flowing.
Araluen Botanic Park
Just 35km south-east of Perth lies the state's most beautiful secret garden, Araluen Botanic Park. With 59 hectares of developed gardens featuring exotic and native plants, the park is the perfect place to get back to nature. Although best known for its springtime tulips, there's plenty on at the park year-round. Events range from Easter themed Scavenger Hunt to Perth's hottest place to be—Araluen's Chilli Festival. Entry will set you back $6 per adult and the park is open every day of the year.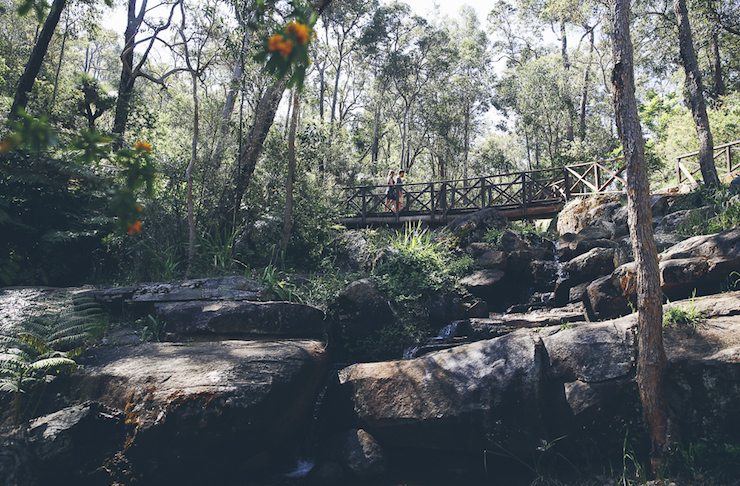 Mundaring Weir
Fancy a Sunday roast in one of WA's most historic locations? Look no further than Mundaring Weir, known as the Heart of the Hills for good reason. Enjoy sweeping views from the north side of the dam and if you don't mind heights, walk across the 42-metre-high wall. After exploring, walk five minutes to the Mundaring Weir Hotel. At the centre of many walking and cycle trails, the 120-year-old Hotel is the perfect place to begin and end your day trip from Perth. Don't miss the legendary Sunday Session, which boasts a lamb spit roast cooked over a traditional log fire. Weekend plans, sorted.
Want more? Here are the best scenic drives from Perth.
Image credit: Vlad Kutepov at Rottnest Island | Louise Coghill at Araluen Botanic Park | Anna Franklyn at Rottnest