The guys behind Il Lido know they're onto a good thing with their beachside location and quality Italian eats; it's probably why they haven't strayed too far from the formula with their latest venture, Canteen Pizza.
Just a block north of Il Lido, Canteen is in the spot that used to be Hola on Marine Parade in Cottesloe and I think it's safe to say it's going to be more successful than its predecessor based on how many people were walking through the doors when I was there for Friday night dinner.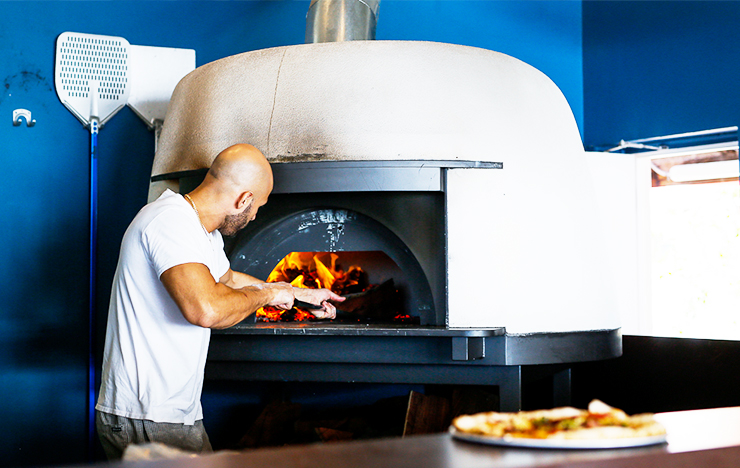 It's no secret that Il Lido is in my top five favourite restaurants in Perth, so I had very high expectations when I walked in. Expectations which were promptly blown out of the water.
Being a Friday night, our first stop was the wine list, and it's every bit as good as the wine list at Il Lido so you won't be disappointed. The Warramate pinot noir was a good start, but considering we got through a few bottles of the Flor Marche Grenache I think it's safe to say that was a favourite. Don't judge, there were eight of us…
On to the food menu, we started with the polpette (meatballs FYI) and they were melt-in-your-mouth delicious and bursting with flavour. Great start. We also had the traditional and the pistachio porchetta—generally not my kind of dish but I didn't mind this and the general consensus from the table was that it was top notch.
After that we ordered just about every pizza on the menu, and the baby cos with parmesan for a bit of balance. Baby cos salads don't generally excite me but this one is well worth your time, trust me.
Now all of that's out of the way, let's focus on Canteen's specialty. Pizza. I know this is a really big call, but I think it's the best pizza I've eaten in Perth. Yes, I know, you can't go around saying things like that! But I have, so deal with it.
The nduja pizza with burrata was a highlight, but my top tip? Get the burrata on the side to stop your pizza going soggy. The quattro formaggi and prosciutto pizzas were also drool-worthy, but really, it almost doesn't matter which one you order because the bases—naturally risen for 48 hours and cooked in their woodfire oven—and tomato sauce are just that good.
If you can manage to fit anything else in, these guys do a Nutella pizza which I'll definitely be back to try, along with their cold avospro cocktail which features cold brew and steeped avocado along with Campari—where is that mind blown emoji when you need it?!
Once you've ticked that off your list, you should check out the ridic menu at Island Market in Trigg.
Image credit: Louise Coghill