Thank the cheese lords, after a string of sell-out festivals in Brisbane, Sydney and Melbourne, Australia's biggest cheese festival, MOULD, is finally coming to WA this winter.
A collaborative effort between Revel (the crew behind Pinot Palooza), Nick Haddow of Bruny Island Cheese Co., and Dairy Australia, MOULD is so much more than just a bunch of stalls selling the finest artisan cheeses: their aim is to provide an in-depth cheese experience.
Attendees can meet with reps from different producers and sample dozens of gooey, stinky and hard cheeses all in the name of garnering a greater appreciation and understanding of the art of cheesemaking.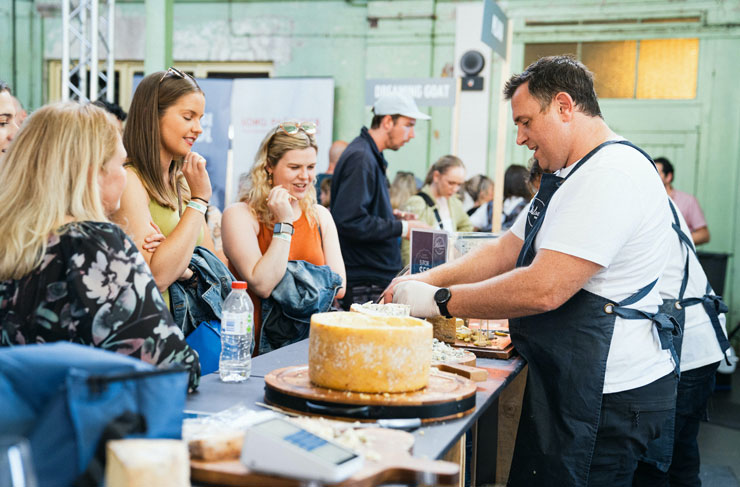 As well as tastings, MOULD also promises a full food menu of dishes from local cheesemongers and chefs. And, naturally, where there is cheese there is wine. And not just any wine. The good folks at REVEL are combining their festival babies—MOULD and Pinot Palooza—for one helluva doubleheader, only on in Perth. Both fests will be under the one roof at Claremont Showgrounds August 25-27, so you can sip, sniff and slurp down all the pinot and juicy drops your heart desires in between the cheesy stuff. What a dream.
Dates are locked in and tickets will be on sale very soon. And if their east coast counterparts are anything to go by, they won't last long.
THE DETAILS
What: MOULD Cheese Festival x Pinot Palooza
When: 25-27 August 2023
Where: Centenary Pavillion, Claremont Showgrounds
Tickets on sale soon here.
For now, get your cheese fix at this new fromagerie and wine bar in Leederville.
Image credit: MOULD Cheese Festival and Roberto Valdivia