In 2017, Kiama four-piece indie rock band Pacific Avenue was born, but their history goes way back.
The stars aligned when Ben Fryer met Harry O'Brien at a busking competition, each vibing the other's sounds, which led them to collab on a couple of tracks before Ben recruited his mates Dom Littrich and Jack Kay who he knew from high school.
Quickly finding local success with their debut single, 'In Your Arms' that catapulted to number one on Triple J Unearthed, the wins kept coming with the release of 'Excuse Me' and 'Something Good' that have been streamed over a cool half a million times worldwide.
Since then, the crew have been busy playing to sold out shows and supported acts like Ocean Alley, Lime Cordiale, and The Wombats.
Armed with a couple of Sailor Jerry bevs, we caught up with Dom, Jack and Ben in Sydney to chat shit tatts, first date heartbreaks and the upcoming release of their biggest project yet.
Your bandmate Harry is in LA right now, how do you plan to go 'all in' and celebrate when you're finally reunited?
Dom: Well, Jack and I decided at the last minute over a morning coffee two days ago that we couldn't let Harry have all the fun over there, so we bought some flights and we will be heading over to join him tomorrow. I do think that when we are all back together we will have a big old party and may even be chucking on a bit of a sneaky Christmas event. Keep your eyes out.
Who or what inspires your sound the most?
Dom: We all have a pretty broad range of influences when it comes to music. Ben can't go for a drive down the road without throwing on a Silverchair CD. Harry takes a lot of influence from The Beatles, Powderfinger and Oasis. I have a bit of a soft spot for Crowded House, Paul Kelly and have a bit of a background in folk music from playing in my Dad's folk band. Jack has a bit of love for all music really, especially Black Sabbath and other heavier bands.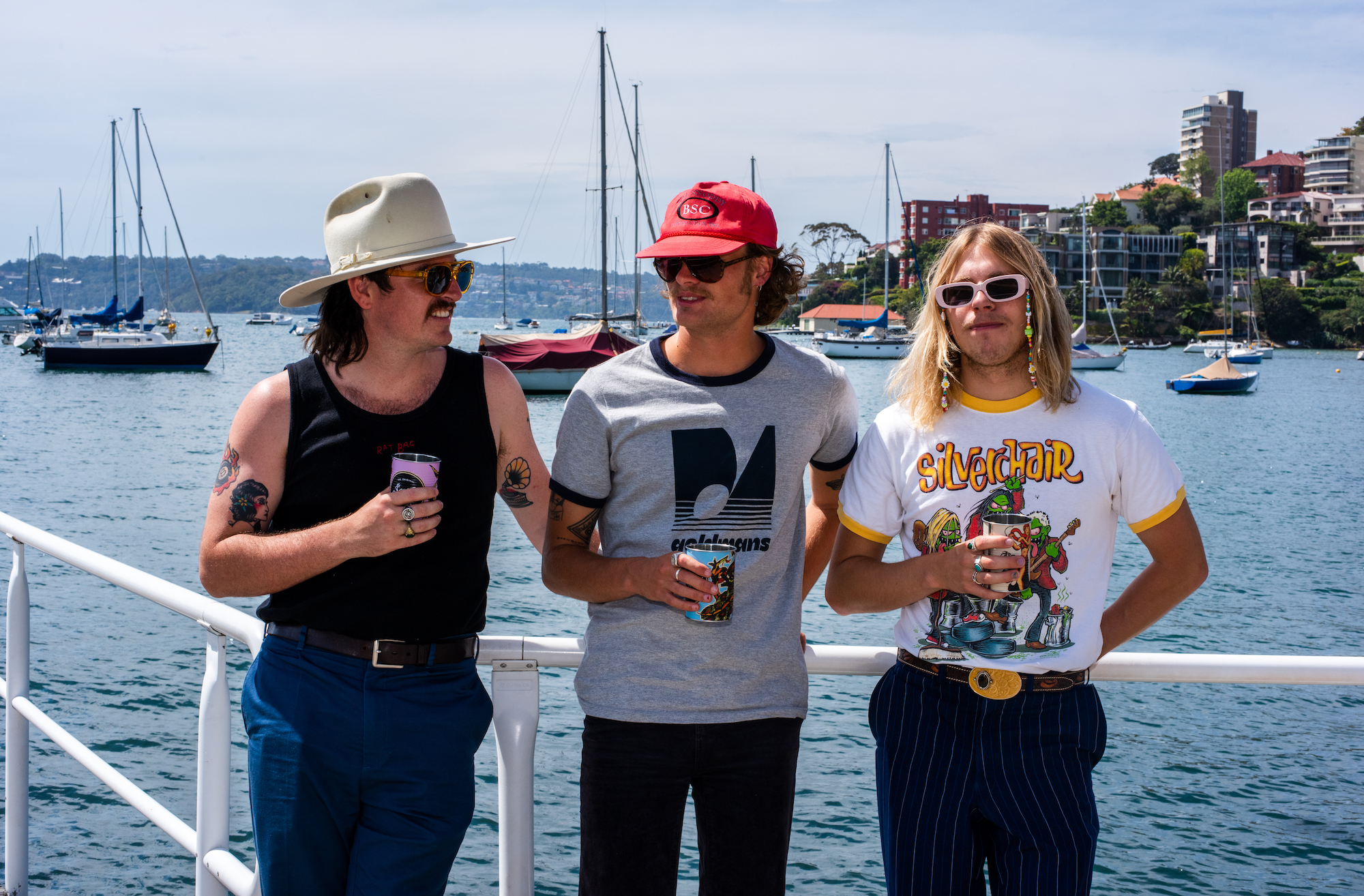 What has been your biggest career challenge to date and why?
Ben: A pretty big challenge for us so far would be trying to make flights on time. We've had some pretty close calls and once had to beg to be let on our flight. One time, Jack, Dom and I all passed out after a long night, in different parts of the airport while our flight was being called.
And on the flipside, what has been your biggest 'f*** yeah' moment?
Dom: I think the biggest f-yeah moment was when we played our first festival at Lost Paradise over New Year in 2019. It was a stinking hot day and when we played our cover of 'My Happiness' by Powderfinger, it started raining and people came dancing out of the shade losing their minds. It was a super special time for us as a young band and it has always stuck with me.
The past couple of years haven't been great—especially for the music industry. How can we show our support?
Dom: The best way is for people to grab band merch and also just tickets to shows. I feel like everyone is pretty ready to let loose after COVID, so get your bum to a Pac Ave show!
Favourite venues to play a live show?
Dom: I think our favourite would be the Metro and The Factory Theatre in Sydney. We have probably played our biggest shows there so they hold a bit of a special place in our hearts.
Any crazy crowd moments?
Dom: There was actually one time at an all-ages show when I threw a drum stick into the audience and it accidentally hit a girl and cut her head. I felt horrible about it and still do, but there is quite a funny photo of all of us with the injured girl backstage with an ice pack on her head. We made sure that we compensated the girl with some merch and signed drum sticks but we still felt awful. If you are reading this I am very sorry!
Aussie rock is synonymous with tattoo culture and you guys have loads, what are your favourites?
Dom: I think my personal favourite would be my 'mum' tattoo on my arm. I got it in Mexico from a pretty sketchy guy who rocked up an hour late with a beer in hand. I got it on Mother's Day over there and I think it's the only tattoo mum hasn't told me off for.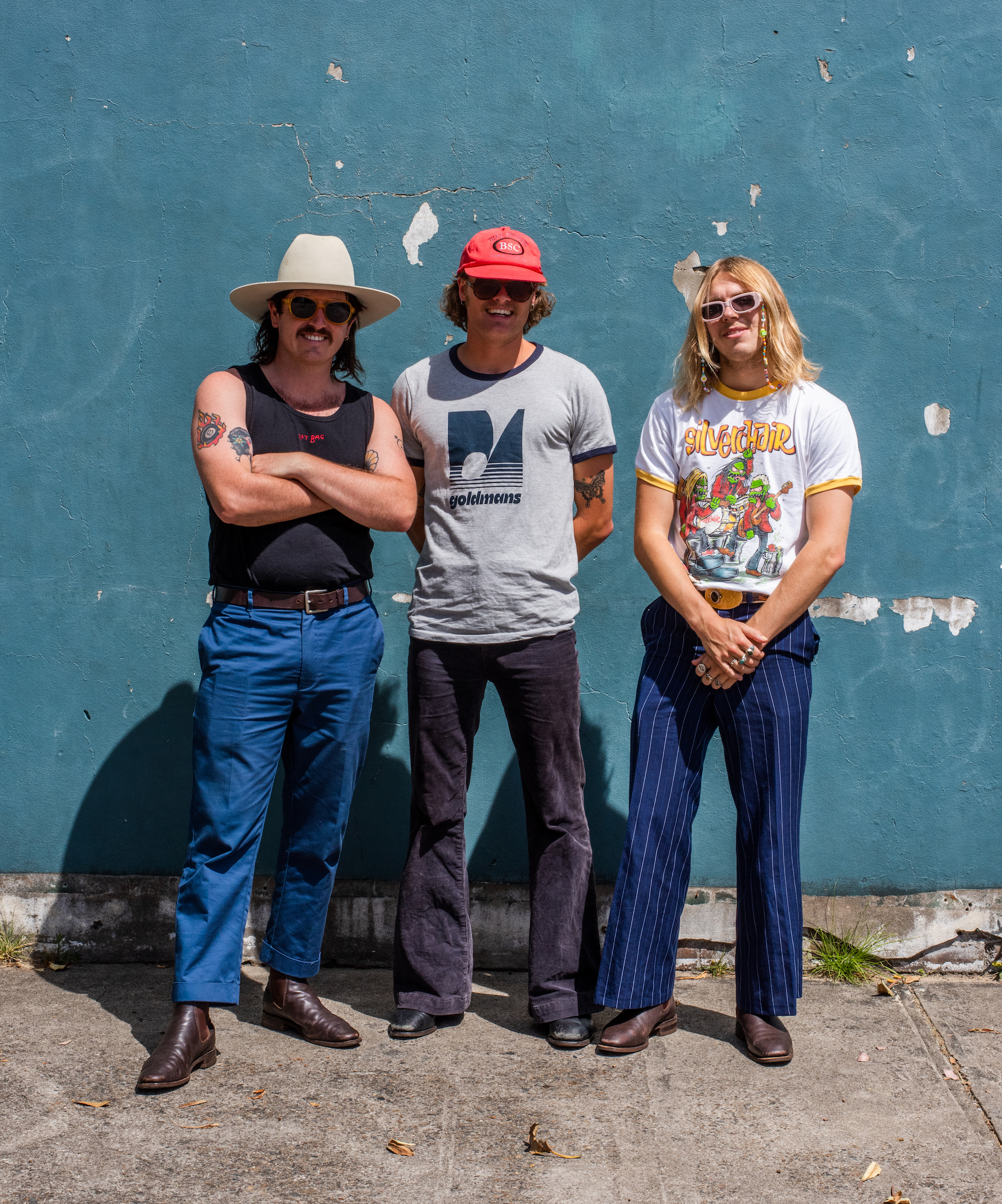 And on the flipside, who in the band has the shittest tattoo?
Dom: [Laughs] well, we all have our fair share due to us purchasing a home job tattoo gun off eBay for $50 when we were living together in 2017. Jack has my name on his bum, I have a three-legged ibis and Ben has a really dodgy ghost with the word 'spooky' written under it. Harry managed to avoid the needle, thankfully.
Dom, can you tell us the story behind your flaming eight ball and why it ended in heartbreak?
Well, I was actually trying to meet up with a girl on a date who lived in Newcastle. We decided that Sydney would be a good halfway point and she was telling me how she would like to get a tattoo. Without thinking I said, 'Maybe I'll get one too' and before I knew it the deposit was paid and I was heading to the parlour. When I got there I had no idea what to get and I saw a flaming eight ball looking at me on the wall. I thought 'stuff it' and went for it. After that date, we hugged and then I never saw her again. Maybe one day…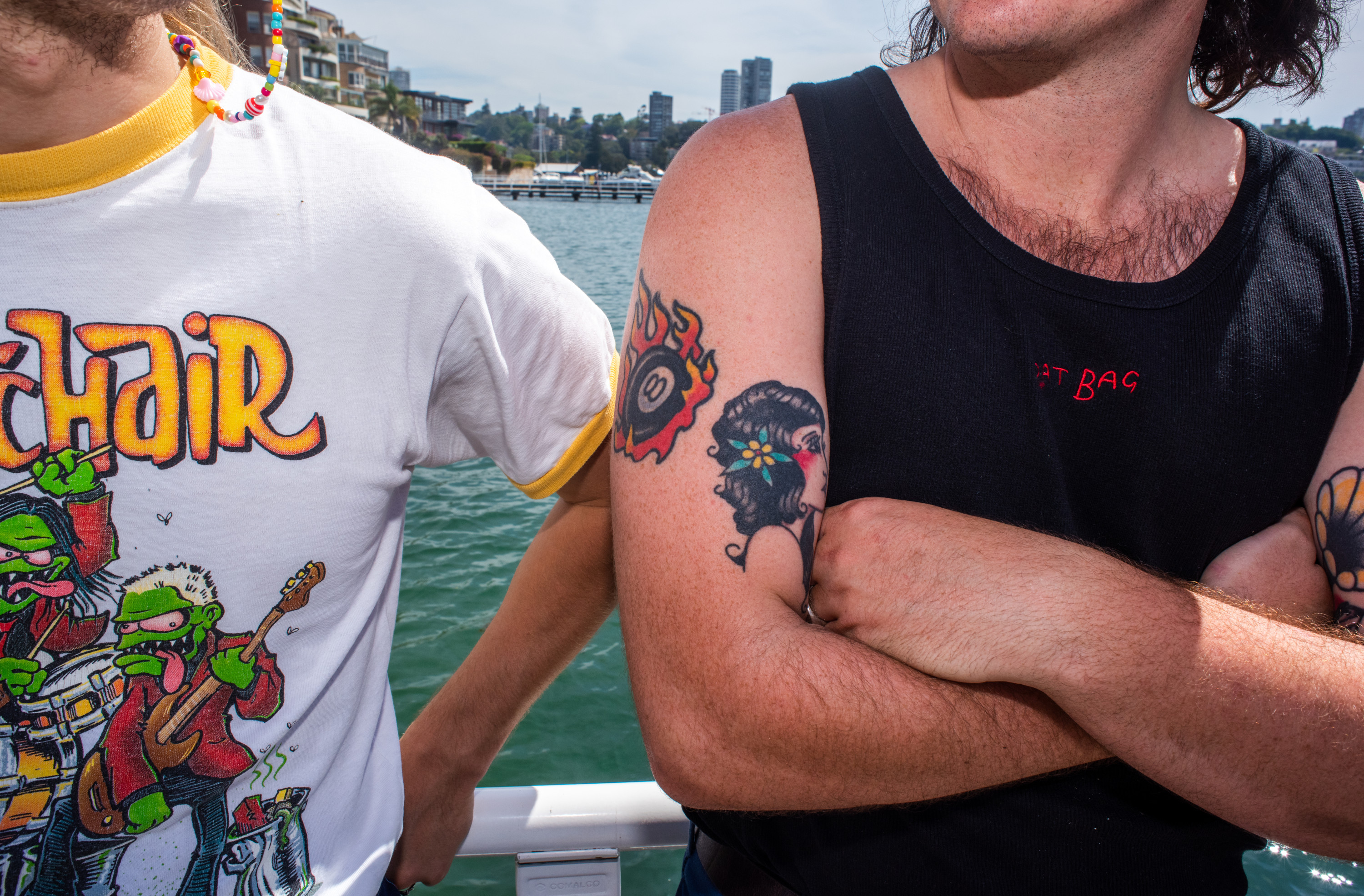 Norman 'Sailor Jerry' Collins was the father of old school American-style tattoos, can you tell us about the gorg pic of the girl on your arm, Dom?
So I also have loved the traditional style of tattoos and my friend Elizabeth Park was starting out with her tattoo apprenticeship. She messaged me and asked whether I would be keen on a free tattoo as it would be her first. I was stoked with the offer and she absolutely nailed a traditional style girl on my arm.
Ben, when are you going to finally tell your parents about the fact you've been inked too?
I guess the cat's out of the bag now—sorry Mum and Dad. At least the first two aren't too bad. My third home job is a bit questionable though. Thanks for that, Dom.
Everyone's got that one outrageous or special tatt tale, Is there a story you can share about when you got a particular tattoo done?
Dom: So, eight mates and I did a trip to Mexico in 2017 and it was wild. One night, after a few beers, we decided to cut some dodgy mullets and then the next day we decided to get a group tattoo. Our mate Bill came up with a design and before we knew it we all had 'M M M' tattooed under a fish meaning 'Mullet Mad Men'.
All-time favourite pub for a cheeky Sailor Jerry bev?
North Wollongong Hotel takes the win for that one. Nothing beats a cheeky Sunday session there.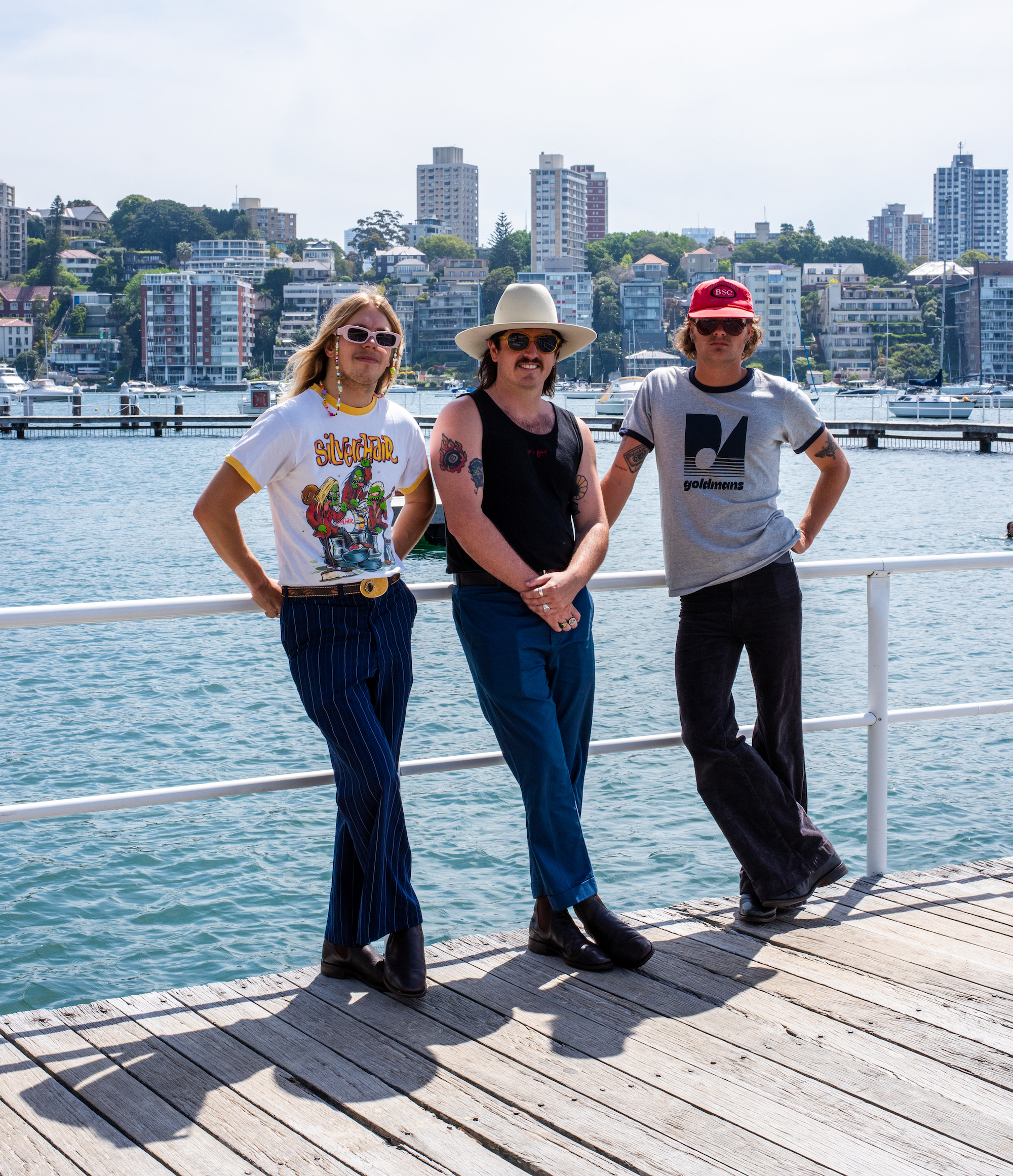 When can we expect some new tunes from Pacific Avenue? Any epic collabs or dream projects in the works?
Dom: We have been in the studio for much of 2021 and there's plenty on its way. We plan on releasing our biggest body of work next year, so keep your eyes peeled.
And finally, we have to know Dom, why didn't it work out between you and our fave gal Froomes?
Dom: [Laughs] love is a fickle game, my friends—sometimes if you love something you gotta let it go.
Arm yourself with a bold and smooth Sailor Jerry cocktail, paired perfectly with all your summer adventures. It's finally time to get back out there, live large and support all those who need it most right now.
Image credit: Paul Liddle / HOWL
Editor's note: This article is sponsored by Sailor Jerry and proudly endorsed by Urban List. Thank you for supporting the sponsors who make Urban List possible. Click here for more information on our editorial policy.