Planning your next South West escape to our fave wine region? Well, you've no doubt been left with the tough job of scrolling through pages and pages of local stays trying to find that perfect escape.
We thought we'd make things a little easier and have done some of the digging for you. Here's 7 of the best Margaret River stays available on airbnb right now.
Margaret River Bungalows
From $198 a night you can stay right in the heart of Margaret River at this super modern and minimalistic airbnb. The Bungalow is a short walk from the main Margaret River strip on Bussell Highway where you can enjoy delicious food from the bakery or grab a pint down at The River. The airbnb can fit up to six adults, posing two bathrooms and three bedrooms, and is fixed with all the amenities you'll need. If you head down in the winter, you'll be able to get all cosy with it's indoor fireplace too.
Sea La Vie
Just a ten-minute drive to Prevelly, this airbnb is a lush and modern stay fit for a romantic getaway with you and your loved one. From $171, Sea La Vie is surrounded by lush native bushland and is the perfect opportunity for you to relax and kick your feet up. You can easily step outside and journey out into the bush, or drive to the beach where you can soak up the sun, salt and sand. There's even a chicken coup if you're keen for farm fresh eggs in the mornings.
Ironstone Studio
You can't beat the location of this semi-rural property, located just a five minute drive from Magaret River's town centre and the beach. This escape has been beautifully designed and decorated to give the whole place a modern but extremely welcoming feel. With an incredible outdoor-dining area, we guarantee you'll be parked up here with a few bottles of wine when you're not lying by the beach or exploring the town. There's also a chance you'll be greeted by some friendly kangaroos outside your door. From $180, this airbnb allows four-guests with it's two beds and one bath.
Bussells Bushland Cottages
Just outside of Margaret River lies this isolated bushland oasis fit for those who enjoy an escape to nature. Located on a twenty-hectare 'Land For Wildlife' property, you can step outside and be greeted by walking trails through beautiful old trees, bird life and even a few Kangaroos. With two bedrooms and one bath, four guests are welcome at this airbnb. And if you come back in winter, you'll also be able to enjoy the toasty indoor fireplace. This rustic cottage is from $153 per night.
Explorer's Rest
When you think of a retreat, this airbnb stay is what you should have in mind. An easy drive to Margaret River's centre, you can guarantee this spot will be uber relaxing thanks not only to it's handy location, but also to the beautifully designed interiors of this natural and earthy studio which will make you zen out immediately. The courtyard is perfect-size and very private so you can sit back and relax without worrying about being too loud after a few vinos. This stay is from $244 a night, and despite being on the pricier side, it's a must if you're looking for the ultimate relaxing getaway.
Seven Seas Villa
This modern, beachy villa is located just outside of the heart of Margaret River. A lovely getaway during the warmer months, this stay is fit with a pool and outdoor seating area so you can soak up the rays in the privacy of your new home away from home. Despite there not being a full kitchen, the hosts offer a couple of bikes so you can ride into town for your morning brekkie—sounds like the perfect excuse not to cook if you ask us. This stylish and cosy getaway goes from $127 a night and sleeps up to three guests.
Lakeside Spa Apartment
With postcard worthy views of the lake and vineyard, this Lakeside Spa Apartment offers an exquisite European experience just outside of Cowaramup. Wine lovers will not only be thrilled to be holidaying in a vineyard, but with just a short drive to other wineries nearby, you're pretty much in wine heaven. If vino isn't really your thing, fear not. The sheer bliss of the location and views, as well as having your own hot tub, we think you'll enjoy your time just fine. The apartment can house two guests, and is from $250 a night.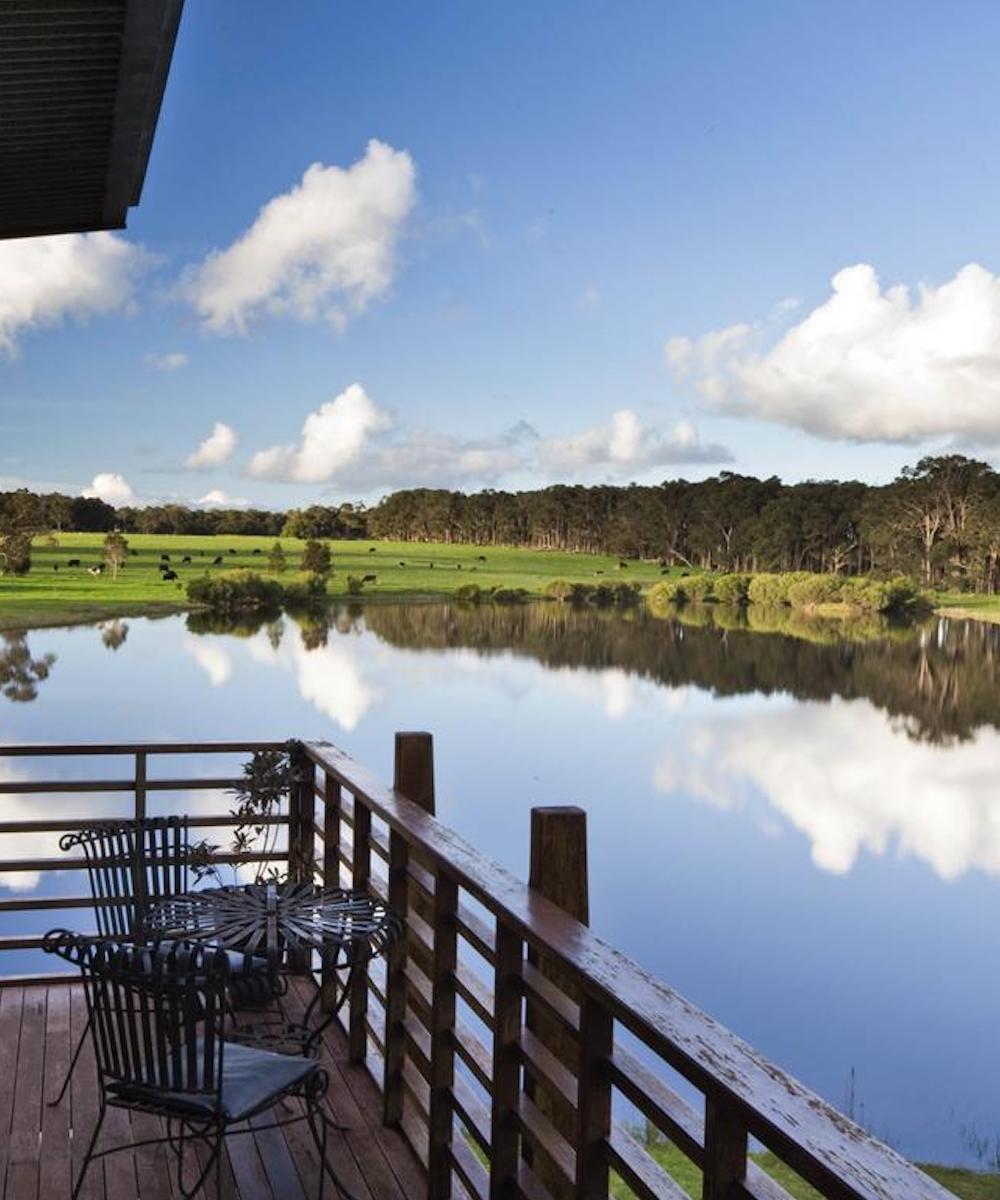 While you're down there, why not try 50 of the best things to do in Margaret River?
Image Credit: Airbnb