Maria Tong was just 12 when she first dreamt of opening her own deep-fried ice cream business.
While working in the back of her parent's Chinese restaurant, she would often get her dad to sneak her deep-fried ice cream while her mum wasn't looking. It was back then when she wondered why you could only get vanilla deep-fried ice cream when there are so many incredible flavours out there.
Fast forward to today and Tong has successfully turned her childhood dream into a booming business, Fry'd. Step inside her Leederville store and you're immediately transported to a dreamy pink paradise. With over-the-top floral arrangements, neon signs and an indoor swing, Fry'd is undoubtedly one of the most 'grammable spots in Perth. And as for the deep-fried ice cream? Heavenly.
Here, we team up with Bankwest to talk tips, hurdles and ultimately uncover how Tong turned her side hustle dream into a thriving business.
HOW DID YOUR SIDE HUSTLE JOURNEY BEGIN?
It has always been my dream to open up a shop that sells different flavoured deep-fried ice cream. But I always felt the need to follow the traditional pathway of going to university and getting a degree—so my dream was put on the backburner.
Originally, I was worried that by the time I was old enough to launch my business, someone might have beat me to it. Over the years I did multiple mock versions of Fry'd, but one thing that didn't change was the business name which is actually the same as what it is today.
Can you pinpoint the exact moment you realiseD you should take your side hustle full-time?
I was working from my home kitchen and we were prepping for Perth Night Noodle Markets. Every day for weeks after I clocked off from my full time job we prepped hundreds of fried ice cream balls—I even had my grandma helping! We were one day out from the event with hundreds of fried ice cream balls stored in multiple freezers... then the power went out. Luckily I had a friend who lived a few streets away who still had power. So, I put my freezer on a rolling dolly and literally walked it down the road before all the balls melted... thankfully, it all worked out. We sold out after just three days and with seven more to go. It was manic to say the least, but we worked through it all with very little sleep.
This is what made me realise it was time for an upgrade and to make Fry'd a full-time commitment. Reinforcing this was the support from our customers who were happily willing to wait up to 40 minutes for their deep-fried ice cream at the markets. It was clear the demand was there making it worth the risk.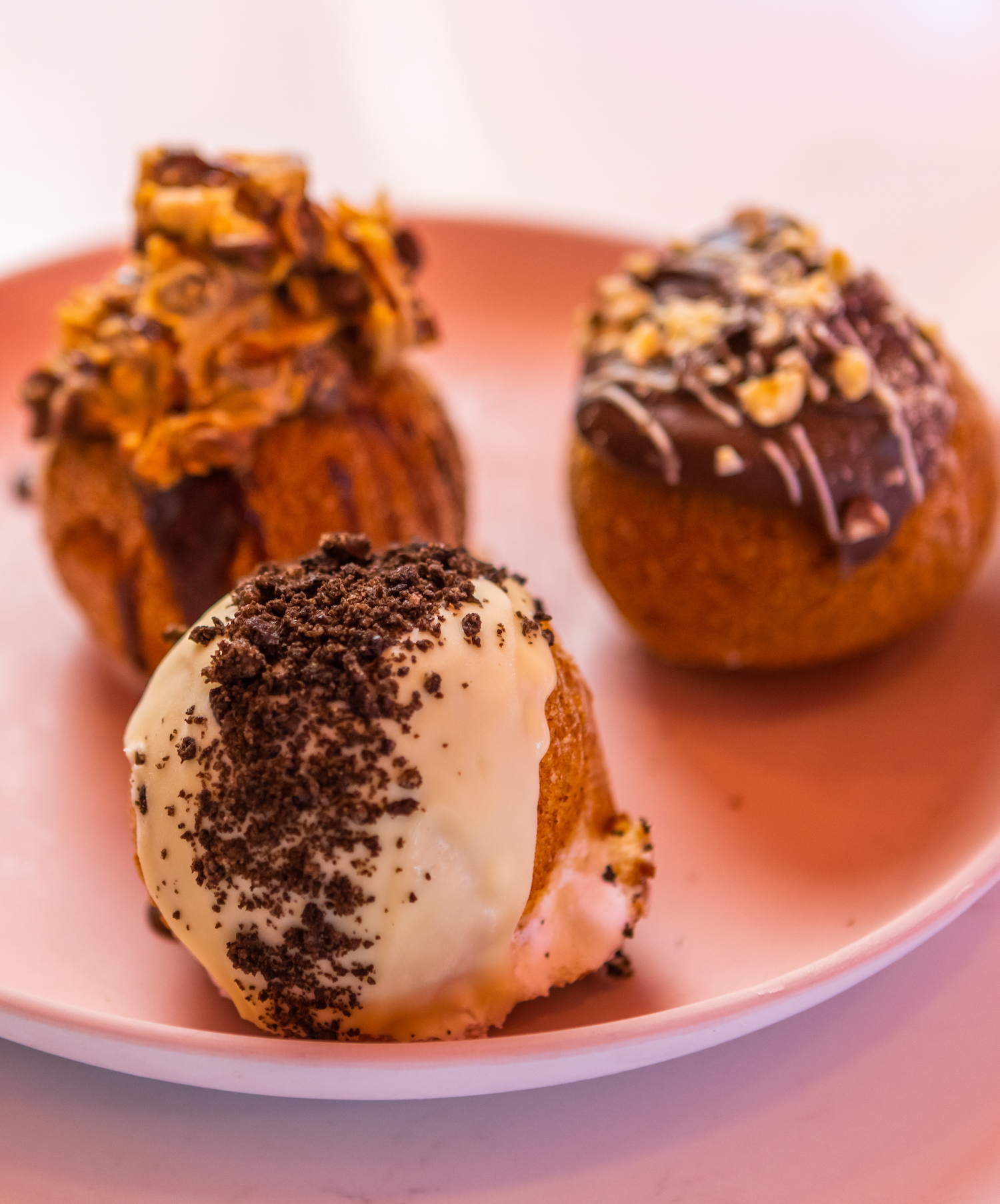 Once you realised you wanted take on fry'd full time, how did that transition happen?
The transition from side hustle to business didn't come easy. From marquees flying away at the markets to pushing cartons through shopping centres and many melted ice cream balls, it has been a hell of a journey.
We went from selling at one market a week to producing over 10,000 deep-fried ice cream balls in only a matter of months. In our first six months, we signed contracts to sell at events in Sydney and Melbourne, which really tested our abilities as a start-up business. The biggest focus during this period was ensuring that there was enough cash flow to support the transition and ensure we were able to forecast sustainable growth.
We built a small team that was in line with our vision, and I couldn't have done it without my family and friends, financially, physically and mentally. The risk was big but the reward was even bigger and to me, that's what starting a business is about.
What has been your biggest hurdle so far, and how did you overcome it?
My biggest hurdle like many others was trying to overcome and grow a business during the pandemic. Right before the pandemic, we injected a large amount of money into production, rolled thousands of ice cream balls for a major 10-day event that was eventually cancelled and we just signed our Fremantle lease. This was meant to be the break-even point for us and prepare us for a big year ahead. Instead, we lost a lot of money in stock and were left in limbo.
Having no moves in how I was going to physically trade during a pandemic, I channelled all my energy into creating a new vision for Fry'd and started to do some product development. I threw my energy into ideas, design and inspiration for our first shop. I believed in the brand and focused on the end goal, no matter how far away it seemed. In some ways, the pandemic helped me to bring forward all the things I kept postponing and was pushed to make the 'later' now. I learnt we can't control the world but we can choose how we respond to it.
Your space was inspired by the Museum Of Ice Cream in New York. when it comes to creating a functional space to sell products, HOW DO YOU curatE an experience FOR CUSTOMERS?
I believe branding is one of the most important things when it comes to creating a business. I envisioned a fun, happy and positive space for people to enjoy; hoping it would have the ability to brighten up anyone's day. Often people have a misconception to create a space "all for the 'gram" but to me, that's just an extra bonus. It's about the experience, the energy your team can feed into the store and onto your customers. People will always remember how you make them feel. You want your customers to feel the passion behind your brand and for it to be able to create an experience people continue to talk about after they leave. Delivering an experience highly depends on the people that represent you (your employees) so ensure you pick carefully, as you are only as good as the team behind you.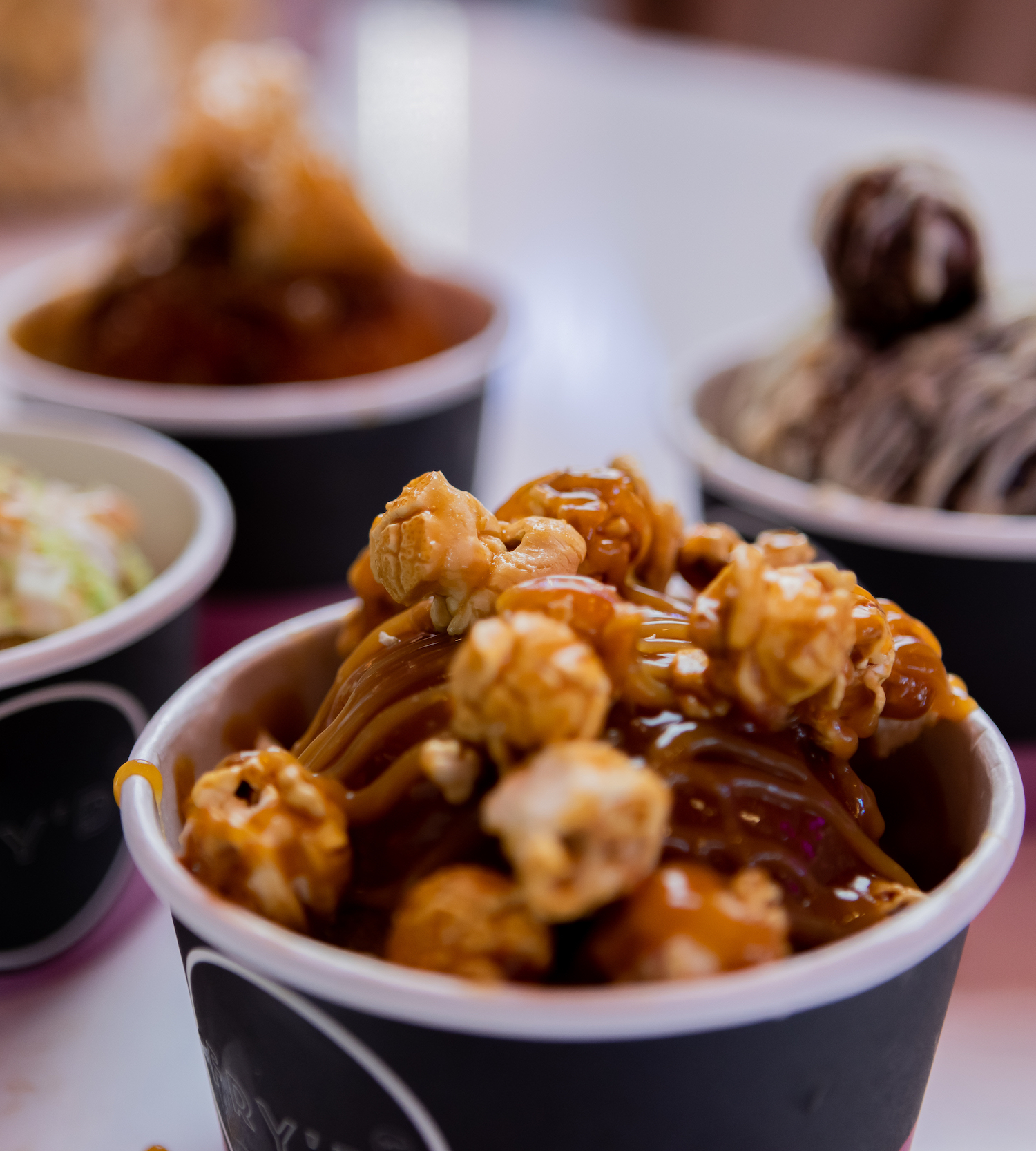 You're launching vegan ice cream and gluten-free deep-fried ice cream soon, what made you think this would be the right move for your business?
When the people ask, you have to give them what they want! But in all seriousness, my passion is to create products that bring forward emotion and happiness. To me, Fry'd is a place to bring people together where no one feels left out. It has always been in our vision to create a product that is friendly to all dietary requirements, I'm not going to lie, it took us a lot of trial and error—like exploding ice cream balls—but seeing the smiles on our customer's faces makes it all worth it.
Do you have any tips for finding good manufacturers and suppliers?
Reliability, stability and relationships are the three most important things I look for in a manufacturer or supplier. A reliable supplier will always ensure demand is met and delivered on time. Stable businesses with long term experience can help in maintaining that sustainable growth you are looking for and potentially help you cross any hurdles they have already been through. Relationships are everything when it comes to your suppliers especially at the beginning of your side hustle when there is so much to learn. Nurture your relationships and you may even find yourself some mentors along the way—I know I definitely did!
We work very closely with our gelato consultants in perfecting flavour profiles and recipes. Our gelato is churned and moulded into perfect spheres in our supplier's kitchen and then we hand roll each ball to perfection. It is an extremely labour intensive process however, we are hoping to be able to facilitate the whole process in one location by the end of the year.
Check out the video below for more of Maria's side hustle tips and tricks
Managing a side hustle can be a complex journey, but Bankwest has loads of tools, guides and information to help. See here for all the deets.
Editor's note: This article is sponsored by Bankwest and proudly endorsed by Urban List. To find out more about who we work with and why read our editorial policy here.
Important stuff you should know:
Bankwest, division of Commonwealth Bank of Australia ABN 48 123 123 124 AFSL/Australian credit licence 234945. Any advice given is of a general nature only and does not take into account your objectives, financial situation or needs.