While some might consider Sunday the end of the weekend, we consider it the beginning of all great things, birthing the social event of all social events, the Sunday Session. It doesn't get much better than sipping on a tasty bevvy with some great tunes and delicious snacks, all alongside your best mates.
Luckily for us, Smirnoff Seltzer has come to the party again, teaming up with some of the hottest homegrown acts right now, to share their personal guides to switching up the ordinary this season. At home or out and about, take inspiration right here. So, tune in while we sit down with Sydney pop-rock legends, Lime Cordiale who gives us the lowdown on what makes an epic Sunday Session, thanks to Smirnoff Seltzer.
What is your favourite part of a Sunday session?
No one seems to be interested in much other than socialising or relaxing. Doesn't really matter where you are unless you're with a bunch of mates.
What's on your Sunday Playlist to get everyone in a good mood?
At the moment it would be Genesis Owusu, Arlo Parks, Teenage Dads and Iluka.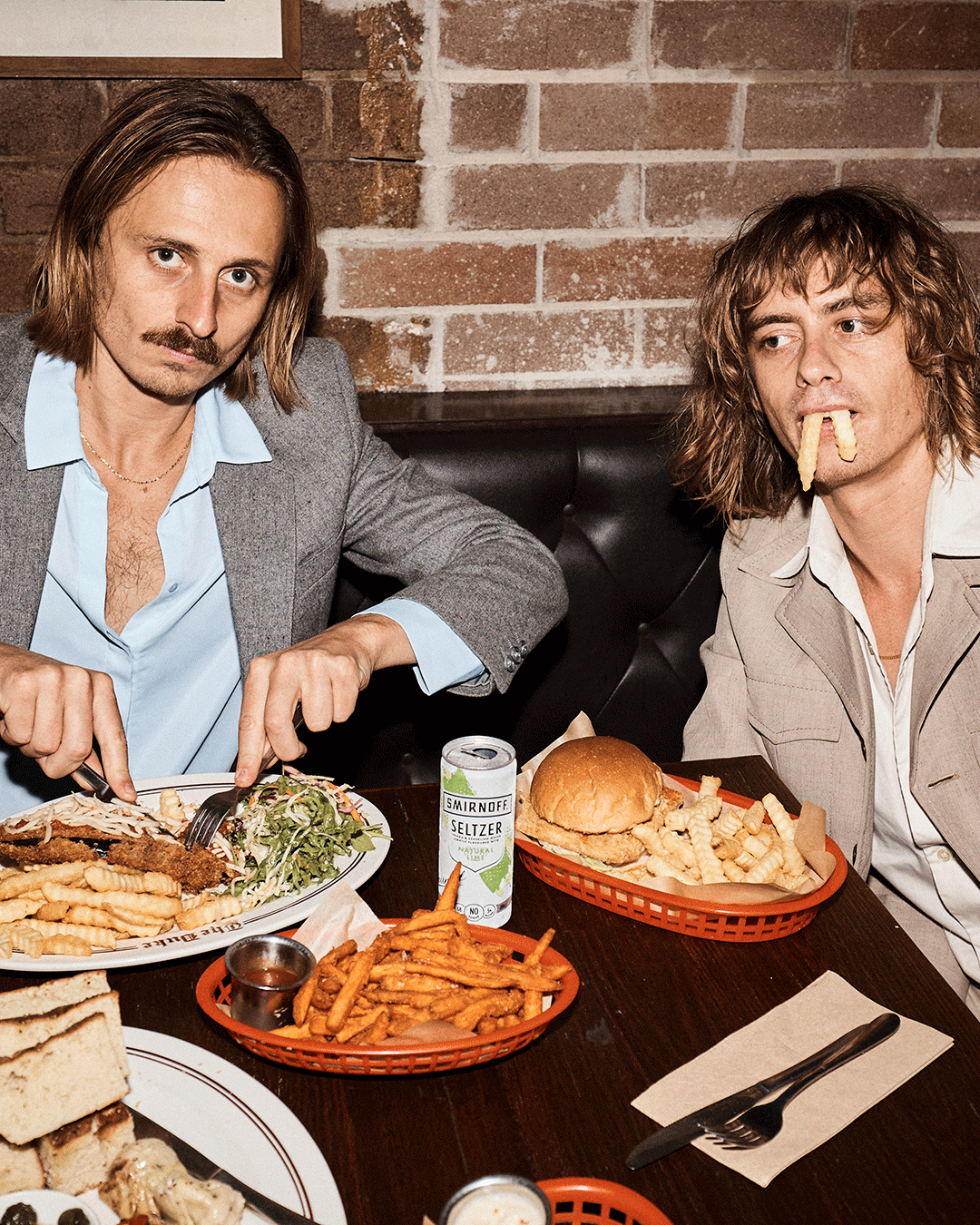 Who are you inviting? Do you prefer intimate and comfortable or more the merrier?
We live in a crowded house with eight people so it's very rarely intimate. By the time everyone has invited a friend or two, you've got a pretty decent crowd. Even if there are 50 people at a party, we tend to always gravitate back to hanging with housemates.
Who would be on your dream Sunday session invite list?
Some heroes of ours are too intimidating to be around. Imagine being thrown into a conversation with Alex Turner or Julian Casablancas. Too much. Does David Attenborough do a Sunday session? That'd be perfect.
Favourite Smirnoff Seltzer flavour?
Lime. Don't even try to bring any other flavour near us—we'll always pick lime.
Are you keeping it casual or dressing to impress? Talk us through your go-to threads.
We're fussy with what we take home from a shop—we normally go for second hand—but not so fussy when choosing an outfit for the day. Whatever is relatively clean tends to work for us. We put a bit more effort into playing shows though. Sometimes we even get the iron out.
What is your number one tip to ensuring an epic Sunday sesh?
Make sure you've got the right person in charge of the music…
If you could describe your ultimate Sunday session in three words, what would they be?
Snacks, music, mates.
Whether you're cosying in for a movie night or settling in for a Sunday Session, Smirnoff Seltzer is the perfect drink choice for any occasion.
This article is sponsored by Smirnoff Seltzer and proudly endorsed by Urban List. Thank you for supporting the sponsors who make Urban List possible. Click here for more information on our editorial policy.