Don't go chasing waterfalls 'cause we've already done the chasing for you by rounding up the best this stunning state has to offer.
Some are close to home, so trade in a beach day and pack a picnic for the ultimate day trip. But for a truly unforgettable experience, travel to the remote corners of WA. Untouched and ancient, the waterfalls up north will leave you in awe.
Stop dreaming from behind your desk and start exploring your own backyard. These are the most beautiful waterfalls in WA.
King George Falls
Kimberly
The 100-metre twin waterfalls of King George Falls is one of Western Australia's highest and an abolsute sight to behold. You can't beat the views from the air, but it's also well worth visitng via the King George River just to take an invigorating freshwater shower at its base. Scenic flights depart from Broome and Kununurra, and cruises are available from Kununurra.
Serpentine Falls
Serpentine
If you haven't been here, drop what you're doing right now and jump in the car. Seriously. No excuses. These stunning falls are just an hour's drive south-east of Perth and yes, you can take a long, cool swim. Rock ledges are the perfect place to relax in the sunshine or swim right up and sit underneath the flowing waterfall. Follow the track up Baldwins Bluff for a 6-kilometre hike that will give you views of the falls and across the valley. You'll need to guard your lunch, there are kangaroos.
Fern Pool
Karijini
Close your eyes and imagine a turquoise waterfall oasis. This spectacular spot is the ultimate escape. Feel small and marvel at this remote region of WA. The many waterfalls and gorges in Karijini National Park will keep you busy exploring, but Fern Pool is magic. Here you can cool off in the natural waterhole and swim right under the waterfall surrounded by ferns and red rock formations.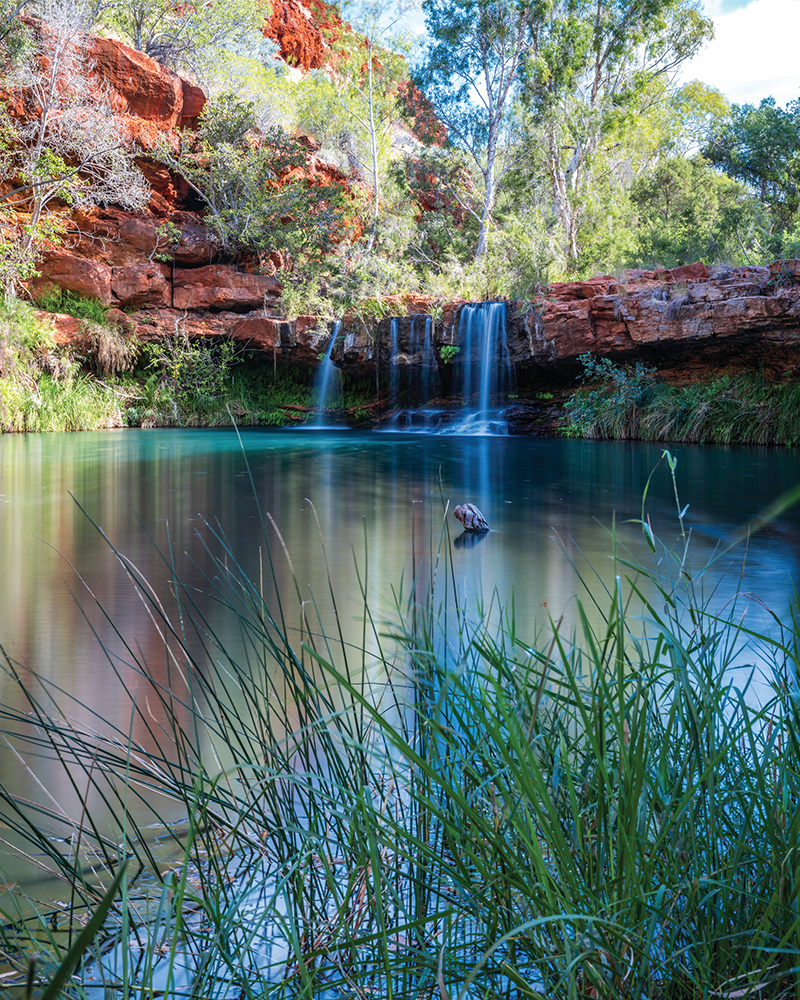 Bell Gorge
King Leopold Conservation Park
Borrow your dad's swag, round up your mates and get ready for the ultimate road trip along the Gibb River Road in far north WA. Bell Gorge is a popular stop along the way, and for good reason; stunning cascading falls that are perfect for swimming. Bring your own 4WD, the road to get there is pretty intense.
Emma Gorge
El Questro Wilderness Park
This jaw-dropping spot is straight out of the Lion King. A 65-metre droplet waterfall is surrounded by cliffs and greenery. To get there you have to hike for around one hour and then you can reward yourself with an unforgettable swim in the cool water underneath the falls. A natural thermal spring brings some welcome warmth in parts of the swimming hole. It's remote, the nearest town is Kununurra 100 kilometres away, so pack plenty of snacks.
Lesmurdie Falls
Perth Hills
Round up the dog and get your waterfall fix without even having to leave Perth. At fifty metres high, these falls are beautiful and let you soak up sweeping views back across the city. A network of walking tracks will take you through the wildflowers to the foot of the falls. Pack a picnic or top off the day with lunch at one of the Hill's best-hidden gems.
Horizontal Falls
Kimberley
No, I haven't got my 'horizontal' and 'vertical' mixed up. This is the only place in the world where water falls sideways thanks to massive tidal movements hurtling through two narrow gorges in far north WA. The man himself, Sir David Attenborough called this spot Australia's most unusual natural wonder. Take a tour from Derby or Broome and view from the air or be brave and experience the full force of the tides by boat.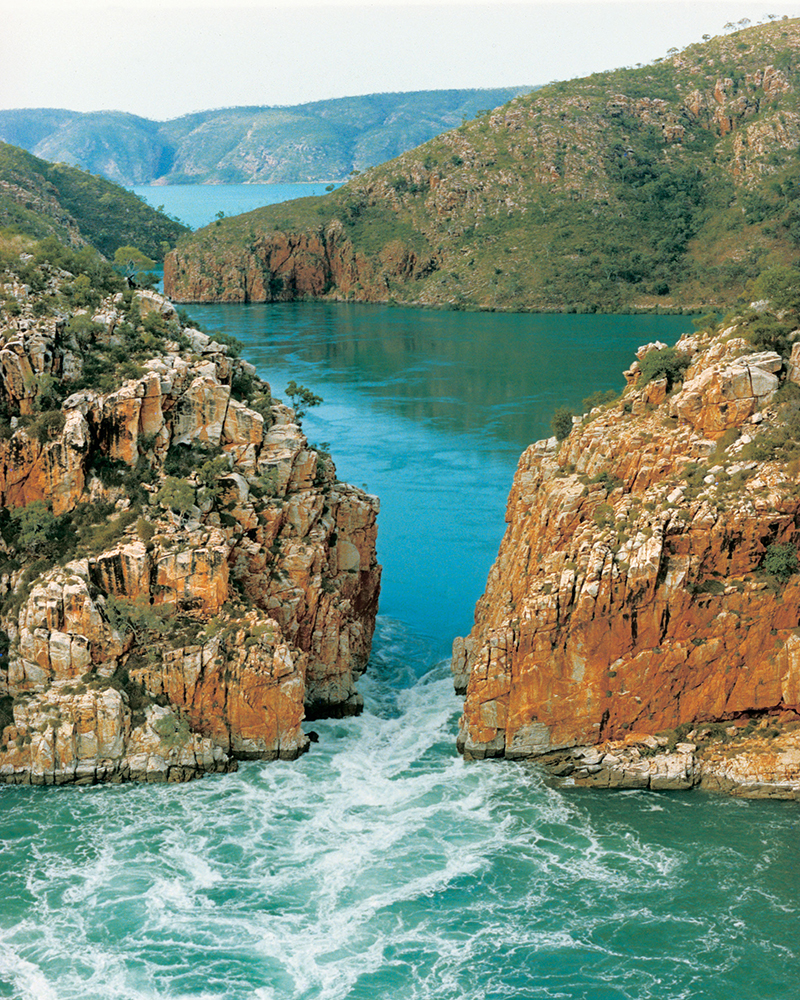 Mitchell Falls
Kununurra
A tough 8.6-kilometre round-trip hike will bring you to the Mitchell Falls; it's worth the effort but if you want something even more spectacular splurge on a helicopter. With water cascading from plunge pool to plunge pool it's an amazing site. There could be crocs in the water so don't take a dip… instead, just take plenty of photos to spark some serious Insta-envy.
Quinninup Falls
Quinninup
In between wineries on your next trip down South check out Qinninup Falls. The waterfall tumbles into a small pool and then flows right down into the ocean so you can enjoy the falls then hit the beach. It's a pleasant two-hour return hike just south of Yallingup. The falls are better in winter when there's been rain.
Need more inspo? Check out the best camping spots in WA.
Image credit: Tourism Western Australia | Locations: Mitchell Falls, Fern Pool and Horizontal Falls