Travel just 45 minutes south of Perth and you'll find stretches of white sand beaches, turquoise waters, abundant marine life and ancient National Parks. With the Shoalwater Islands Marine Park located only 500 metres offshore, Rockingham plays host to one of the finest displays of wild sea life and bird life anywhere in the world.
But it's not just breathtaking vistas and Insta worthy wildlife encounters. Rockingham is home to a plethora of restaurants, cafes and wineries to make you want to jump in the car and take a day trip. We've rounded up the best eats, drinks and sights to see... pretty much all of the best things to do in Rockingham, you're welcome.

Brother Of Mine
Technically not in Rockingham, but too good to leave off the list, Brother of Mine in Baldivis should be your number one spot for brunch on your day trip to Rockingham! Great coffee and epic insta worthy food is the name of the game at this sophisticated industrial-chic diner which is exploding with character.
Brothers Jos and Ben Whettingsteel were inspired by the things they love to eat, childhood memories and BBQ. Believers in keeping things local, all the produce is sourced seasonally and sustainably and the space cleverly includes a rooftop apiary and pit for smoking local meats.
On the menu, think pit smoked pulled pork, proper bacon and eggs, jaffles with slaw, black truffle and manchego, BBQ 'dust' and to die for berry cheesecake french toast. The coffee? My goodness the coffee! Roasted on site with hints of caramel, peanut and coco pops, we promise it's worth the drive.
Ostro Eatery
Perched on the foreshore, we love the laid back local vibe of Rockingham cafe Ostro. Serving Seven Sins coffee, cold-pressed juices, and house-made sodas, meals are plentiful and fresh. Try the chilli infused scrambled eggs, the blue-swimmer-crab omelette or one of their mouth-watering daily specials. Looking for dinner options? Ostro morphs into a vibrant evening spot from Thursday to Saturday each week.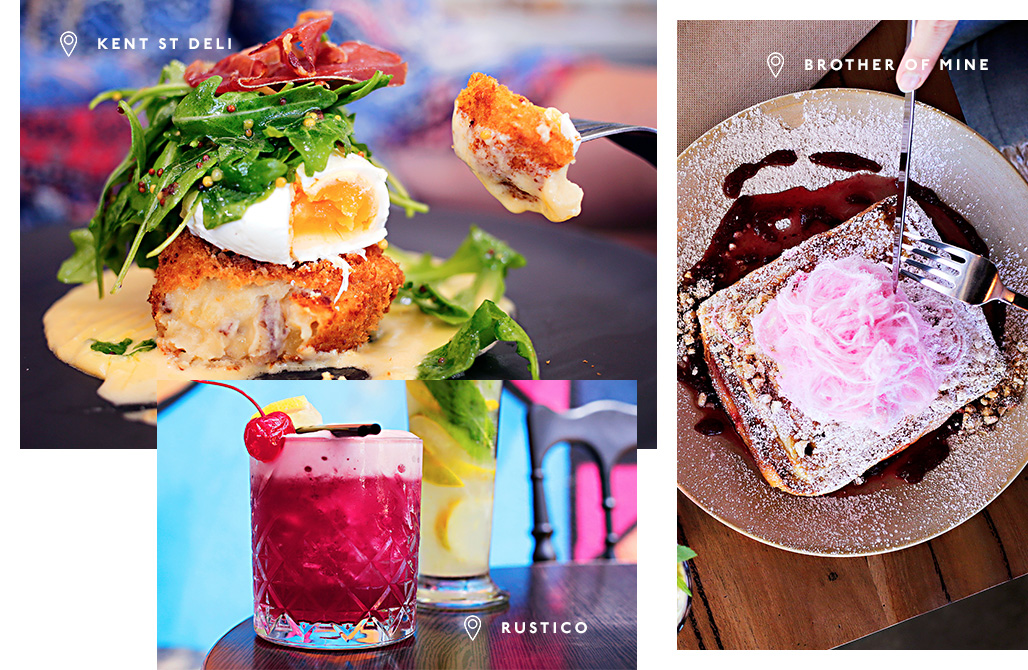 Kent St Deli
Kent St Deli has long been regarded as one of the best cafes in Rockingham by the locals and it's easy to see why. Using freshly sourced, local ingredients there's so much to choose from—gourmet sandwiches and burgers, deli delights, an all day breakfast that's so big it's served on a plank, melt in your mouth treats from the cabinet or take-away a picnic basket for lunch on the beach. But it's about more than just the food, this place just feels good. Think: mismatched eclectic furnishings, walls lined with gourmet foods, cookbooks and gifts from local artisans.
Rustico
You'd be forgiven for thinking you'd been transported to the laneways of Madrid or Barcelona when visiting Rockingham restaurant Rustico (the sister restaurant to Rustico at Hay Shed Hill).
The vibe is buzzing and intimate all at once and share plates are created with the passion you'd expect from a Spanish romance—Hervey Bay scallops with cauliflower puree and manchego crisp, pork belly with burnt apple and pedro ximinez jus, fried goats cheese with orange blossom honey. Or let the chef decide and indulge in their 6 course degustation menu with matching wines. Grazing is encouraged and you'll want to stay a while… as they say, 'barriga Ilena corazon content' (full stomach, happy heart, just FYI).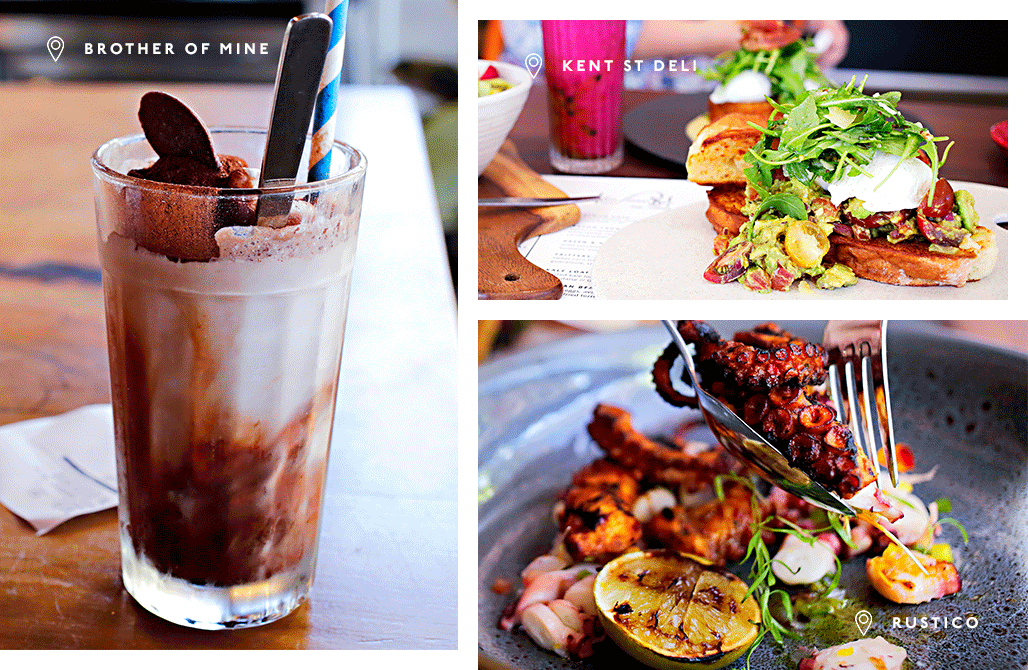 Peel Estate Winery
Peel Estate Winery is a great little day trip and the perfect spot to relax the afternoon away with a bottle of wine. Pack a picnic basket and enjoy their idyllic grounds. There's live music during the summer months and their cellar door is open every weekend. Having owner Will Nairn himself take you through each vintage is a real treat…

Serpentine Falls
The closest you'll get to visiting the Kimberley without venturing too far from Perth, Serpentine National Park is a scenic spot for a bit of hiking. The falls themselves are an easy walk from the carpark but don't be expecting Niagra-like cascades, this small waterfall flows 15m over a granite outcrop into an azure pool. Still, a stunning spot to sunbathe like a lizard on the rocks or float around in the cool waters. Remember though, safety first—the pool is shallow, so don't go jumping off the rocks into the water.
The National Park is a sanctuary for plants and animals, particularly western grey kangaroos who might join you for a picnic on the shaded grass area. Also keep your eyes peeled for echidna, brushtail possum, western brush-wallaby and possibly even a quokka (yeah, we didn't know they existed outside of Rottnest either!)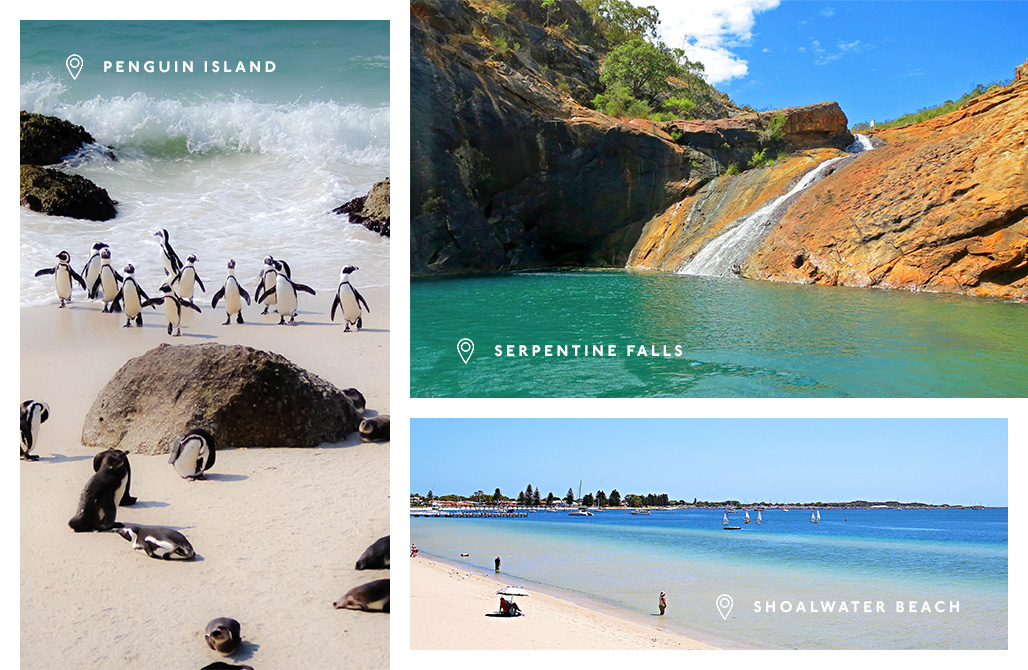 Penguin Island
Literally right on our doorstep and surrounded by the turquoise waters of the Shoalwater Islands Marine Park, Penguin Island is the ruggedly spectacular home to over 1000 pairs of Little Penguins—aww! Just a five minute ferry ride from the mainland, you can spend as long or as little as you like swimming, snorkelling and exploring. Pack a picnic or grab a coffee and snacks from Pengos Cafe at the wharf before you head over.
The island is small enough to walk around in an hour and we highly recommend it! There's 2km of boardwalk to protect nests and baby birds from the footsteps of visitors and be sure to keep an eye out for pelicans, rare Australian sea lions and the penguins of course.
A visit to the Penguin Discovery Centre is a must, it's here that they rehabilitate orphaned penguins and those in distress. Dedicated island rangers present daily penguin feedings at 10.30am, 12.30pm & 2.30pm. Beware the cuteness!
Point Peron
Wander the walking trails of Point Peron and enjoy glorious uninterrupted views of the rugged, windswept coastline of the Shoalwater Marine Park. There's plenty of stunning bays to relax and cool off and you'll most likely run into a stump-tailed lizard basking in the sun.
Keen diver? Point Peron is a shallow shore dive with great visibility, limestone reef caves to explore and an abundance of marine life. You might even get lucky and be able to tick 'swim with wild dolphins' off your bucket list.
Once you're done here, check out All Of The Best Walks And Hikes In Perth.
Brother of Mine | Image credit: Elle Borgward