It's always a good idea to pack your bags and head down to the South West Boojarah region. Whether you're keen to plunge into some of the state's best beaches, eat yourself into a food coma or order a few paddles of beer, there's always plenty to do.
Get ready to sip the weekend away in some of the state's best wineries and eat your way through the region's best food, as here as the best things to do in Yallingup, Western Australia.
Where To Eat And Drink
Lagoon Yallingup
Kickstart your morning at Lagoon Yallingup with a delish breakfast and coffee in this new boho-luxe beachside eatery. If you're on the go, pop by their kiosk window for a takeaway coffee and sweet treat, but if you're on the hungrier side, have a seat and choose from all of your favourite breakfast options, including french toast, Nutella pancakes and smashed avo. There are also plenty of lunch choices, many focused on lovely fresh seafood - including octopus, scallops and wild kingfish- and there are plenty of drinks to pair with your meal.
Swings & Roundabouts
If you love pizza (don't we all?), you gotta try the woodfired pizzas at Swings & Roundabouts. They are cooked to perfection, with the yummiest tomato base we've tried in a while, and are decently sized too, so they're perfect to share (or to have all to yourself, we won't judge). Pair your pizza with a bottle of Swings and Roundabouts wine, and you're set for the next few hours. Try and nab a seat on their swing chairs, and soak up the views over the undulating vineyard.
Wild Hop Brewing Company
Wild Hop is a laidback brewery sitting within the picturesque Yallingup hills. They don't have a staple range of beers, instead, they batch brew, meaning each batch is unique and the beers on tap are always changing. In terms of food (which we're always thinking about), they are known for their wood-fired rotisserie oven, which they base their meals around - think BBQ rotisserie chicken with salsa verde paired with fresh salads. There'll definitely be something on the rotating menu to satisfy your foodie needs.
Caves House
You can't go wrong with a pint and pizza from the iconic Caves House. If pizzas aren't your style, there are heaps of other options, from nachos, buffalo chicken wings and parmi to a charcuterie grazing plate. Caves House often has live music, and in summer the beer garden is an ideal place to hang after a long day at the beach. If you fancy a walk after you dine, stroll through their heritage-listed gardens and make your way down to Yallingup Beach.
Casina Dunsborough
On your way between Yallingup and Dunsborough, you'll come across Casina Dunsborough along Caves Road. It's a Mediterranean restaurant inspired by the flavours of Southern Italy and Northern Africa, serving up halloumi, braised beef cheek, locally caught fish, homemade pasta and charred chicken, to name a few appearances on the menu. They're also open for breakfast, with spiced oat porridge and pikelets with rose compote on offer.
Wills Domain
We've had a permanent crush on Wills Domain since the first time we sat down amongst the vines for one of Chef Seth James' delightful degustations. And while James may have flown the coup to create a new vision at Frui Momento in Margaret River, the team at Wills Domain continue to knock out aesthetically pleasing, technically brilliant and mind-blowingly tasty plates as if he never left.
Keen to visit Wills Domain in the future? Purchase a gift voucher here.
Things To See And Do
Head Underground And Explore Ngili Cave
If you need a break from an intake of endless wine and food, try something a bit different and head underground. Ngilgi Cave (pronounced "nil-gee") is a million-year-old limestone cave that you can explore on a semi-guided tour. A guide will take you into the cave, and from there you can wander the boardwalks and admire the crystals and cave formations at your own pace - snapping a few pics with the night mode feature on your phone. After you've explored the cave, you'll feel ready to quench your thirst at the next brewery or winery.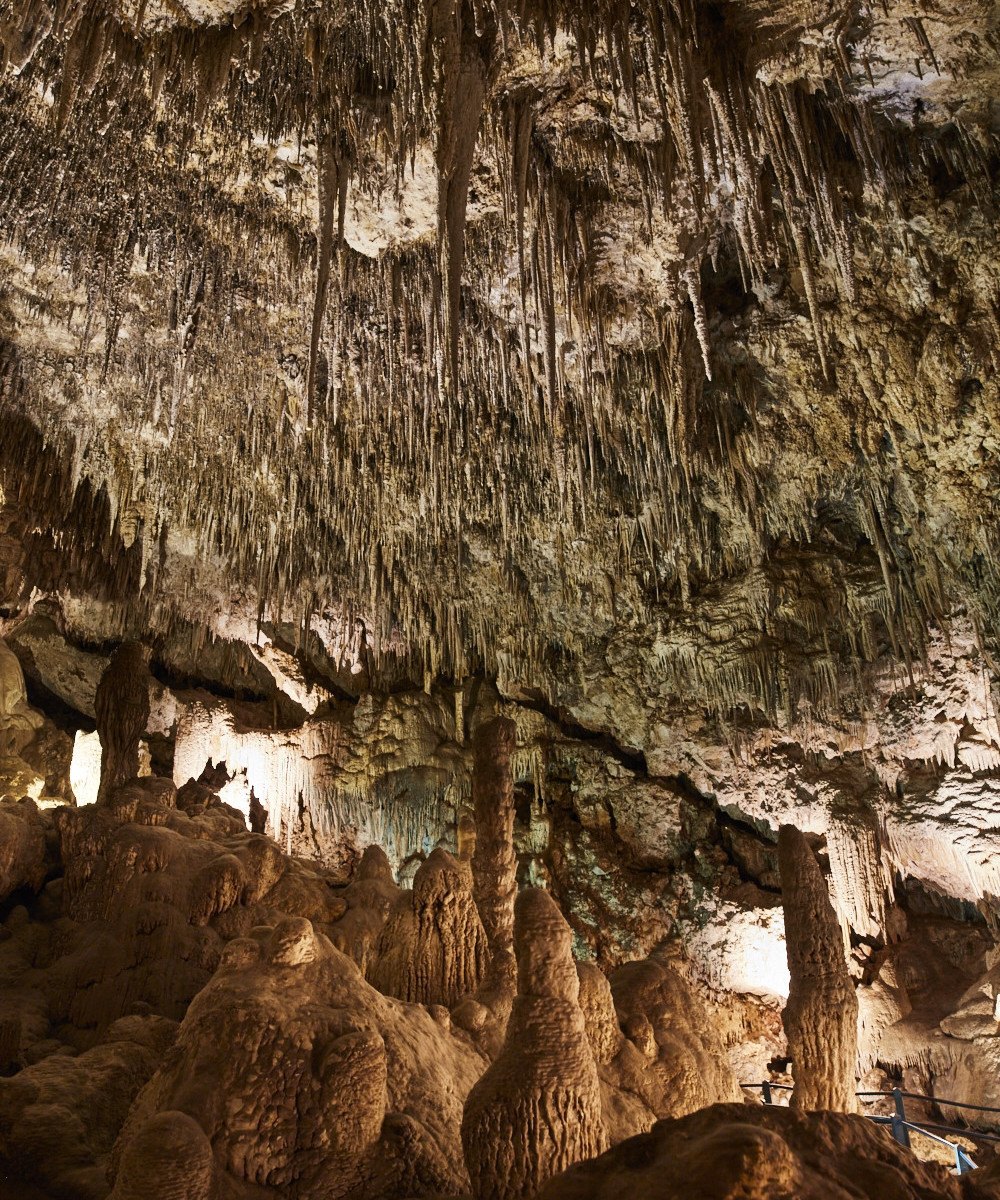 Go Winery Hopping
We all know the South West region is absolutely laden with wineries, but there are plenty close to Yallingup so you don't have to stray too far. We've already mentioned Swings & Roundabouts, but there is also Deep Woods Estate, Wills Domain, Cape Naturaliste Vineyard, Aravina Estate, Driftwood Estate and Clairault Streicker, just to name a few. Up towards Eagle Bay, there's Wise Wine, who also distil their own gin on-site, which you can also sample in their Tasting Room.
Enjoy A Cheeseboard At Yallingup Cheese
Sit back with a cheese board and a glass of vino at the Yallingup Cheese Company. They're set at the same location as Goon Tycoons Wines and Wulura Farm, so you can also sample a few wines and olive oils too. The Yallingup Cheese Company run cheese-making workshops if you want to try your hand at making brie and camembert to take home.
Hit The Beaches
Whether you want to SUP board, snorkel or just frolic around and handstand in the water, there are plenty of beaches around to keep you salty. Close to Yallingup is Smiths Beach, Yallingup Beach and the sheltered Yallingup Lagoon. A bit further afield, closer to Dunsborough, are the must-do beaches Point Piquet, Castle Rock Bay and Eagle Bay.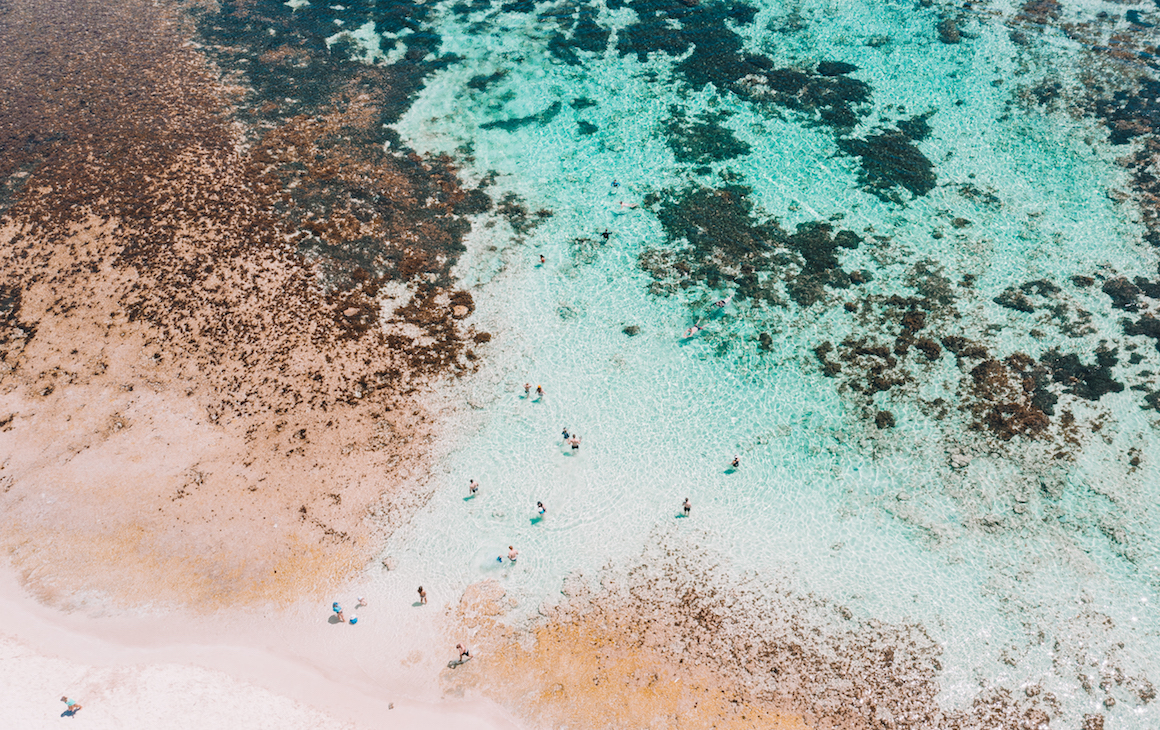 Go On A Scenic Walk BEtween Cape Naturaliste Lighthouse And Sugarloaf
After you've climbed to the top of Cape Naturaliste Lighthouse on a guided tour, you can hop on a boardwalk that'll take you to Sugarloaf Rock and back. Part of the Cape To Cape Track, it's a wheelchair-accessible path along the coastline, and if you're around between September to early December, you might be lucky enough to spot a migrating whale or two.
Where To Stay
160 Steps
This beach house is so named because it is only 160 steps from Yallingup Beach, so if you want to start each morning with a dip in the pristine ocean or an invigorating surf, listen up. 160 Steps has two bedrooms with comfortable mattresses and crisp linen bedding, plus a spacious kitchen, lovely smelling candles and soaps (we're a sucker for a nice candle) and outdoor hammocks for additional sunbaking. You're probably going to want to relocate your whole life and move into this house, but hey, at least you'll be able to live the beach bum life for a couple of days.
Petra Olive Oil Estate
Petra Olive Oil Estate is a boutique olive grove close to Yallingup, and not only can you browse their collection of extra virgin olive oils, delicatessen delights and skincare in their Farm Shop, but you can cosy up in their luxurious chalets. Overlooking olive groves, landscaped dams and gardens, there are three glorious chalets to choose from. All are dog friendly and fitted out with comfy beds, outdoor patios and large windows, so the whole living area is bathed in natural light. With exposed granite and timber finishings, these gorgeous chalets are going to be hard to leave.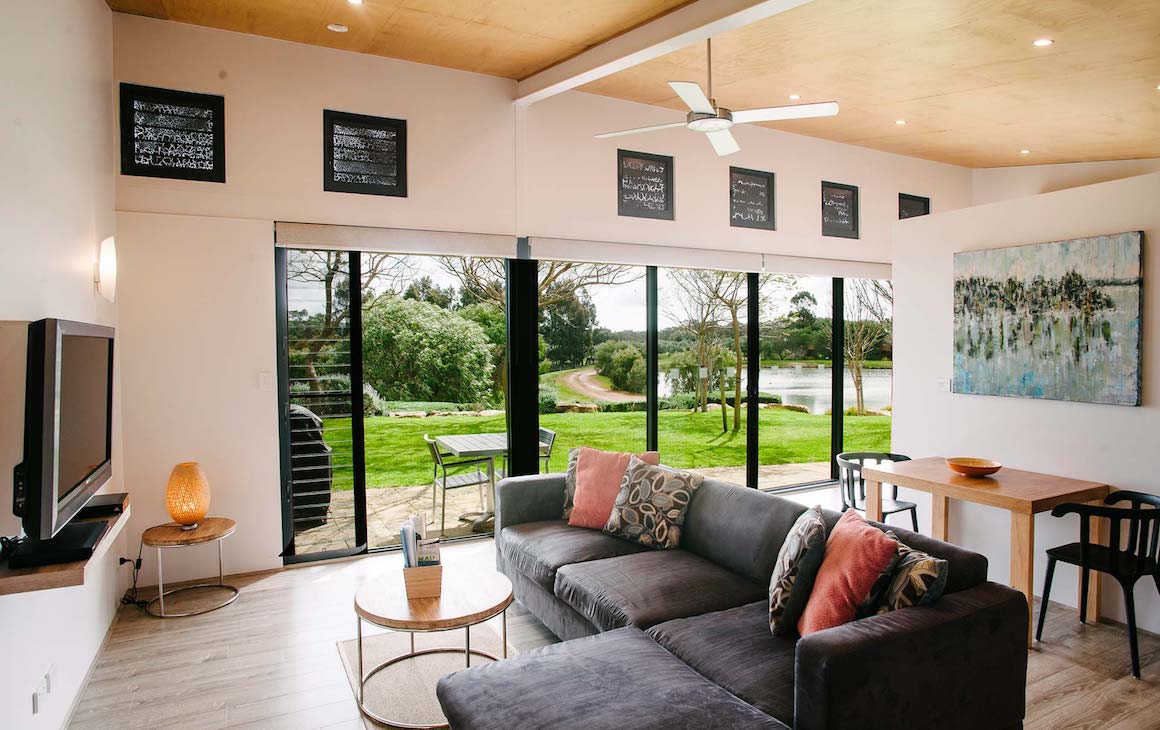 Glamping At Yallingup Spa Retreat
If you've been meaning to try glamping, why not take it one step further and glamp on the grounds of a day spa and retreat? Your private and spacious bell tent will be set up under beautiful pine trees, and it's only a short walk from the swimming pool and OM Day Spa. After a blissful nights sleep in your queen bed, wake to the sun streaming through the trees and opt for an a la carte brekkie and coffee before hopping into the outdoor shower or bath.
Petit Eco Cabin
Perfect for a romantic getaway or a solo trip to treat-yo-self, this quaint timber cabin is the ideal place to unwind with a glass of vino. Nestled within an organic vineyard called Windows Estate (quite convenient, we think), this cabin also has a rustic bathtub that sits under eucalyptus trees and faces a serene lake. After a busy day of wine tasting, this outdoor tub will be heavenly.
If you're keen to stretch out your day of wine tasting, discover the best wineries Margaret River has to offer.
Image credit: Beyond the Break Photography, Petra Olive Oil Estate