Angel Falls Grill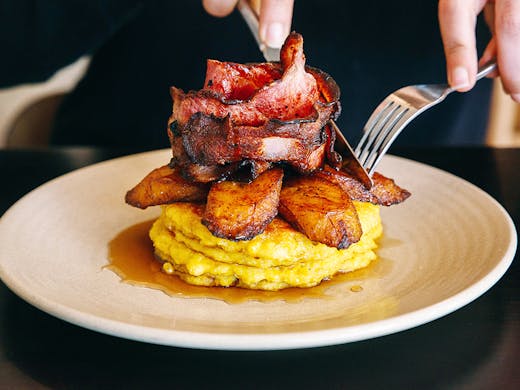 The Verdict
Angel Falls Grill is nestled into the foodie hot spot that is Shafto Lane and is Perth's first and only Venezuelan restaurant. If you haven't tried Venezuelan food yet, then you need to know this: You're missing out!!
Most of the dishes at Angel Falls Grill come with either arepas or cachapas—arepas are made with white corn and look a bit like thick pita bread. Cachapas on the other hand are made with sweet corn and they look like little yellow pancakes. But the main thing you need to know is that they are both delish. Whether they are teeny tiny and topped with a spoonful of shredded meat or a bit bigger and topped with cooked plantains, bacon and maple syrup for breakfast, they are as tasty as they are versatile.
Breakfast at Angel Falls Grill is pretty amazing, from the traditional shredded meat served with beans, feta and your choice of arepas or cachapas (that's right guys, slow cooked meat with your brekky!) to the less traditional guasamash—a big cachapa topped with chorizo, gausacaca, roasted capsicum and a couple of eggs—or the stack of cachapas topped with bacon and maple syrup.
But back to the slow cooked meats. The beef, chicken and pork are all so ridiculously full of flavour you won't be able to stop eating them. The gold medal goes out to the beef which you will devour in about 5 seconds flat.
If you need a quick lunch, there are plenty of larger arepas and fresh salads and you can order online to save time. But your best bet at Angel Falls Grill is to take as many mates as you can find, take a seat and share everything. Plus, if you can get there between 4 and 6pm you can even take advantage of a pretty rad happy hour.
Once you're comfortable with a jug of sangria or an espresso martini in hand, get the Mini Mix—your choice of arepas or cachapas topped with the various meats—the A.F.G Parilla sharing board which is a delicious combo of meats, the most flavoursome rice you'll ever eat and yuca chips and then share some empanadas.
Whatever you do, save room for dessert because the three milk cake will blow.your.mind. Even if you're more of a chocolate person or not really a dessert person at all, you must not leave Angel Falls Grill without a piece of this.
Image credit: Nancy Hanna
---