Bagel O's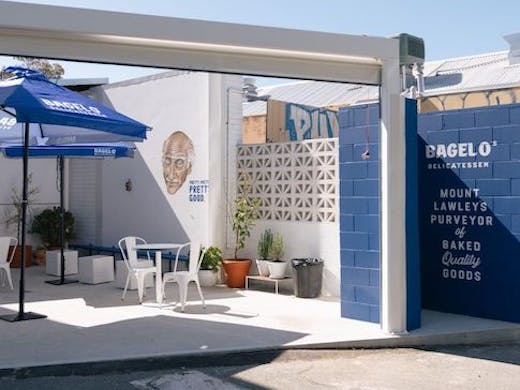 The Verdict:
If you were lucky enough to make your way to Bagel O's soft launch on Saturday, you'll know two things. One, that the stacked bagels coming out of this shop are bloody good. And two, you'll likely have to battle crowds to get your hands on one when they officially open this week.
Born out of a COVID-induced baking obsession, Bagel O's is clearly home to very good, chewy bagels (the recipe has been perfected to the enth degree), but you'll also get great coffee featuring roasts from the legends at Micrology Coffee Co and nitro on tap, plus, a couple of great New York-style deli rye sandwiches too. There's also a tempting little sweet box filled with various cookies that they've thoughtfully left right in front of the till.
As for what goes in the bagels, this is where it gets real exciting. They're using quality produce from local suppliers like Frank Torre, Kailis Bros and The Mushroom Guys and making everything they can from scratch in-house. Think: house smoked pastrami with soft egg and American cheese, Nona's meatballs oozing with mozzarella, tomato sugo and basil pesto, and a Cubano made with the juiciest mojo roast pork alongside swiss cheese, their own pickles, mustard, iceberg lettuce and dill mayo. Hats off to Chef Terrance, the quality is next level.
Once you've made what seems like the hardest life choice ever, you can take your hard-earned bagel out back and enjoy it in their breezy courtyard while admiring the Larry David wall art and jazzy beats, or just sit inside if you'd prefer to keep track of the basketball score on the tellie and make chat with the staff. Either way, we have a feeling you'll become a regular pretty quickly.
Bagel O's opens at 627 Beaufort Street in Mount Lawley this Thursday-ish (as they like to say), depending on final permits. Keep an eye on their Instagram for the latest news.
---