Benny's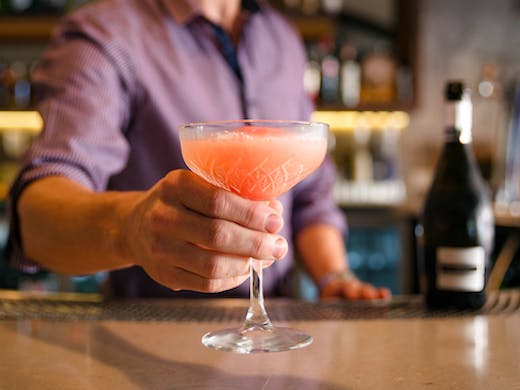 The Verdict
Ahhh Benny's, hello old friend. After some pretty significant renovations (including a super cool retracting roof!) Benny's is back on Fremantle's cappuccino strip and it's better than ever. The food is hearty and totally delicious and the cocktails will have you wanting to stay all night long!
In probably the most exciting news we've heard all year, the crew at Benny's have started making their very own Aperol sorbet—a sweet addition to everyone's fave Summer drink, the Aperol Spritz. The sorbet slowly melts into the Italian prosecco to make one of the most delicious drinks to ever exist.
And while we could talk about cocktails all day long, there are a few dishes you really can't miss at Benny's. The menu here is huge but to help save you some time, we're gonna recommend you head straight to the meat or seafood section. If you're big on seafood, then you absolutely cannot leave without ordering the seafood platter. With tender squid, prawn skewers, Moreton Bay bugs and chilli mussels galore, the platter for one is probably enough for two… just saying.
You really can't go past the steaks at Benny's either. The Harvey Beef eye fillet is so thick and juicy you'll be wishing you didn't eat lunch, or breakfast for that matter. If you can't decide between meat and seafood, you can always opt for the Surf & Turf and enjoy the best of both worlds.
In case you haven't gathered this yet, we'd advise you to go to Benny's hungry. Really hungry, because dessert here is a treat that you can't miss. They've got all the classics like apple pie and carrot cake but may we recommend the molten chocolate cake? Served with sticky salted caramel and ice cream, this saucy little dessert will put a smile on your face.
And if you're the kind of person that would marry Nutella (who wouldn't) Benny's also serve a deeeelish Nutella Martini made with Frangelico, hazelnut liqueur and vanilla vodka, as well as a mouthwateringly good Nutella panna cotta.
If you can resist eating to the point where you'll have to roll out of the restaurant, you're in luck, because on Friday and Saturday nights the live music begins, the tables are cleared out and the dance floor starts up! Thank god for those espresso martinis on tap ammight?!
Come day light, the place transforms again into a cafe serving up hearty breakfasts so you can refuel after all those dranks the night before!
Image credit: Elle Borgward
---