Bites By D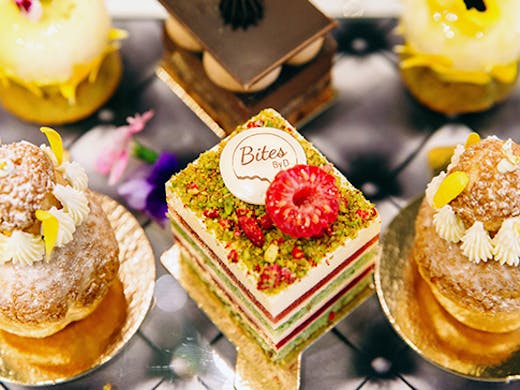 The Verdict
Dessert boutique Bites By D is keeping the Mount Hawthorn locals sweeter than ever with some of the tastiest desserts we've ever eaten and they might just be the prettiest too! Take one look at their Instagram account and you'll be coming up with any excuse you can think of to get to Mount Hawthorn on the double.
The desserts might be the daintiest things you've ever seen in Perth, but let us assure you there is nothing pretentious about Bites By D. It's classy but still relaxed, with bright yellow couches in the cafe that you'll want to laze on all day with a cup of coffee and a sweet treat, while the beautiful tables down the back are the perfect place for a high tea with a group of friends. Oh and you can BYO your own bubbles so you might as well make it a boozy affair.
Owner Diana is passionate about the quality of food coming out of her kitchen, meaning you can expect only the very best every time you visit. Each dessert is a perfect little piece of art which you might think is too pretty to eat at first, but after one bite you'll change your tune and demolish every last crumb, we promise.
The team are also superstars at catering for all sorts of events—you can request just about anything and Diana and her team will go the extra mile to make sure you get exactly what you want. Need a couple of hundred themed desserts? They'll do it for you. Or how about an amazing cake with the most intricate buttercream flowers you'll ever lay eyes on? Done! But you need savoury bites too? No problem, these guys can do anything.
So if you haven't been yet you'd better stop in, or better yet, plan a high tea and make a day of it!
Image credit: Nancy Hanna
---
You May Also Like
Bakeries & Delis
Highgate, WA
Located directly across from Hyde Park on William St in Highgate, Chu Bakery is…
Bars & Pubs
North Fremantle, WA
North Fremantle has just scored a cracking new neighbourhood bar from co-owners…