Bodyworks Subiaco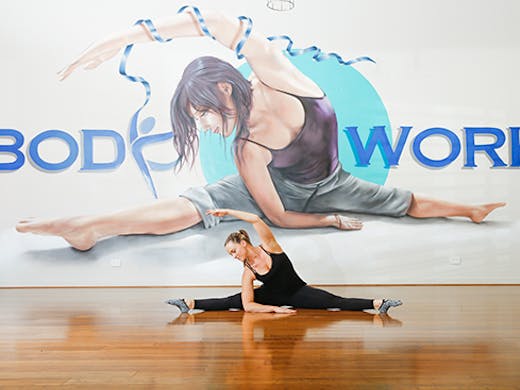 The Verdict
If you're after the healthiest body you could ever imagine, look no further than Bodyworks Subiaco.
An all encompassing health and wellness destination, Bodyworks Subiaco offers everything from Pilates and rehabilitation classes to physiotherapy and remedial massage in a super modern environment. There's even a dietitian on site to help you gain a better understanding of how what you put in your mouth affects your health (apparently doughnuts aren't part of a healthy eating program, whodathunk?!).
Tucked away on leafy York Street in Subi, the crew at Bodyworks are total experts when it comes to getting your body working how it should be. If you're suffering from an injury (or 10) they'll work with you to create a plan that fits around your body, while still helping you to achieve your goals.
Already got a bod that's working in peak condition? Keep it that way and head to one of Bodyworks' many Pilates fitness classes. They've got your regular matwork classes, a great range of reformer classes, ZEN-GA, CORE functional fitness classes, as well as barre—using all of the latest and greatest equipment and following the five basic principles of STOTT Pilates.
After all that hard work you're going to want to give your muscles some TLC with a remedial massage. While the massages offered up at Bodyworks are functional, your therapist certainly won't skimp on the relaxation. And the best bit, if you have health insurance you can claim rebates here too.
Totally got your fitness sitch down pat, but keep shovelling trans fats, sugar and preservatives into your mouth like there's no tomorrow? Book an appointment with Bodyworks' resident Dietitian, Liana, who'll get you on the right track in the diet department.
And if you're looking to level up in the world of Pilates? Bodyworks offer internationally accredited STOTT Pilates Instructor and STOTT Pilates Rehab training. Find out more here.
But that's not all, Bodyworks also offer scoliosis treatments, as well as pre and post natal classes. They're truly the most accepting health and fitness bunch there is!
Signing up to classes and appointments at Bodyworks couldn't be easier through their app or via Mindbody Connect online. But if you prefer speaking to a real human, there's always a lovely receptionist awaiting your call.
So the next time you're looking for a health and wellness studio in Perth that can tick all your boxes, you can rest assured you've found one in Bodyworks Subiaco.
Image credit: Louise Coghill
---