Caballitos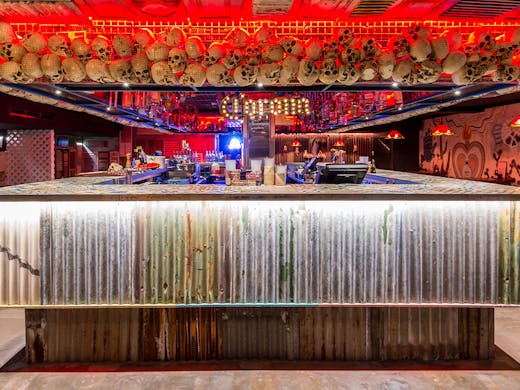 The Verdict
Want to save money off your final bill at some of Perth's best restaurants (including Caballitos)? Feast your eyes on Urban Feast, the ultimate card for foodies. For just $100 you'll get $500 worth of value and will see you heading to some of the finest eating establishments in town. Find out more about Urban Feast here.
From lageritas—frozen margaritas topped with a mini Corona—to drool-worthy Mexican food, Caballitos in Perth's CBD has got it all.
Another epic venue from Andy Freeman (the genius behind Varnish on King and The Flour Factory), this underground bar is pouring some of the best tequilas and mezcals you'll ever taste, but if you can't handle the thought of drinking them straight, not to worry, the team here knows a thing or two about cocktails.
That's why we're so excited about their latest creation which is available exclusively for Fringe ticket holders and artists. The El Jugo De Fringe is a delicious concoction of Don Julio Blanco, Marie Brizard Blue Curacao, lime and pineapple juice. It's served in a champagne flute—because we're classy—and finished off with an icing sugar rim, a toasted marshmallow and cinnamon dust.
If for some reason you're not heading to Fringe, try the Black Rose—Caballitos own take on an espresso martini. It's frozen and topped with a dollop of vanilla foam and you'd better believe it will have you dancing all night long.
Perth penny pinchers won't be able to get enough of their daily specials like $12 margaritas on Margarita Madness Monday, $5 tacos on Taco Tuesday and free pinata prizes on Whack It Wednesday, not to mention taco and beer specials on Thursday and Corona buckets on Saturdays.
Caballitos has also recently launched some brand new concoctions that are a must try for any Queer Eye fans out there. Dubbed the Red Neck Margatinnie, there are four different versions to try; the Mountain Dew, Passiona, Solo and Sunkist. The Mountain Dew is on our radar, made with Don Julio Blanco, Triple Sec, Lime Juice, Agave Nectar, Mountain Dew reduction and Orange Bitters. It's served in a Mountain Dew can in true red neck style.
Image credit: Shot by Thom
---