Chubby Boy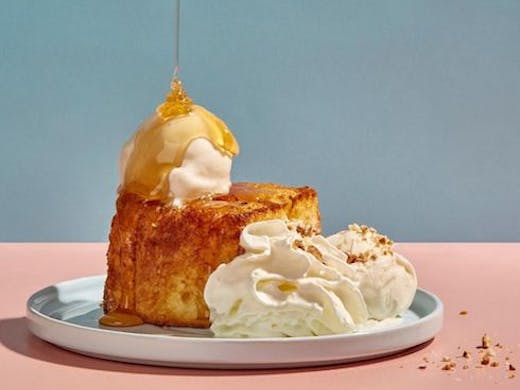 The Verdict
Introducing Chubby Boy, a cute little hole in the wall cafe serving up epic slabs of fluffy shokupan slathered in tasty toppings.
When you arrive, you'll notice the crisp white interiors, bright string ceiling lights and cute wall decals, with seating that sprawls out onto the sidewalk. To the left you'll see the takeaway window, kitchen and counter where you'll want to head straight over to and ask for a table.
Once seated, prepare yourself for the tough task of choosing what to order. You'll find sections like Chubby Brick Toast, Fluffy Chubby Pancakes and All Day Breakfast—each full of drool-worthy dishes. There's also cabinet delights like croissants, as well as other snacks like fries, mozzarella sticks and corn dogs. We cracked under the pressure and decided to grab a few things to share between us.
You can't go past the Hash Brown Chipotle Sando. Golden hash browns, chipotle and egg between two pieces of lightly toasted shokupan bread—I mean you really can't go wrong, right?
But let's be honest, it's really all about their signature Chubby Brick Toasts, available in yummy toppings like matcha, salted caramel and honey, and strawberry and ricotta. Honestly, it's like biting into a cloud soaked in sweet deliciousness and trust us, you'll be in heaven as soon as it hits your lips.
Chubby Boy is now open at 3/861 Beaufort St in Inglewood from 7am 'til 10pm Monday through Friday and from 7am 'til 11pm on weekends.
---
You May Also Like
Bakeries & Delis
Highgate, WA
Located directly across from Hyde Park on William St in Highgate, Chu Bakery is…
Bars & Pubs
North Fremantle, WA
North Fremantle has just scored a cracking new neighbourhood bar from co-owners…