COMO Shambhala Urban Escape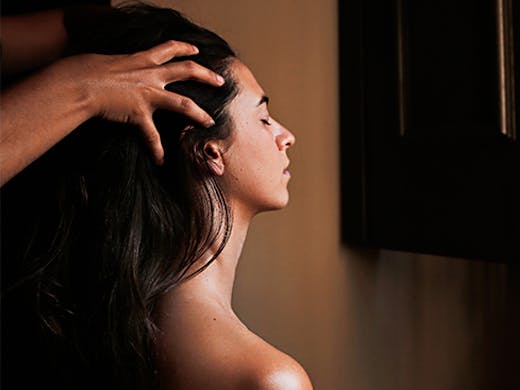 The Verdict
Nestled in one of Perth's most exclusive hotels, COMO The Treasury, the ever so luxurious COMO Shambhala Urban Escape awaits.
Shambhala originates from Buddhist and Hindu traditions, the kings and queens of decadence and relaxation—which COMO Shambhala Urban Escape does exceedingly well.
Encompassing a spa and yoga studio, the COMO Shambhala Urban Escape is open to anyone—not just guests of the hotel—so there's nothing stopping you from upping your wellness game.
Just like the rest of the State Buildings—with its grand halls, sweeping staircases, beautiful archways and restored original flooring—the spa has luxury and sophistication stamped all over it. It's dark, warm and cosy, and just the kind of place you could spend all day in as you're pampered from top to toe.
Offering everything from the signature COMO Shambhala and deep tissue massages to an earth shatteringly good Indian head massage, Sodashi and Nvey facials and nail treatments, as well as spa treatments for men and plenty of indulgent packages, the crew here will whip you away to a state of bliss in no time at all.
A short stroll outside the State Buildings' St Georges Terrace entrance and down a flight of stairs, another wellness sanctuary awaits in the COMO Shambhala yoga studio.
Once again decked out in true State Buildings fashion, with exposed brick walls giving a nod to the building's heritage, wooden floors and plenty of light streaming in through the windows just above ground level, it's easily one of the most beautiful yoga studios in Perth.
Stephanie Johnson leads the team of talented instructors who teach vinyasa, restorative and yin yoga. The studio also offers one-on-one yoga classes, clinical Pilates (there's even a reformer machine on site) and personal training.
With a strong focus on wellness, rather than thrashing your body to pieces, classes are suitable for all fitness levels no matter whether you're a beginner yogi or advanced and they're conveniently timed around working hours (there are even a few lunchtime classes to help you squeeze some wellness into your working day).
To top it all off, Post (aka our favourite healthy restaurant in Perth) offers a delicious COMO Shambhala menu. So you can pop in for a yoga class, wind down with a massage and nourish your body with delicious and nutritious food all in the one place. What could be better than that?
Your wellness can't wait, sign up to a yoga class here and treat yourself to a massage by booking here.
Image credit: Elle Borgward
---