Dinner Twist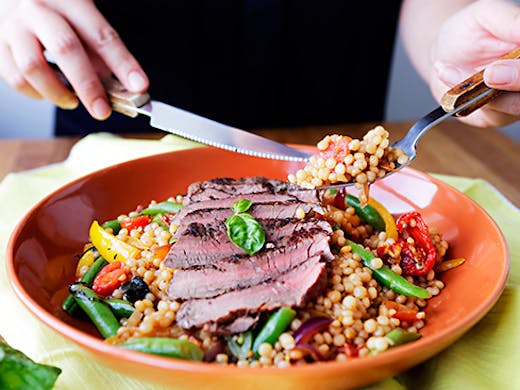 The Verdict
Doing the weekly grocery shop has got to be up there with one of the most annoying adult tasks, alongside scrubbing the toilet, pulling out weeds and cleaning the oven. Plus leading a busy life often means only being able to make it to the shops during peak times, making the process even more arduous. When you're busy, stressed and trying to get a healthy and delicious dinner on the table, the last thing you're going to want to contend with is the back-chatting self-service checkout machine, let alone meal planning and navigating the dangerous world that is the supermarket parking lot.
Thankfully, local Perth delivery service Dinner Twist is here to save the day. These guys supply fresh, local and seasonal produce direct to your door with delicious recipes to match. Each recipe has been given the tick of approval from Dinner Twist's dietitian and has been thoroughly tested for ease and deliciousness.
The ordering process couldn't be easier with Dinner Twist. Choose from their foodie, family or vegetarian boxes for two or four people, opt to upsize your meat (if you're not ordering the vego box) or switch to the gluten-free option if that's your bag, whack in your payment details and await your delivery. Looking to up your fruit intake? Dinner Twist can also throw in a small or large fruit pack with your delivery.
Dinner Twist's boxes are packed with goodies from top-quality WA suppliers like Abhi's Bread, Catalano's Seafood, Plantagenet Pork and Clara's Wholefoods, so you can feel good about shopping local—plus, menus are designed to use up all of the produce, so there'll be no more feeling bad about wastage.
For cooks who like to get a little more creative in the kitchen, we recommend the foodie box, where you'll get to try out recipes inspired by cuisines from all over the world—think Asian flavours, fragrant curries and raw foods. But, if meat's really not your thing the vegetarian box is probably more your jam! And if you're more of a traditionalist, the family box covers off all your favourites like spaghetti bolognaise and butter chicken.
One of the best bits about Dinner Twist is that it fits into your lifestyle really easily. Each meat-eater box makes four different dishes, leaving the weekends free for your usual take-away pizza and eating out escapades. Plus, for the social butterfly who has multiple social engagements each week, there's a fortnightly box option where you can spread those four meals out across two weeks. Perfect!
Depending on your postcode, Dinner Twist boxes are delivered on Monday and Tuesday each week, meaning you can start your week on a healthy (and organised) note.
So if you're looking to take the brain work out of cooking, feel more inspired in the kitchen and reduce waste, head to Dinner Twist to check out next week's menus and get booking, or for a daily dose of delicious, check their Instagram account!
Image Credit: Elle Borgward
---