Duck Duck Bruce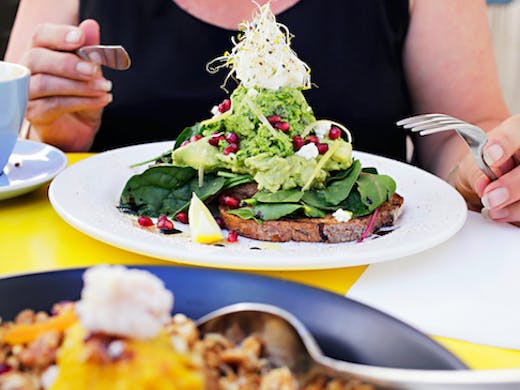 The Verdict
Duck Duck Bruce in Fremantle has won us over with the names of their menu items alone. The Rhubarbra Streisand breakfast (stewed rhubarb, strawberries, maple and almond granola with pomegranate and cardamom coconut whip) is enough to make us want to move in. The Auber Jean Is Not My Lover is also a winner with crispy fennel, potato straws, spinach, almonds, Goan eggplant achadi, roti, coconut sambal, eggs, pickled chilli and cumin raita.
They also serve up the classics like their smashed avocado—It's Not Easy Being Green—and a killer big breakfast called We're Goin To Need A Bigger Boat.
If you're into chai, Duck Duck Bruce is the place to have one, but they also do a killer coffee as well as juices and a mango lassi you'll never forget.
Image credit: Elle Borgward
---
You May Also Like
Bars & Pubs
North Fremantle, WA
North Fremantle has just scored a cracking new neighbourhood bar from co-owners…
Bakeries & Delis
Highgate, WA
Located directly across from Hyde Park on William St in Highgate, Chu Bakery is…