Fat Maki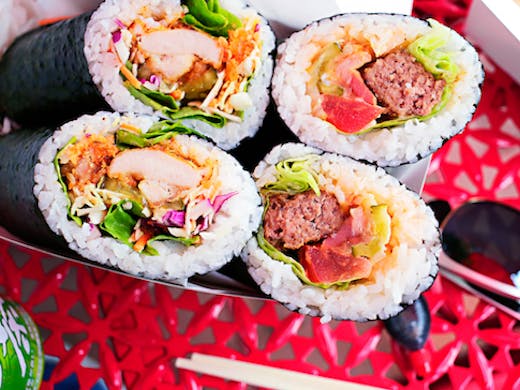 The Verdict
Forget everything you think you know about sushi because the talented bunch behind West Perth's Fat Maki love their sushi rolls big and have their own method when rollin' out the goodness.
Fat Maki uses a thin layer of sushi rice, just enough to hug the delicious grilled meats and fresh veggies within, creating the perfect, balanced meal that you can eat with your hands.
Taking inspiration from different cuisines, we love the bacon cheeseburger sushi rolls and the southern hot chicken maki—Nashville-style spicy fried chicken that we pair with slaw, pickkles and mayo, wrapped in a sushi roll—not to mention their latest creation, the chicken parmi maki!
But it doesn't stop at giant sushi rolls. These guys also do awesome bao buns and bowls—think Korean BBQ beef with apple slaw, cucumber, lettuce and gochujang mayo. Yum. If you can't make it to West Perth for lunch, hit them up on UberEats and get it delivered right you to your door.
Image credit: Elle Borgward
---
You May Also Like
Bakeries & Delis
Highgate, WA
Located directly across from Hyde Park on William St in Highgate, Chu Bakery is…
Bars & Pubs
North Fremantle, WA
North Fremantle has just scored a cracking new neighbourhood bar from co-owners…