FOUND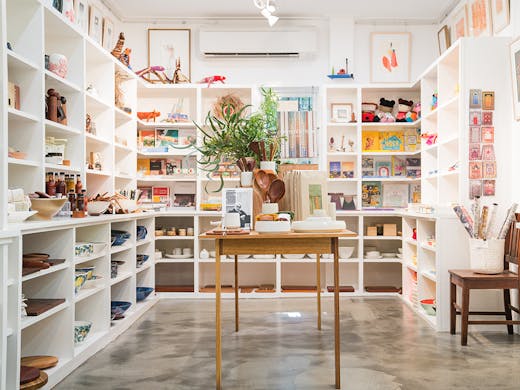 The Verdict
If you've got any savings, they'll be burned in a heartbeat after visiting FOUND at Fremantle Arts Centre.
Home to the biggest collection of WA-made goods by local artists and makers, the shelves at FOUND are bursting with beautiful ceramics, woodwork, jewellery, books, fashion, prints, textiles and gifts, with each being incredible artworks in their form.
Adventures to Fremantle Arts Centre are always special. There's something about the gothic heritage buildings and beautiful grounds that ignites the creativity within, and the visit is not complete without stopping by FOUND for one of Perth's most meditative shopping experiences.
It's particularly special on the weekend thanks to Fremantle Arts Centre's Sunday Music Series, which runs in the sunny months from October to March. The concerts are free, so grab some mates, pack a picnic, enjoy listening to some chilled out tunes and take a gander at FOUND. Perfect weekend activity? We think so!
Inside the boutique you'll find everything from Stewart Scambler's stunning ceramics and Mokosh Skincare to Shaun Tan's incredibly emotional books and wooden wares by Doco—your home will certainly look a whole lot cooler after picking up a few artisan bibs and bobs. And if you're in the market for a gift, this is definitely your place, there are hundreds of things to choose from for even the most discerning friend.
Each year FOUND hosts Bazaar, a huge makers market featuring goodies curated from more than 50 local artists and designers. This year Bazaar will span three days from Friday 30 November to Sunday 2 December—what better time to do some Christmas shopping?
Do yourself a favour and visit FOUND next time you're in Fremantle.
Image credit: Louise Coghill
---