Frankly My Dog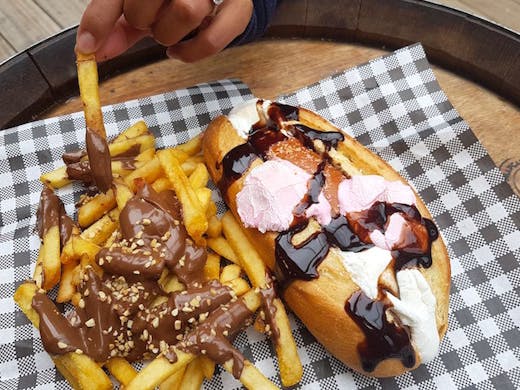 The Verdict
If you're someone who loves their hot dogs absolutely loaded with piles of toppings, then head to Frankly My Dog at Hillarys Boat Harbour.
These guys are best known for their crazy loaded hot dogs—think Tijuana chilli dogs topped with jalapenos and corn chips—and their dessert dogs which are loaded with Nutella, marshmallows, coconut and chocolate sauce.
If hot dogs aren't your thing, never fear. These guys also do some crazy hot chips loaded with Nutella! Genius.
Image credit: Frankly My Dog
---
You May Also Like
Bakeries & Delis
Highgate, WA
Located directly across from Hyde Park on William St in Highgate, Chu Bakery is…
Bars & Pubs
North Fremantle, WA
North Fremantle has just scored a cracking new neighbourhood bar from co-owners…